Amazon Associate is
Amazon's affiliate program
where once you signup, you can get special links for particular products.
Then, when someone clicks on your link and buys a product within 24 hours of clicking it, you get an advertiser's fee.
However, there is something even more valuable than the advertiser's fee that every author or marketer should be using and craving!
I'll give you a hint, it has nothing to do with money.
This is priceless…
In this article, you will learn:
What is an Amazon Associate Link
Dispelling the myth of Amazon Associate Link Usage
What Amazon Associate Links can do for you
How to use them more effectively
Amazon Associate Basics
Simply put, Amazon Associate is an affiliate program.
If you see a product on Amazon and you want to promote it, you can go through Amazon Associate, get a special link and drop it in an email, on your social media, or on your website.
If someone clicks on it, you get paid.
To sign up for Amazon Associate and get your own account, head here.
If you would like to know more about their payment structure, you can check that out
Amazon Associate Links and Their Myth
One question I get a lot about Amazon Associate links is whether or not someone can use them for their own product or book.
The answer is not only yes, but that Amazon actually encourages it!
So, have no fear about using your own link to get some of that advertising fee back. Amazon has specifically told you it is okay.
A Master Tactic For All Associate Users
Most people know about the extra money you receive from getting someone to click on your Amazon Associate link and purchase something.
But did you know that it does something else that is even more incredible for authors and marketers like us?
Every time someone clicks on your link, Amazon places a cookie on their computer and tracks what they do on Amazon in a 24 hour period and gives you a percentage of ANYTHING they buy on Amazon in that 24 hours.
So, if someone clicks on your book link and doesn't buy your book, but comes back that night and does their shopping and buys a big screen TV, then you get a percentage of that sale.
BUT that is NOT the awesome part to this…
The awesome secret tactic to this list is the knowledge that comes with it.
It's about knowing what you customers/fans/target market – or whatever you call them – wants to buy.
In your associate's account, you will get a list of everything people bought that you are entitled to an advertising fee for.
From this list, you can discover some AMAZING things about your target market.
Now, not every item on the list will translate into gold. However, over time you may start to see a couple of re-occurring things. Here's a list of 3 things Amazon Associate can teach you that could totally be a game changer for your self-publishing business:
1. Are they buying a competitors book instead of yours?
If you keep noticing that people are purchasing your competitor's book instead of yours that you are linking to, then this is a clear sign that the right people are clicking on your link, but they are looking at your book and are not satisfied. In this case, you need to look at your competitor and try to figure out why they are converting better than you.
This is extremely important for fiction authors. If you spent the time and effort to get people interested in your story, they go there and then buy someone else's book, well…you have a problem and it doesn't exist in your content, but on your Amazon sales page.
Do they have a better cover, summary, have more reviews? What are they doing better than you. Once you know this, then it's an easy fix.
2. Next book idea?
A couple of years ago, I wrote a health book in a certain niche.
However, looking at my Amazon Associate sales, I noticed people were also buying a book that involved another health niche, specifically looking at a particular diet.
Perplexed as to why people would make such a move, I did some research and found out that combining the two niches was becoming popular.
So naturally, since my traffic and those that read my first book were also looking for books in the other niche, I sat down and wrote another one dealing with the diet. Then placing strategic links, using my email list and reminding people of my other books inside of each book, I was able to compound the sales and grow my KDP income.
Why not get #Amazon to pay you twice for your book?
Click To Tweet
In the end, I was able to recapture my initial readers and get them to buy another book of mine.
This one piece of data from my Amazon Associate account helped me to just about double my sales.
3. Is there a common theme or demographic based on the products?
In one case, I had written a book that dealt with learning of the general use of a specific software/program. However, through my Amazon Associate account, I kept noticing that people were also buying study guides, grammar books and other learning material.
It was through this and looking at the titles of those books that I realized I had been attracting College students to my book who were preparing for higher level education.
When I knew this piece of information, I knew how to approach them on my website as well as new amazon products to promote.
I started making posts about college and preparing for the next steps. I also included associate links to test prep books (the ones I saw in my associate list because after all, that is what my traffic ends up buying).
Needless to say, my associate earnings for that site doubled and has stayed that way for a couple of years now.
Also, on another note, I have another book idea – still in the process of writing – where I will cover that software again, but this time write it specifically with college students in mind and cover their pain points. I have a lot of data already that would support me thinking the book will do well. Which therefore, increases my budget for the book.
Fiction Authors, You're Going to Want to Hear This
One thing that I tell countless fiction authors is that their marketing becomes a lot easier when they can relate their book to another more popular one.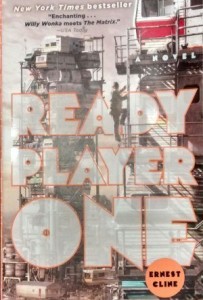 "Hey target market, if you liked this book, then you are going to love my book." See how that works?
Toby Downtown, the author of Solarversia did this extremely well by tailoring to people who read and loved the book Ready Player One. Thanks to him, I found my #1 favorite book and became excited to find out there was another book like it….his book.
I have since read it and absolutely loved it. But that's not the point.
The point is, Toby built major street credit with me when he said "Hey Dave, if you liked Ready Player One then you will love Solarversia."
PS: those are amazon associate links…curious to know what you're buying 😉
So why is this in the Amazon Associate post?
Because, maybe you don't know what book people are flocking to. Maybe you are like many of the fiction authors who I have worked with that say "my book is totally unique and there really isn't anything out there like it."
Unique is good…heck, I hope you think Kindlepreneur is unique, so who am I to judge right?
What Amazon Associate can teach you about your market is mind blowing
Click To Tweet
But if you look at your Amazon associates and keep seeing people flock to a particular book…then you probably have found your mark. Take a look and see what makes this book be the end result of your target market.
Are their similarities?
Can you say "If you liked that book, then you will love this book"?
Now Go Be An Amazon Associate Pro
There are so many things that you can learn about your readers by taking a deep look at your own Amazon Associate pages.
Sometimes it can be scary – like the time someone bought a ball gag and some other things that I won't go into details on.
And like the ball gag, these can be outliers and have no bearing on what your real target market is buying.
However, looking at your list over a couple of months, you should be able to find similarities, common occurrences and data that can help you to find the next subject, book or product to promote, write or create.
That shopping list is invaluable. So, as an author, start using it to its full potential.
Cheers,