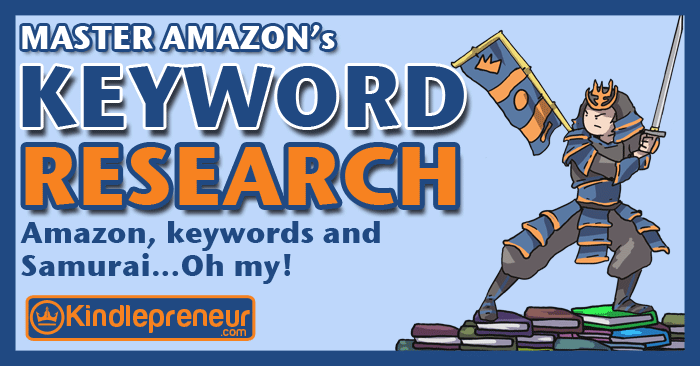 How To Choose the Right Kindle Keywords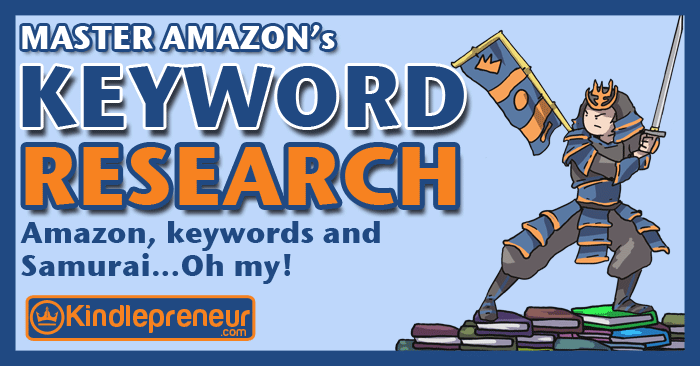 Whether you love them or hate them, there is no denying a kindle keyword can play an important role in Amazon ebook sales. Selecting the right set of Kindle keywords can open up new markets and your book's reach in the marketplace.
They can be pivotal in increasing your Amazon product page views and driving other search traffic to your Amazon sales page. They assist algorithms in finding your book and indexing your information.
Simply put, they are important and should be understood and even harnessed.
To help you truly grasp this crazy strategy, increase your ebook sales, and make more money as an author, continue reading. This is the most comprehensive article on this subject written anywhere, to date.
We will cover both types of keywords – which even most "gurus" are confused about – their importance, and how to use them to drive traffic to your ebook sales page. And as a bonus, I will let you in on my [up until now] top-secret strategic process that has helped me take my Kindle publishing to the next level.
And as a bonus, I will let you in on my [up until now] top-secret strategic process that has helped me take my Kindle publishing to the next level and a little something I'm putting together to bottle it all up for you.
In this Article, You Will Learn
The difference between "Amazon Keywords" and "SEO (Search Engine Optimization) Keywords"
2 methods for finding more money-making Keywords
Where to place your Keywords so as to increase your rankings and exposure
The Kindle software that does everything we'll discuss in a couple of clicks
Bonus
: Want to increase your Book's rankings in Amazon?
Download my personal guide
on increasing your books rankings and discoverability on Amazon so you get more sales continuously!
Do Kindle Keywords Work?
But before we get into that, I know there are going to be self-publishers out there that will disagree with me and say its either A: a waste of time or B: cheating the system.
I disagree and here is proof:
This first picture is of my sales of two of my Keyword specific books.  Each one sells for $9.99.  Can you see that steady stream of sales?  If you are wondering, they are well received by the readers but they have that steady stream of traffic mainly because of my keywords.
My buddy, Alex Barker of the 66 Day Experiment Podcast – which is totally awesome, noticed that the sales of his ebook had become stagnant.
After coming to me for a little keyword help, we got him in front of a new market and generated some sales.  He was so thankful, he bought me an Amazon gift card…that and coffee are my two favorite things!  Total score!
Now, I will tell you, I too have had failures with Amazon keywords, where I thought something was prime and they never panned out.  So, this isn't one of those MAGIC bullets you hear about – "So easy a Caveman can do it!"
But I hope you'll agree with me that Keywords should be investigated, and in this article, I'll show you how I do it.
The Ethics to Keywords Use
Now, before scrolling furiously to the bottom of this article to shoot off some nasty hate mail (although I do love productive comments), let me clarify my beliefs on appropriate keyword usage and temper expectations.
Keywords are important, but:
Never change the intent or purpose of your book, just to satisfy keyword searches.
Never intentionally smear your Amazon product page with keywords so as to rank better for that kindle keyword.
Never attempt to rank for terms that don't directly relate to your book.
Successful ebook sales depend on more than just kindle Keywords, so this isn't a magic bullet.
These types of tactics listed above are sleazy and ultimately ruin the experience of the customer. Your customer's satisfaction should be your top priority; it affects your paychecks in the long run. Your reputation will always catch up with you. Make it a good one!
Happy customers = repeat sales = more money in your pocket!
So, use this information responsibly.

But to completely snub this simple tactic is like the Fellowship of the Ring not using the eagles to fly to Mordor…they still got there, but only after a ridiculously long period of serious struggles and some bumps along the way.
What are Keywords?
Most experienced self-publishers know or have heard about keywords. They are target words or phrases that you want your ebook or book to rank for in search engine results, like Amazon's.
So, let's say you've written a science fiction novel entitled "Galactic War Lords." You might want your book to show up in the results for search phrases like "space war," "space opera," or "military sci-fi," instead of just showing up for the search phrase "Galactic War Lords."
If your book only shows up in an Amazon search when people type in your exact title, your potential traffic will be devastatingly limited – in an organic sense of the meaning.
So, to expand your potential traffic on Amazon, you'll first need to know what words or phrases get a lot of traffic – and more importantly – which of those high-traffic words/phrases have less competition.
Stick with me here because we are just getting started.
Amazon Keywords versus SEO Keywords: What's the difference?
When dealing with Amazon, there are two different sets of keywords that you should be strategically choosing: Amazon Keywords and SEO Keywords. Let me explain.
Amazon Keywords
Amazon Keywords are the 7 keywords that Amazon asks you for when you go to upload your book.
The 7 Amazon keywords you select when you publish your book helps Amazon's algorithm know where your book should initially show up in their results.
Amazon Keywords can also be key (nice one, huh?) in unlocking certain categories for your ebook and should be used in this capacity if you find a stellar category to pursue.
However, an Amazon Keyword is not as powerful as many self-publishers think.
Most people don't realize that an Amazon Keyword is an Amazon-internal phrase. In other words, other search engines like Google and Yahoo can't even see your Amazon Keyword.
Furthermore, your Kindle Keyword's relevance to Amazon QUICKLY dissipates a meager three months after you initially publish your book.
Don't believe me? Check out your Kindle sales page's source code by using the following instructions when you are on your sales page.
As you go through your page's HTML, you'll notice that there is NO section showing the Amazon Keywords. They aren't "meta tags" like many savvy gurus think – don't worry, this is all advanced gobbledegook for the naysayers that need proof….you CAN just take my word for it when I say that Amazon Keywords have no value to other search engines and move on 😉 .
Another problem with Amazon Keywords is that they are restricted by rules. Here is a complete list of Amazon Keyword No-No's – these are Amazon's rules, not mine:
Do not include these things in your Amazon Keywords:

Any information that is covered somewhere else in your book such as title, category, etc.
Any claim about its quality like "best" or "top"
Statements that are temporary like "on sale", "new", or "limited offer"
Common information about all books like "book" "ebook" "kindle"
Misspellings so as to game the system, unless it is a translation issue like "Mao Zedong" and "Mao Tse-tung" (PS: We have a great article that talks about translations and how to increase your international book sales through this)
Variations of words or spacing
Anything that is misleading
Amazon Keywords are useful, but they shouldn't be the only keyword strategy you use.
SEO Keywords
SEO Keywords are much more universal. Strategic SEO Keyword usage not only helps Amazon's search engine algorithm place your books in the right search results, it also helps other search engines, like Google and Yahoo, find your product page.
This is vital, because it will drive more outside traffic to your book's sales page! Don't restrict yourself to only Amazon traffic!
These SEO Keywords are not officially selected and listed like the Amazon Keywords. Instead, once you have identified some great SEO Keywords, you will use them strategically throughout your sales page.
Places you can insert your SEO Keywords are:
Subtitle
Summary
Book cover's file name
and more
If you would like to know more about where and how to optimize your sales page with these SEO Keywords, download my free ebook.
It details the specific things you can do to increase your Amazon rankings.
For the remainder of this article, unless I specifically say "Amazon Keywords" I'm talking about SEO Keywords. I will be diligent in differentiating these two.
How to Select Your 7 Amazon Keywords
When selecting my 7 Amazon Keywords, the first one or two will be chosen to grant me a specific category. After that, my Amazon Keywords and my SEO Keywords are usually the same…sort of.
This is where I get strategic.
According to Amazon's rules (listed above), I can't select an Amazon Keyword that is also in my title or anywhere else on my book's sales page.
So, instead, for my Amazon Keywords, I select words or phrases that are synonymous with what the SEO Keyword will be.
Example:
Let's say you were to write a book called, "Practice Tests for the PSAT."
In doing your keyword research, you would find "practice test" to be a prime (target) keyword. However, because "practice test" is in the title, and Amazon forbids you from using it as one of your Amazon Keywords, you could instead choose a synonymous word/phrase like "Pretest," "Example Test Questions," or "Practice Exam."
And believe me, when you see our next discussion, you'll find out that lots of people use these phrases instead of just the obvious one of "practice test".
So to recap: My first two Amazon Keywords are usually geared towards a specialized secret category – as explained in the linked article to the left – and the rest of my 7 Kindle Keywords are synonymous to my SEO Keywords (which we will talk about next), but don't violate Amazon's rules.
Now that you understand how to select your Amazon Keywords, let's talk about the real driving force behind keyword success: the SEO Keyword selection process.
The Fine Art to SEO Keyword Selection On Amazon
Look, everyone would love to have their Science Fiction book rank #1 on Amazon for the term, "Science Fiction." That would almost be instant success, right?
However, that is almost always unattainable.
The art and science to keyword selection is finding the perfect combination of High Demand and Low Competition.
And you don't find this by going after keywords as broad in meaning or as short-phrased as "Science Fiction."   Instead, you need to look for the "long tail" keywords.
Long tail keywords are actually long phrases. An example of a long tail keyword would be "Science Fiction Military Space War."
Now, here is where it gets tricky. The longer your long tail keyword is, the less competition you will have. But, on the flip side of the coin, you will also have less traffic to go after. In other words, fewer potential customers are looking for that keyword.In other words, fewer potential customers are looking for that keyword.
In other words, fewer potential customers are looking for that keyword.
Now do you see what a fine balancing act this is?
The more niche your keyword is, the fewer customers it will get…but the more attainable it will be to get that #1 ranking.
So, to help you find that perfect balance of High Demand and Low Competition, I have created the following guide. You are going to learn exactly how to find the right long tail keywords for your Kindle ebook.
How to Select an Ideal Target SEO Keyword for Kindle
There are two ways to do this:
A. Free (but Slow and not as effective)
B. Cheap (but Fast and really effective)
I'm sure you know which method I use.
But it hasn't always been this way! When I first started, I used the free method because, well hey, an author's gotta eat, right?
Free Kindle Keyword Selection Process: Amazon's Autofill Function
Wouldn't it be nice if Amazon would tell you which keywords are popular on their site?
Well, it turns out they do…although unintentionally.
For this free method, we're going to use Amazon's own search box to get what we need.
Step 1: Use Amazon Search to Find Potential Keywords
Amazon created a function in their search box that guesses what you are going to type into it based on the popularity of particular terms – the autofill function.
So, if you were to start typing in the word "star," Amazon would immediately pre-populate the search box with words Amazon believes you will type in next, based on previous customers' searches and your own.
The trick is to start by typing in the broad term(s) that you think pertain to your book and wait to see what else Amazon adds to that word or term. Instantly, your simple keyword is transformed into some very valuable long tail keywords. See where we are going with this?
IMPORTANT NOTE: One thing I want to add in here is that for the suggestion box, Amazon uses two major things: historic searches of other people, and yours.  They track your previous history of amazon searches using your account AND any cookies stored on your computer.  Therefore, if you want to get better results that aren't tainted with your previous search history, make sure to log out of your Amazon Account AND go incognito mode on Chrome or the equivalent on other internet browsers.
Okay, now that we've got that out of the way, let's try it!
First, start by selecting "Kindle Store" as the Amazon category. You want to know what is popular in your industry.
Yes, you could just search "all" Amazon departments and hope to find terms other Kindle authors haven't used, but in my many years of experience, I have never found it to be fruitful…just a large time-suck.
Once you have "Kindle Store" selected, start typing in words or phrases that pertains to your ebook.
Type slowly. You want to give Amazon an opportunity to pre-generate a list of potential keywords for you.
A good strategy is to add each letter of the alphabet, just one at a time after your broad keyword term, and see what comes up.
For example, say we are still on the sci-fi hunt like the example above. You would start by typing in the following:
"Science Fiction a"…then, "Science Fiction b"…then, "Science Fiction c"…

and so on…
You would do this with every letter in the alphabet – even 'z' – and look to see how Amazon completes your search phrase. You'd be surprised what Amazon will come up with!
Once finished with "Science Fiction…" repeat the process with other pertinent terms and keep finding potential keywords to use. For example:
Space a
Space b
Space c
etc..
As you go, keep a written list of possible long tail keywords that you think would pertain to your book. Are you starting to see how powerful this strategy is?
This list of long tail keywords you generate with nothing more than the Amazon search box can help you in a couple of ways:
It tells you what's popular and gets traffic
It gives you ideas for longer tail keywords to research
This will probably help you generate a very large list of potential keyword phrases, but just because Amazon suggests a keyword, doesn't mean it's a good keyword. Remember from the beginning of our conversation: the best keyword is one that has traffic but doesn't have too much competition.
Now it's time to tackle the competition part.
Here we are going to look at how you can take this keyword list and figure out which keyword combinations are goldmines, and which are too competitive and not worth your time.
Step 2: Check to See How Competitive those Keywords Are
Now that you have your list of potential long tail keyword phrases, you need to check three things:
How many books rank for that keyword?
How strong are the books on the front page?
How much interest is there in the books…not just on Amazon – are they making money?
1. How Many Books Rank for that Keyword
Why go after a keyword that has too much competition? Or a keyword for which the competition is just too strong?
It really doesn't do you much good if your book doesn't have a chance of making it on the first page of the search results.
In a buyer's mind, if a book doesn't make the first page, it probably isn't worth his or her time. Getting on the first page is key!  Getting to the top of the search result, even more important.
As you can see from the chart below, the higher your book ranks for something, the higher chance you have that a customer will click on your book: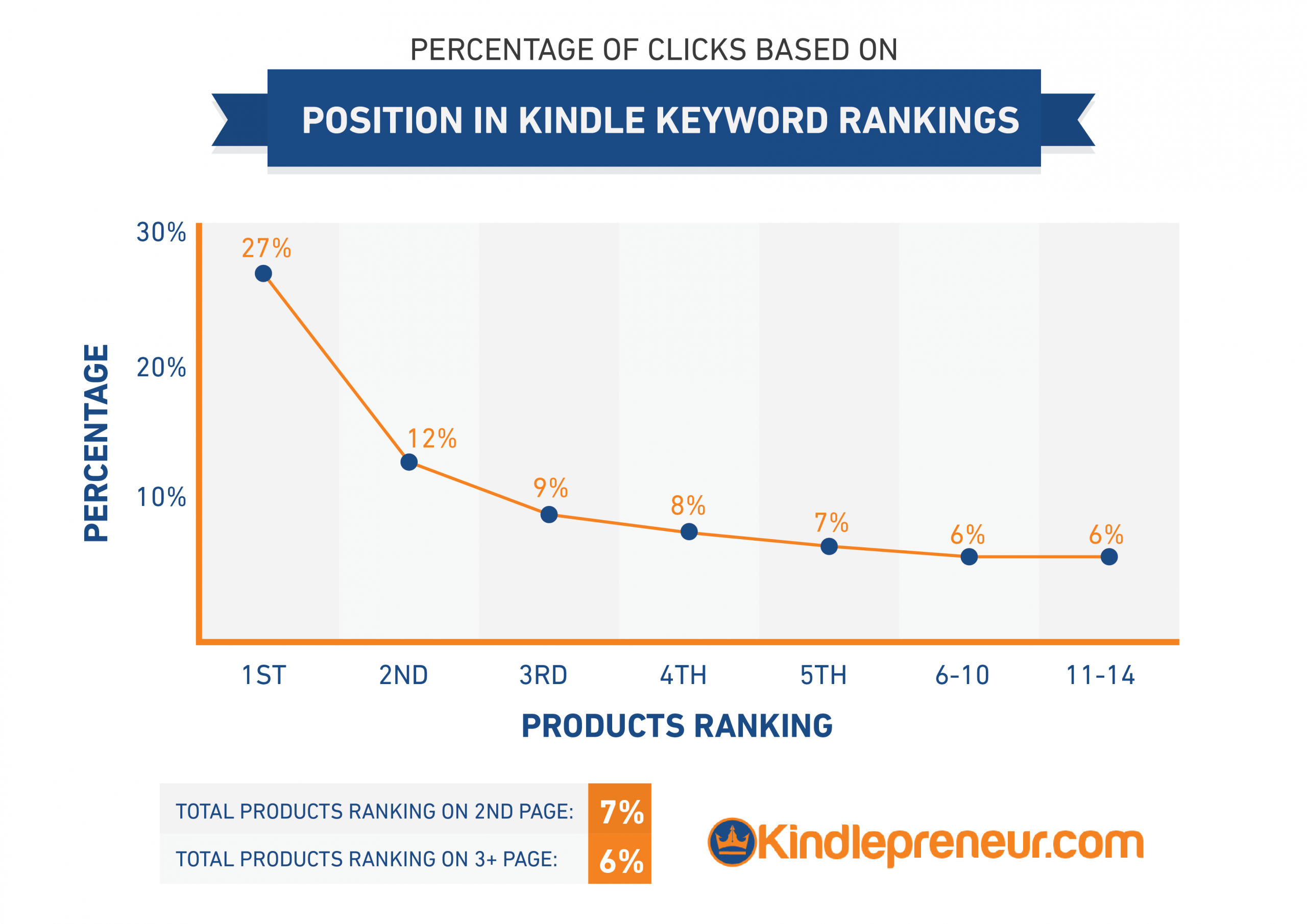 Rank #1, and on average you can expect around 27% of all people who type in that Kindle Keyword to click on your book.  Rank #2 and you'll get half of that.
As you can see, being able to beat the competition is SUPER important.
So, to see how many books are ranking for a keyword and thus the number of competitors, first type that particular keyword phrase into Amazon's search box and press enter.
Now, look at the left corner like the picture below shows.
This shows you how many ebooks are listed on Amazon that are ranking for that keyword.
There isn't really a magic number to look for, but understand that keywords with less competition are usually easier to beats and if the number is too high, then perhaps try to niche down some more in your keyword selection.
The most important aspect is whether or not the books on the first page are beatable. 
2. How strong are the books on the first page and are they making money?
Your ultimate goal should be to show up on the first page.
Well, if all the books on the first page are selling like hotcakes, then you probably won't show up on the first page of that keyword's results.
But on the other hand, if none of them are making any sales, then that keyword might not be a profitable one either.
Again, make sure to check out my free ebook to learn more about what really effects Amazon Kindle Rankings!
So, to figure out if the books on that search's first page are weak enough to compete against but strong enough to generate the volume of traffic worth your time (aka makes money), use the following criteria:
It should have fewer than 4 ebooks with an Amazon Best Seller Rank (ABSR) less than of <10,000
It should have fewer than 7 ebooks with the keyword in their title and or subtitle
It should have fewer than 2 with Best Seller marks
At least 2 ebooks should have an ABSR <100,000 – shows there are decent sales
If the results match those criteria, then the keyword survives the cut and moves on to the next step. If not, then scratch it off your list and try the next one.
Step 3: Check Outside Sources for Keyword Competition
Once you have this large list of potential keywords that have minimal Amazon competition but seem to make some money, we need to figure out if they really are worth going after and what other search engines have to say about them.
So far we have only focused on Amazon. Unfortunately, Amazon doesn't tell us the exact amount of traffic that each competitive keyword has (unless you use this self-publishing software).
Sure, Amazon's autofill function will tell us that "Big red wolf" is more popular than "Big blue wolf." But it doesn't tell us how many people type that keyword phrase into the search box. As far as we know, it could only be 5 people a year…and that is clearly not worth our time.
Therefore, we need to turn to another source: Google.
Thankfully, Google and other websites track this information and share it with us. Score!
Now, many so-called gurus recommend using Google's tool, Keyword Planner.  Keyword Planner is fine enough in telling you the number of searches per month, but its competitive score is WAY TOO vague for my liking.
For this reason, I DO NOT recommend using this tool as exclusively as other may suggest.
Instead, I like to use the free version of KWFinder. This little bad boy will tell you the following:
How many people type in that word per month in Google
Other potential keyword suggestions
Level of competition for that keyword in a 1-100 scale (with 1 being easiest to rank for).
Using this tool, I will then plug in each of the potential keywords still remaining on my list.
Using KWFinder, I now have an analytical understanding of the level of interest in the word and how hard it will be to rank for it.
For the level of competition, you want to look at the metric labeled "SEO." Like I said above, it is a 1-100 scale, with 1 being the easiest.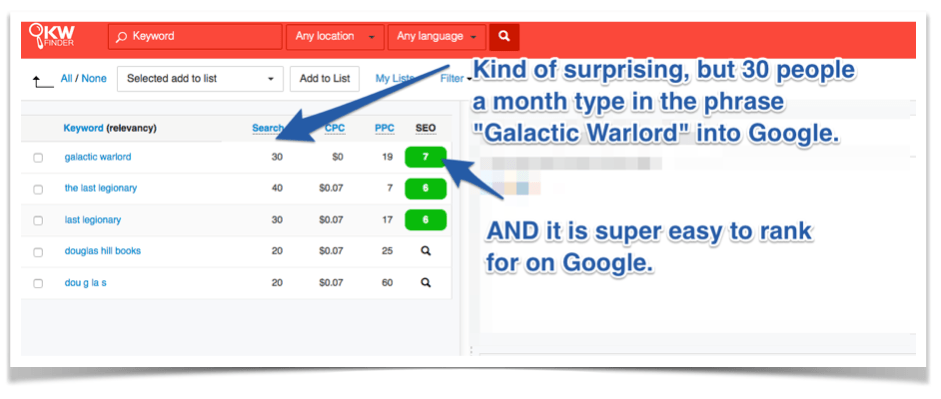 Personally, I like to see a competitiveness factor of 20-25 or less.
Just a heads up, but the free version of KWFinder allows you to do only 5x keyword searches a day.  So use them wisely or else you'll need to pay for a subscription.
Step 4: Rinse and Repeat
If you've followed the above steps carefully, you should have reduced your large list of phrases into a much smaller, more strategic list of very popular, traffic-generating, easy-to-compete-for keywords that make money.
Sometimes, you may find that your results weren't strong enough or the criteria for success weren't met. If that is the case, then rinse and repeat.
Yep, I know, that sounds crazy, but like I said above, when I used this free technique it would sometimes take me days to finally find the right set of keywords.
Be diligent. Rinse and repeat as many times as necessary.
The Faster and Better Way to Find KDP Keywords
Obviously, the above steps are quite tedious and back when I did it, it could take forever to get it all together.
That's why my team and I created KDP Rocket.  This self-publishing software does exactly what we just talked about:
Gives you keyword suggestions using both Amazon's search and Google
Tells you how many people per month type the keyword into Google
Tells you how many people per month type the keyword into Amazon (SUPER new feature)
Gives a score from 1-99 telling you how competitive a kindle keyword is
Tells you how much money other books are making
Gives you key data so as to beat those books and rank better
Here's a sneak peak of its book idea search function.
Best of all, is that in works on both MAC and PC!
KDP Rocket has been seen on Forbes, Entrepeneur and more.  Increase your keyword research efficiency and effectiveness for
ONLY $97
one time fee. Soon, we will be making it a subscription. So
lock in your lifetime access now
!
Get It Now!
Conclusion
Keywords are important. In order to make your book stand out from the crowd, you must learn how to strategically choose them and ethically harness their power.
There's a difference between Amazon Keywords and SEO Keywords. I've shown you how to choose and use them both to increase your ebook sales.
The right keyword combinations can open up new markets for you. Strategic keyword selection will drive more viewers to your book. You can use keywords to gain more viewers and ultimately, make more sales.
Find the right keywords one of two ways: either use my free methods, or pay once for KDP Rocket and have all the dirty work done for you. With KDP Rocket, you will have instant access to loads of incredibly valuable information at your fingertips.
Whichever method you use though, just use this information ethically, and you will enjoy the rewards.
BONUS: Don't foget to download my free guide to increasing your kindle rankings.  Just click below to download and start getting your book infront of more customers.
Cheers,