There are plenty of tutorials out there about creating a Squarespace website. Unfortunately, there are precious few about creating one for authors. And due to recent changes to the Squarespace website builder, many of the tutorials are outdated. Luckily, we have you covered. Read on to learn how to create a Squarespace website for authors!
In this article, you will learn:
Why Squarespace is a good option for authors.
What to include on your site.
How to build your author website with Squarespace.
Why Choose Squarespace?
It has never been easier to build a website. You don't need technical know-how, and you don't need hours and hours to get it done. If you've read my article on the best drag-and-drop website builders for authors, you know that there are plenty of options on the market for these kinds of website builders. I recommend Squarespace as the best website builder for authors for several reasons.
Squarespace is easy to use, it's affordable, it's great for blogging, and you get a free two-week trial to check it out. Plus, Squarespace optimizes your website for mobile automatically, and it even allows you to host a podcast on the platform (something you can't do with other similar builders).
But before we get to the step-by-step process of creating your Squarespace website, it's important to have some kind of plan.
What to Put on Your Author Website
It's good to have an end goal in mind before you start building your website. If you're new to this whole indie author thing, you've probably heard that a website is a big part of your author platform. But you may not have any idea what that means. For starters, your author website only needs to do four things:
Encourage website visitors to sign up for your email list.
Showcase your book(s).
Share a bit about you.
Provide ways for potential readers to contact you.
You can accomplish those four goals with only a couple of web pages on your site. Heck, you can even accomplish them all on one page if you want. But for the purposes of this step-by-step tutorial, we'll show you how to create multiple pages so you can see how it's done with the Squarespace site builder.
Now, let's get to it!
How to Build a Squarespace Website for Authors: A Step-by-Step Guide
Step 1: Get Started
All you need to build your website is a PC or Mac (don't try it on a phone or tablet), and an hour or two. You won't need payment information at this point, so don't worry about that.
Just head over to Squarespace.com and press the "Get Started" button in the top right corner of the homepage. It will ask you whether you want to use a pre-made premium Squarespace template or build a template from scratch with Squarespace Blueprint.
I suggest selecting the pre-made professional website option because it gives you a basic structure you can then customize to your liking. That said, if you are so inclined and you want to spend a few hours (or more) building your custom website, go for it! For the purposes of this tutorial, we're going to go with the pre-made option.
Next, it will ask you a couple of questions about the purpose of the website and your goals. Although "Indie Author" or "Author" aren't options, I suggest selecting the "Media and Podcast" or "Personal & CV" option.
For the goals page, I suggest selecting the "Market myself or my business" option. And then for the next page, I suggest selecting the "Turning a project or hobby into a business" option.
However, since every author's journey is different, feel free to select the options that best suit you. You can still choose from all the templates available if this process doesn't present you with one you like.
Step 2: Choose a Template
Once you're done answering these questions, Squarespace will present you with the templates it thinks best suit you. You can always look through all the templates, but this can be a tremendous time suck. There are a ton of templates, and they all look pretty darn good.
Luckily, if you don't find one you like immediately, you can use the filters to narrow down your options and select from a "template family."
For example, if you're a nonfiction author, you may want to choose a template that relates closely to the topics that you write about instead of a general template for promoting books.
One of the main templates under the "Media & Podcast" topic is called Manual, and it features a book on the homepage. We'll go with this one.
Luckily, the basic editing process is the same no matter what template you choose. And next in this article, I'll show you how to edit and customize your template by demonstrating with the Manual template I've chosen.
Step 3: Name Your Site
Once you select the right template for you, you'll need to sign in using an email address. You don't need to pay for anything yet. Once you're signed in, you'll answer some more questions, like what you want to call your site. I suggest using whatever name appears on your book(s). If you want, you can put "Author" at the end.
Once that's done, you'll get a very brief rundown on how to do some basic editing on the site. After that, it's time to edit!
Step 4: Get to Know the Interface
Changing the homepage to your liking is the best way to get to know the Squarespace interface. I suggest doing this before adding things like email signup, additional pages, or menus because it gives you a grasp of the basics.
So once you're done signing up, you'll be presented with a page like this.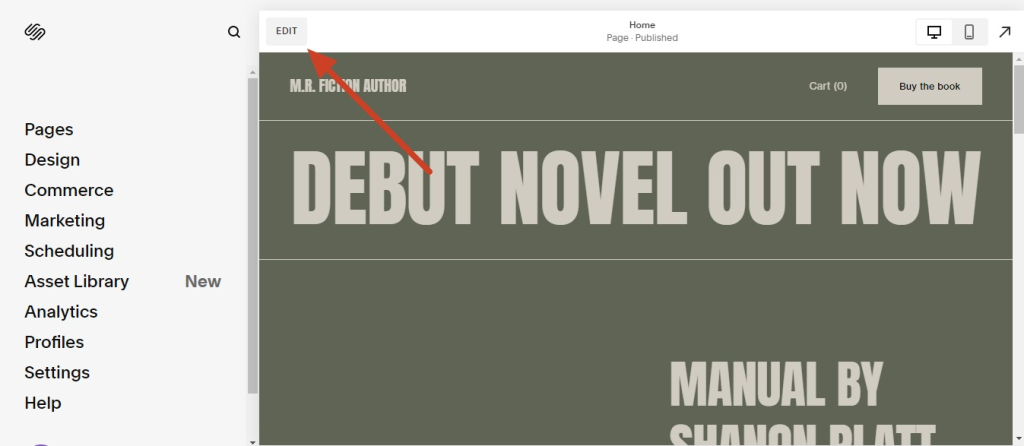 Simply select the edit button to get started. It will walk you through some basics of the new (at the time of writing) Fluid Engine drag-and-drop editor. Then you can get started customizing your site.
It's worth noting here that your site will be broken into sections and elements. Sections are the broad areas that contain different blocks or elements. So deleting a section will delete anything inside it.
More on editing blocks in the next step. For now, let's stick with sections.
Squarespace makes it easy to edit sections. You simply need to hover your cursor over a given section to bring up the customization options. You can duplicate, delete, or edit any given section. You can also move it up and down using the arrows that show up when you hover over it.
If you click on the editing option, you'll see that you can change the layout, change the background, and adjust the color. You can also add decorative dividers between sections.
Spend fifteen minutes or so getting to know the different options so you have a good idea of what you're doing. If you make a mistake and want to change it back, all you have to do is hit the undo arrow in the top left of the window.
Pro Tip: After making any section changes (especially to layout), toggle to the mobile view option in the top right corner of your screen. This will show you how your website will look on mobile devices. And while Squarespace optimizes this automatically, certain changes can make things look a little funky. So get in the habit of checking it regularly as you edit! You can edit in mobile view to make sure your site looks good on phones and tablets.
Step 5: Change Site Styles
Although you can change the colors for each individual section on your page, you may want to change the overall palette for the site. After all, this is the quickest way to make the site unique.
And the nice thing is, the Squarespace website designer has already done the work of putting complimentary color palettes together. (See examples below.)
All you need to do is navigate to the paintbrush in the top right corner of the editor. This will bring up the Site Styles toolbar on the right.
From there, you can edit things like fonts, animations, and buttons. But for this example, we're going to click on the colors option. Then we're going to select "Edit Palette" to bring up a menu.
From here, we can choose from presets to change the color of the site.
In this section, you can also upload an image (your book cover or author logo, for instance) and then have Squarespace create a palette based on the colors from the image.
This can give you a stunning website that's branded to your book in less than an hour. Pretty neat!
Step 6: Edit Blocks
Blocks (sometimes called elements) are things like images, buttons, blocks of text, social media links, and email signup forms. Editing them is fairly straightforward.
Editing text is as easy as clicking on it and typing what you want to show up.

If you want to change an image, all you need to do is click on one and select the edit button (the little pencil). From there you can upload your own image, add alt text, add a link, and change the design. Editing other blocks is similar.
If you want to add a block, all you need to do is select the "Add Block" button that appears whenever you hover over a section. Then select which element you want from the menu.
Step 7: Add Email Collection Form
Although I definitely want to sell books from my website, my main concern is collecting email addresses. This is because (in this example) I only have one book out, and a reader I can email about future books is worth more to me than a single sale of my book.
Although there is a basic email collection form at the bottom of this template, I want it to be one of the first things a website visitor sees. So what I'm going to do is put an email collection form at the top of the homepage, below the site header (and delete the other one). To do this, hover over the section and select the "Add Section" option on top. You'll get a list of pre-made sections to choose from.
For an email collection form, scroll down and click on the "Forms" option. Choose the one you want, and it will show up right there. Remember that you can change the color by editing the section if you so desire.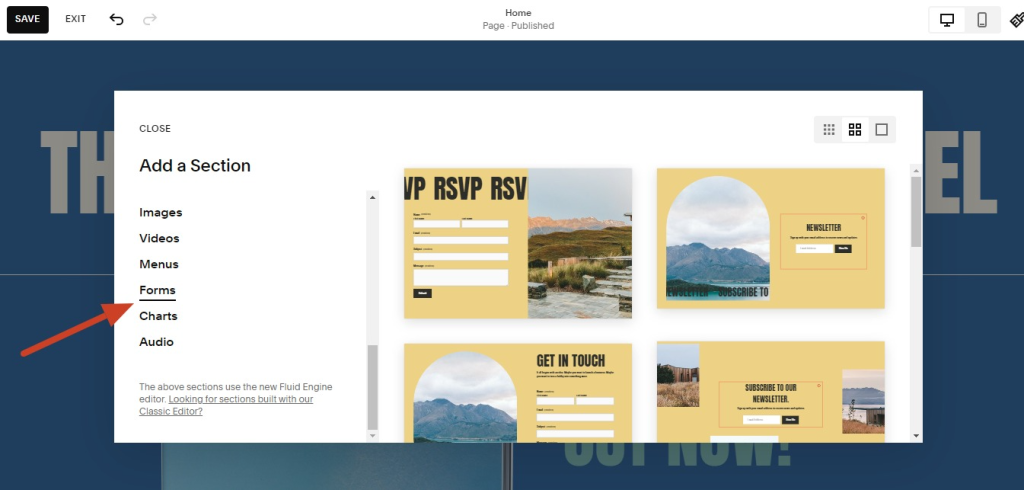 If you have a reader magnet to give away, whether it be a short story, novella, character dossier, or something else, this is the place to showcase it. You can give it away for free to collect email addresses. It's easiest to do this by linking to a BookFunnel or StoryOrigin landing page so you don't have to worry about delivering the reader magnet to each reader yourself. But for the purposes of this article, we'll just set up a standard email collection form without a reader magnet.
To do this, click on the collection form and select the edit button. Under the "Storage" option you can have Squarespace collect emails for you or connect a service like Mailchimp, Google Drive (you'll need to designate a spreadsheet to send your subscribers to), or Zapier.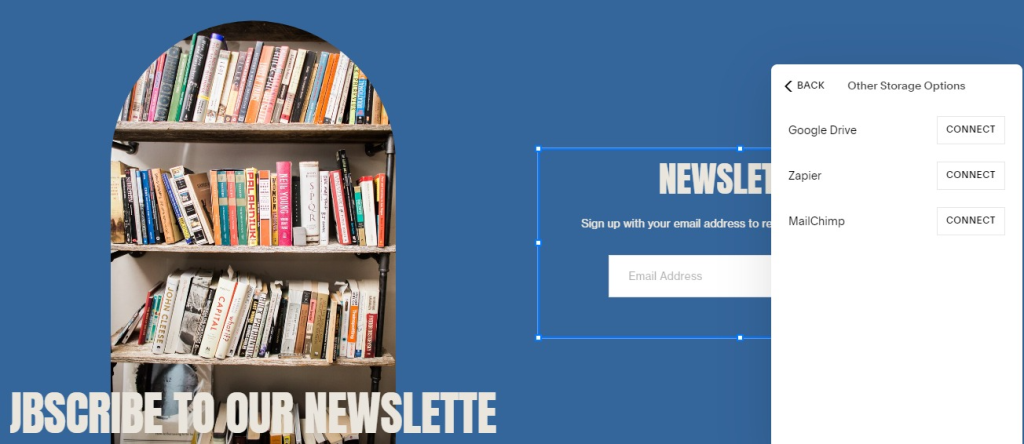 This email marketing feature is essential for authors, and I suggest you set up a collection form now, even if you won't be sending traffic to the site just yet.
Pro Tip: Check out our article on creating a reader magnet for more information!
Step 8: Add Pages
Once you're happy with your homepage, it's time to add more pages to your author site (if you want). To do this, save your changes and hit the Exit button in the top left corner to leave the editor. Then, select the "Pages" option from the left-hand menu. Click the little plus sign next to the "Main Navigation" option to pull up a list of options.
If you're going to blog, you can select the Squarespace blog option to choose from presets in your chosen theme. This will allow readers to select from a list of individual blog posts once they're up and running. Then they can click and read the blog post from there.
If you're a freelance writer and you want to showcase your services to potential clients, you can choose from one of the "Portfolio" options. These are also good if you already have several books out you want to showcase.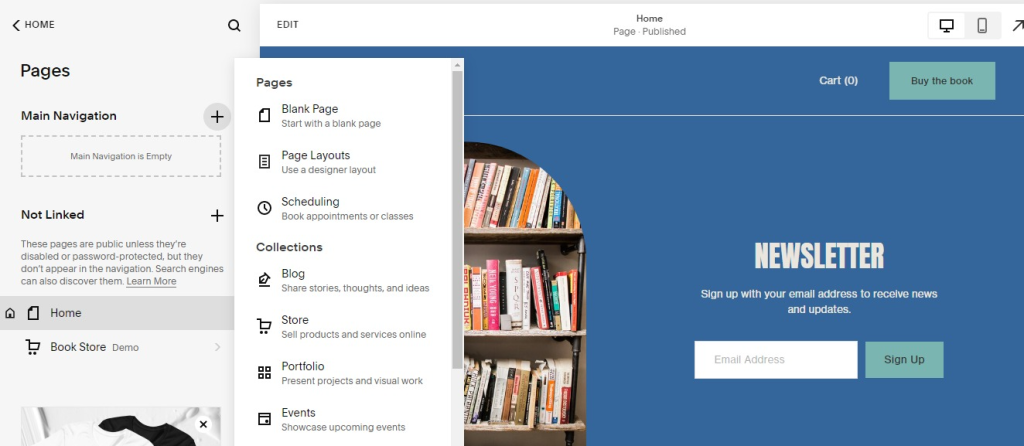 Although beyond the scope of this article, you can also set up an e-commerce store to sell your books directly on your website. (You will have to purchase the Squarespace Business subscription to sell directly.)
You can also select the "Page Layouts" option to choose from pre-made templates for standard pages. These include Contact, About, Privacy Policy, Terms of Service, and General Use pages.
Edit your pages to your liking, just like you did with your homepage!
Step 9: Sign Up and Go Live!
If you're happy with how your writer website looks on Squarespace during the free trial, the next step is to sign up and get your site on the world wide web! Most authors will only need the Personal Plan, which is $16 a month paid annually. But if you want to sell your books directly, you'll need the Business Plan.
With the Personal Plan, you get:
A custom domain name
An SSL Certificate
Search engine optimization features (especially good for nonfiction authors and bloggers)
24/7 customer support
Basic website metrics
Direct access to millions of stock photos for use on your website
You also get hosting through the Squarespace website platform, making this an all-in-one option for your author website. You can also connect Google Analytics to your Squarespace website if you're so inclined.
Creating Your Author Website with Squarespace: Conclusion
Although there's no free plan with Squarespace, the two-week free trial is plenty of time to get to know the interface and decide if it's the right website design platform for your needs. All the templates are sleek and professional, and it's really easy to learn the basics of the editor. And for what the company offers with its Personal Plan, the cost of paying annually is highly competitive when compared to other website builders with similar features.
So whether you're looking to build a basic author's website or you want to host a podcast and sell directly, Squarespace is a good choice. And if you do choose this platform, I hope this article helps you get your site up in no more than a couple of hours!