Everyone loves a good coloring book. But they can often be misunderstood, and require a lot of research to find a good niche where they are likely to make money.
And to that the fact that you need to either be an artist and do the drawings yourself (which can take a lot of time) or hire one, which can get really expensive.
So it's even more important that you get your research done right.
Thankfully, I've got a tool that will help you do that, as well as a few other tips and tricks to help out.
Let's dive in.
In this article, you will learn:
How to do research for a coloring book
How to put together your art pieces
How to format your coloring book
How to publish and market your coloring book
Note that some of the links in this article are affiliate links, but they cost you nothing extra, and it all goes to the Kindlepreneur collective coffee fund.
With that out of the way, let's look at the first question you should be asking…
What Kind of Coloring Book Do You Want to Create?
In the world of coloring books, there are various types, but most fall under two specific categories:
A Coloring Book for Kids
Coloring books for kids are probably the most common and well known, because kids love to color.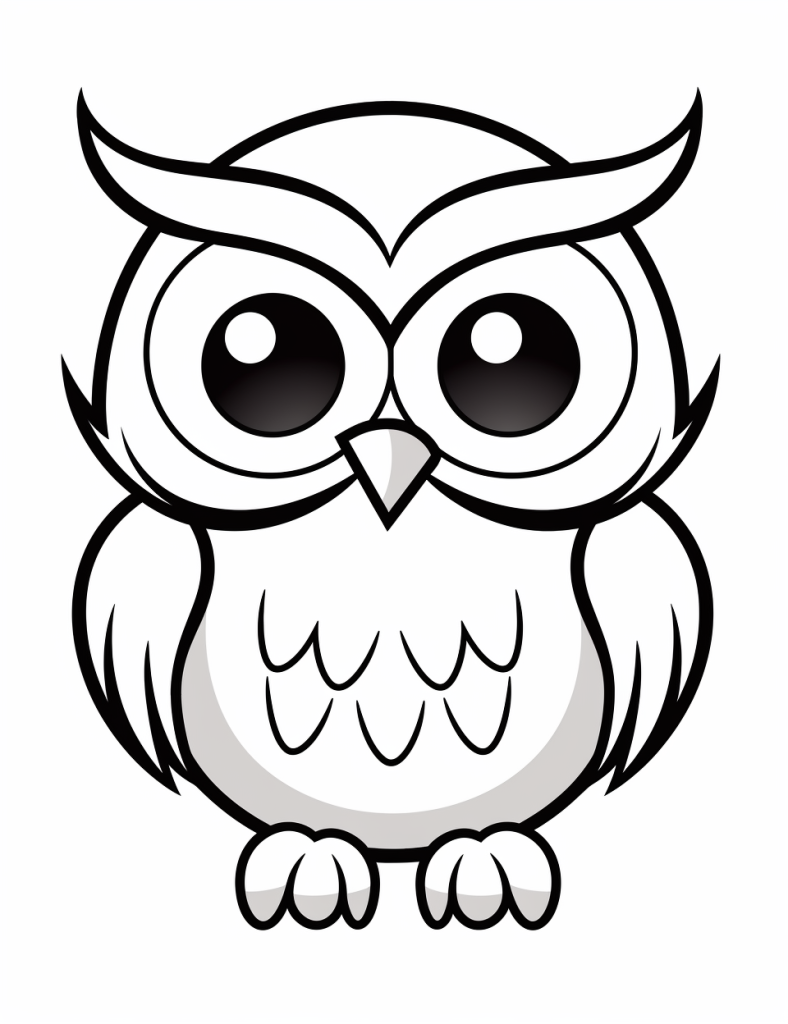 Kids coloring books are generally known for having:
Simple art
Large spaces between the lines to color easily
Optional text beneath the illustration to educate kids
Fewer pages
Kids coloring book pages are also much easier to produce, as they are simple and require less illustration.
A Coloring Book for Adults
Coloring books for adults are a little different. They involve a lot more detail, usually have fancy designs, and often involve complex patterns. They are harder to produce, but extremely satisfying for those who use them.
Coloring books have been found to be therapeutic for adults, a good way to quiet the mind and get a little bit of a dopamine hit in a healthy way.
There are many different types of adult coloring books, including but not limited to:
Geometric
Floral
Animals
Nature
Patterns/Mandalas
Architecture
Comics/Manga
Fashion
Zendoodles
Inspirational (often using quotes you can color)
A Mixed Style
There is opportunity in coloring books for both kids and adults, but you have to do your research to know if you've found a good niche.
Which brings us to the first step in our 5-step process…
Step 1: Do Your Research
The first step is to know what your coloring book should be about. Ideally, you want a coloring book that will sell, and for most people starting out, that means you need to pick a niche.
There are several ways to pick your niche. I'll give you two.
The first way is to manually perform searches on Amazon and see what is available, and what niches might have room for more.
You can do this by:
Performing a search on Amazon for something generic like "adult coloring book" and seeing what comes up in the suggestions
Click on an option and look at the number of competitors, does it appear to be overcrowded?
Try again with other keywords, consider adding a letter to the end of your search to see what keywords are suggested, (adult coloring book a, adult coloring book b, etc.)
Once you find a coloring book search term that seems relatively low-competition, you want to make sure that the books are selling. You can do this by looking at the top 10 results for that keyword, finding the Best Sellers Rank, and pasting it into my KDP Rankings Tool to see how many sales it is getting per day
Rinse and repeat for each promising-looking keyword
Now, there is actually a much easier way to do this, one where you don't have to do so manually.
It involves using the tool Publisher Rocket to find your categories and keywords that are likely to do well.
Here's the process I went through to find a good niche.
First, I used Rocket's category analyzer which looks at all of the categories on Amazon. I found one called: Books > Arts & Photography > Drawing > Coloring Books for Grown-Ups > Animals.
This category had decent growth, but more importantly, the insights let me know that there was a low percentage of books in this category from Kindle Unlimited or Large Publishers. Plus, the number of sales it would take to compete was relatively low.
But that's just the overall category. What about a specific search term?
Well, once I knew that animals was a good category, I went to Rocket's keyword search feature and began typing in "[ANIMAL NAME] coloring book" with a variety of animal names to see the results.
When I typed in "Owl Coloring Book" I found some really great results, which were color-coded to show me that they had a lot of amazon searches but low competition.
Rocket made it really easy and fast to find a good niche, and I actually found several others in the small amount of time it took me to prepare this part of the article.
So definitely check out Publisher Rocket if you haven't already, because it's a great way to simplify your coloring book research.
Check Out Publisher Rocket Here
Step 2: Assemble Your Coloring Book Art
The next step is to actually create your coloring book art and get it ready for publishing. These days, there are three ways to do this:
Create the art yourself
Hire someone to create the art
Use AI to create the art
All three of these are relatively straight forward, but there are a few things to keep in mind.
First, if you are doing the art yourself, make sure you have a solid understanding of your own strengths and weaknesses. Perhaps you work better doing kids coloring books, or maybe you really like drawing mandalas. Play to those strengths, and keep it in mind when doing research.
Second, if you're hiring an artist, don't be too cheap (that's what the AI art is for). Be sure to pay the arist well and understand that only the highest quality artists will be able to deliver the best results. And the quality of the art is a HUGE factor in whether the coloring book continues to sell over time.
A Note About AI Art
Now I'd like to add a HUGE caveat to that last one. AI Art is here to stay, and there's not much we can do about it, but I do highly recommend paying an actual artist for these types of projects.
Because first of all, as good as AI art is, it's not as good as a real artist's final result. Your customers are likely to notice the difference in quality, especially if they go through a lot of coloring books.
And second of all, it's simply a good thing to do.
However, there are instances when you might want to consider AI, and here are a few:
When You Don't Care About Money: If you're creating a coloring book, not for profit, but just because you would like to have one, then AI might make sense. When you pay an artist, costs add up, and so you need to think carefully about your niche and other marketing paths to earn money to make up the cost. If profit isn't of interest to you, a cheaper option would make sense.
As a Prelude to Paying an Artist: If you truly don't have any money, you can use AI to generate your art and allow you to publish the coloring book in the first place. Then, once your books start making enough money, you can re-invest that money in a real artist to upgrade your art. Win-win.
As Supplemental Material for Other Projects: Perhaps you're not interested in coloring books as a main source of revenue, but perhaps as a side product to other books. For example, I once created a few coloring pages with AI based on my fantasy book that I sent to my email list. In this specific instance, when you don't have to worry about return on investment, AI might make sense.
Ultimately, it makes the most sense to use AI only when you have a choice between using AI or not having a coloring book at all (in which case the artist doesn't get paid either way).
If you do have the funds, then by all means pay the artist. You'll get better results anyway.
Your Coloring Book Cover
Your coloring book cover is crucial for catching readers' attention and conveying what the book is about. For the best results, hire a professional designer to create an appealing, high-quality cover that is different from your interior artwork.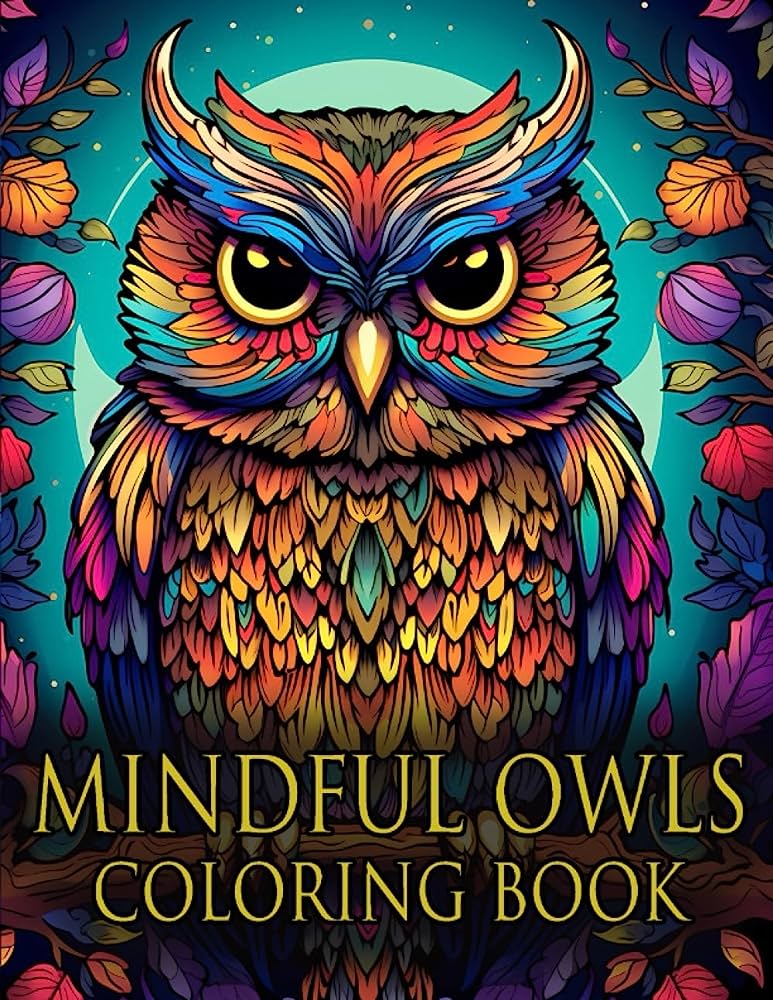 For example, an owl coloring book for adults would benefit from a detailed, realistic drawing of an owl on the cover. A kids' coloring book could feature a fun, charming illustration of the main character.
Don't clutter the cover with too many elements. The title and a strong visual representing the book's contents are ideal. For the title, choose a large, easy-to-read font that pops against the background.
Consider also using a subtitle to further explain the book's subject, like "An Adult Coloring Book Featuring Beautiful Owl Designs."
Vibrant, saturated colors tend to work best for coloring book covers to capture attention. Make sure the cover image is high resolution for sharp detail when viewed large.
Step 3: Format Your Coloring Book
Next comes a tricky part for some: the formatting. Generally speaking, we'd split this into two parts:
Image Formatting
With the image, you want to make sure each image is sized correctly, and that they have a uniform style.
Personally, I like to add a black border around each image to make it feel nice and uniform. These types of border can be easily added using Adobe Photoshop or Canva.
You'll also want to make sure your image is sized for the correct trim size that you want on Amazon.
Thankfully, if you are using full bleed images through Atticus, there's a handy tool that will tell you exactly how many pixels your image should be, which you can find here.
And speaking of Atticus…
Book Formatting
Once you have your images in hand, you can add them to Atticus by adding a Full Page Image.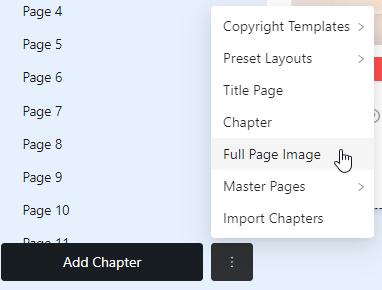 Once you've uploaded your photo, you'll also want to make sure that "Full Bleed" is selected.
Then you'll want to go to the Formatting tab and edit a theme and then, under Print Settings, make sure you have the correct trim size selected.
Once that is all out of the way it's a simple matter of uploading the rest of your images, then exporting to a PDF, which should be automatically formatted for KDP or IngramSpark.
Check Out Atticus Here
What size are coloring books?
Generally speaking you can use any size for a coloring book, but the most common are 8.5 x 11 inches for most coloring books, with 8.5 x 8.5 inches occasionally used for square coloring books.
How Many Pages Should a Coloring Book Be?
You will at least need 24 pages to be able to use print-on-demand software. But the good news is that each page can have a blank page behind it, meaning that 20 illustrations would actually count as 40 pages.
But as for the number of illustrations, most coloring books have anywhere from 16-50.
Step 4: Publish Your Coloring Book
Once your coloring book is assembled and formatted, it's time to publish it. In the realm of self-publishing, Amazon's Kindle Direct Publishing (KDP) is one of the most popular platforms, as it provides a simple and straightforward process. If you want to expand your reach further, you can consider other platforms like IngramSpark.
To publish your coloring book on KDP, follow these steps:
Set up a KDP account if you don't already have one.
Once logged in, click on '+ Create' and then 'Create Paperback.'
Input your book details such as title, subtitle, author, description, and keywords. Don't forget to include your selected niche or theme in your description and keywords.
Upload your formatted manuscript and cover.
Preview your book to make sure everything looks good. Make sure to check each page carefully to ensure all images are properly placed and clear.
If everything checks out, select your territories, pricing, and royalty plan, and then click "Publish Your Paperback Book."
While KDP is an excellent option for many self-publishers, some prefer the wider distribution and flexibility of IngramSpark. We generally recommend you do both, as there are no upsides to going exclusive with Amazon for print titles.
Do You Need an ISBN For Your Coloring Book?
The International Standard Book Number (ISBN) is a unique identifier for books, which helps in their tracking and distribution. If you plan to sell your coloring book in bookstores or libraries, you'll need an ISBN.
However, if you're publishing through Amazon KDP, they provide you with a free Amazon Standard Identification Number (ASIN), which serves the same purpose on their platform. But remember, an ASIN only works within Amazon, so if you aim for a broader distribution, it's worth getting an ISBN.
Step 5: Market Your Coloring Book
Marketing is an essential aspect of any book's success. We have a ton of resources to help you with this, but consider these strategies to get started:
Social Media: Use platforms like Instagram, Facebook, Pinterest, or TikTok to showcase your art and engage with potential customers. You can post sneak peeks, completed pages, or user testimonials.
Influencer Marketing: Partner with influencers in your niche who can showcase your book to their followers. This could be a parent blogger for a kids' coloring book or a mental health influencer for an adult coloring book, for example.
Email Marketing: If you have an email list, send them an announcement about your new book. You can even offer a free coloring page as a teaser.
Amazon Advertising: Use Amazon's own advertising service to target potential customers who are already looking for coloring books on Amazon.
Collaborate: Partner with local libraries, schools, or community centers for coloring events or contests where your book can be featured.
Final Thoughts: Do Coloring Books Make Money?
Yes, coloring books can make money. How much you earn depends on several factors such as your chosen niche, the quality of your illustrations, your pricing strategy, and your marketing efforts.
Some self-published authors have achieved great success with coloring books, earning a steady income stream.
However, remember that it requires a lot of hard work, creativity, and a bit of business acumen.
But it can absolutely be worth it. Just in the research I did for this article, I identified several niches that could work, and had to remind myself that I already have my own business plans and coloring books are not at the center of those plans.
It can definitely work for a lot of people, especially if you yourself are an artist and want to give it a go.
So try it out and see what you think!