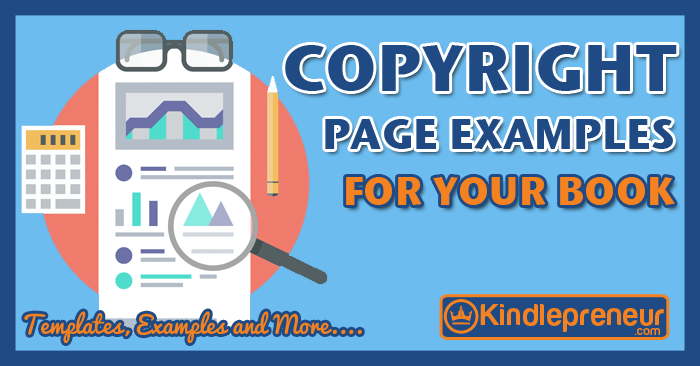 Book Copyright Page Examples For Your eBook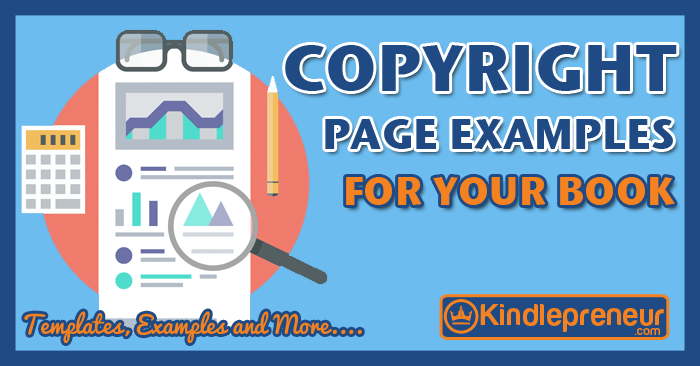 Most self-publishers get intimidated when it comes to making their first book copyright page. I understand – the small print and legal jargon were enough to make me squirm as well.
But it doesn't have to be that way. Today we're going to go step-by-step in creating your own book copyright page and covering all your bases.
After reading this article, you'll be able to quickly and confidently prepare your own book copyright pages from here on out.
Furthermore, if writing your own book copyright page jargon doesn't sound appealing,  you'll be able to copy and paste from a few copyright examples and templates down below and start using them in your own books – sort of ironic that you'll be able to copy a copyright protection segment…but don't worry, you have my permission.
In this lesson you will learn about:
What constitutes as a  book copyright page
The different components that should be in your ebook copyright statement
Copyright examples, samples and templates
Quick Disclaimer: Thank god I never became a lawyer…that might have been rough for many of us.  But keep that in mind as you read this.  And that's it for my CYA statement.
So, let's begin!
What do you have to put in your Book Copyright Page
Generally, the more specific information you put on your copyright page, the more protection you and your book will have.  However, this doesn't mean you need to go overboard and hire a lawyer to create your copyright page.  So, stand down Saul.
Instead, to have a legitimate copyright page, all you need is:
The Copyright Notice
"All rights reserved." (or similar text)
Yeah…that's really it.
However, there are a couple more elements that you should consider when creating your copyright page:
Publisher's Name & Address
Ordering Information
Printing Details and Trademarks
Your Website
CIP Data Block
Edition
ISBN(s)
Disclaimers
Giving Credit
Printing Numbers (and/or years)
Don't worry, I know that all looks crazy.  But take solace in the fact that below we'll cover these, what they look like and what they offer.
Required Elements for a eBook Copyright Statement
Let's begin by discussing the first two elements to a book copyright page – the required ones.
1. The Copyright Notice
The copyright notice includes these three elements:
The symbol ©, or the word "Copyright," or the abbreviation, "Copr."
The first year of publication
The name of the copyright holder (presumably, your name)
© 2015 Dave Chesson
What if I use a pen name?
Go ahead and use your pen name on the copyright page in your ebook. Or, alternatively, use your publishing company name. If/when you register your copyright, include your real and pen names on the registration form.
What if I write under my business structure?
If your books are written and/or published under a business structure of some sort, you can list your company as the copyright owner on your copyright page in your ebook. There is no difference in the language if you're operating as a sole-proprietorship, an LLC, or any other type of business organization.   Use your company address, when listing the publisher contact details.
2. All Rights Reserved
You can simply state "All rights reserved." Or you can expound upon that statement, making it clearer and more forceful. Here are a couple of examples:
a. All Rights Reserved Copyright Example #1 (Simplest)
All Rights Reserved
b. All Rights Reserved Copyright Example #2
All rights reserved, including the right to reproduce this book or portions thereof in any form whatsoever. For information, address the publisher at:
c. All Rights Reserved Copyright Example #3
All rights reserved. This book or parts thereof may not be reproduced in any form, stored in any retrieval system, or transmitted in any form by any means—electronic, mechanical, photocopy, recording, or otherwise—without prior written permission of the publisher, except as provided by United States of America copyright law. For permission requests, write to the publisher, at "Attention: Permissions Coordinator," at the address below.
Technically, if you have those two Elements (Copyright Notice and "All Rights Reserved"), your book copyright page is complete.
Simplest Book Copyright Example Page Ever!
Here is an example that uses the two elements above in its most simplistic form ever:
© 2015 Dave Chesson. All rights reserved.
Seriously, that's all you need.
The List Of Non-Essential Elements of a eBook Copyright Page
However, most people use their copyright page for more than just declaring ownership. Let's talk more about the Other Non-Essential Elements of a Copyright Page, elements 3-12. Include the elements that apply to you; leave out those that do not.
3. Publisher's Name & Address
The publisher's address is usually included next, so that readers know who and how to contact for reproduction permissions. For many of you, the publisher will be yourself. List whatever way you'd prefer to be contacted for questions or to report an error in one of your books– email, website, business mailing address, etc.
Cloud City Publishing Company1234 Story StreetReadabook, PA 08922www.revowordspublishing.com
www.facebook.com/revolutionarywords
4. Ordering Information
This section includes information for people or organizations wishing to order more copies of your book. Different information may be listed for people looking to make individual orders, bulk orders for bookstores, college classroom orders, etc. Often, this won't apply to self-published ebooks.
For information about special discounts available for bulk purchases, sales promotions, fund-raising and educational needs, contact Revolutionary Words Publishing Company Sales at 1-866-532-6991 or sales@revowordspublishing.com.
5. Printing Details and Trademarks
Disclose any trademarks your publisher may hold to names, logos or imprints included in or on your book. Also include any details about your publishing company's environmentally friendly printing practices, the location of printing, fonts used, etc. Many of these don't apply to ebooks, however here are some examples:
The Light Saber logo is a trademark of The Republic Publishers, Inc.This book is typeset in Verdana and Courier New.The Republic Publishers, Inc. is concerned with and committed to protecting the galaxy by using environmentally sound printing practices. This book was printed with soy-based ink on recycled paper.Printed in the U.S.A.
6. Your Website
Include your author website, so your readers can easily find more of your work.
Visit the author's website at www.josiebreitling.com.
7. CIP (Catalog-in-Publication) Data Block
Most self-published ebook authors won't include a CIP data block. A CIP data block is not something you can create yourself. It is not required to publish or sell a book.
The Library of Congress issues a CIP data block to you. It is not something you can create for yourself. However, if you're a self-publisher, you are not even eligible to have a CIP data issued to you by the Library of Congress.
You can, however, pay to have a P-CIP (Publisher's Catalog-in-Publication) data block generated for you, if you truly desire. Having P-CIP data can make your book look more professional. It costs anywhere from $60-$100, and can be done by Quality Books, Inc. or CIPblock.com.
However, the only people interested in seeing your CIP data are the librarians, quite frankly. CIP data exists to help them categorize ("catalog") your book in the library more quickly and easily.
Unless you plan to market your book specifically to librarians, CIP data is unnecessary.
For your reference, a CIP data block looks something like this:
Road, Rocky.Ice cream flavors: a complete biographical history by Sloth and Chunk / Rocky Road.p.cm.
ISBN: 938-27929465-1-8Includes biographical references and index.1. Food – Ice cream – Non-fiction. 2. Food flavors – Non-fiction. 3. History of food – 20th century – Non-fiction. 4. Biographies.I. Title.ID197.C0 Y87 2015329/.047—cc26                            9776340872
I really wish this book existed…I would buy it and put it on my coffee table…
A side note for international authors: If you are located in Canada, you can obtain CIP data from the National Library of Canada for free. Even self-publishers are eligible. Go to the Library website to learn more and apply. This should be done BEFORE you publish your book.
If you are located elsewhere, check with your country's local copyright laws.
8. Edition
The edition of your book, especially if it is not a first edition, is a good thing to note here. Simply write:
First Edition
9. ISBNs
List your ISBN, if you have one. Not all books will have one. If you have more than one ISBN, you can list both, for your readers' reference. Here's what it will look like:
ISBN 978-1-4767-9386-4ISBN 978-1-4767-9322-1 (ebook)
Does my book need an ISBN?
That answer varies, depending on where you are going to market your book. It is up to the store selling your book. Here are a few of their (current) answers:
Amazon (Kindle): No
Barnes and Noble (ePub): Yes
Apple iBook (ePub): Yes
Libraries and bookstores (print books): Yes
Do I need a separate ISBN for each ebook format?
Yes. You will need separate ISBNs for the different formats of your ebook and your printed book. For example, if you have a Kindle version, an ePub version, a softcover, an audio book, and a hardcover you will need at least four different ISBNs (five, if you want one for your Kindle book too). Go to the ISBN-issuing website here for more details on ISBNs for ebooks.
I'm a self-publisher – can I get an ISBN?
Yes, self-publishers apply for ISBNs, just like any other publisher. All U.S. ISBNs are issued to publishers through a company called Bowker. Go to MyIdentifiers.com to get yours. If you think you'll be publishing more books (or more versions of your book) down the road, I'd recommend buying a set of 10 ISBNs as a package right away. You'll get a steep discount that way.
I don't live in America – can I get an ISBN?
Go to International ISBN Agency to get your ISBN.
10. Disclaimers
An entire book could be written on disclaimers alone. Because our society is increasingly prone to suing at every opportunity, book disclaimers have become a lot more common. Some genres — like investing — might require specific language to stay compliant with the SEC – same goes with health.
For some sample disclaimer language, look inside other books in your genre, which have been published by traditional publishing companies large enough to have a legal staff. Here's our disclaimer:
We are not lawyers. This website and the content provided herein are simply for educational purposes, and do not take the place of legal advice from your attorney. Every effort has been made to ensure that the content provided on this website is accurate and helpful for our readers at publishing time. However, this is not an exhaustive treatment of the subjects. No liability is assumed for losses or damages due to the information provided. You are responsible for your own choices, actions, and results. You should consult your attorney for your specific publishing and disclaimer questions and needs.
Below are two sample disclaimers printed in actual books:
This is a work of fiction. Names, characters, places, and incidents either are the products of the author's imagination or are used fictitiously. Any resemblance to actual persons, living or dead, businesses, companies, events, or locales is entirely coincidental.
Some of the recipes in this book include raw eggs. Raw eggs may contain bacteria. It is recommended that you purchase certified salmonella-free eggs from a reliable source and store them in the refrigerator. You should not feed raw eggs to babies or small kids. Likewise, pregnant women, elderly persons, or those with a compromised immune system should not eat raw eggs. Neither the author nor the publisher claim responsibility for adverse effects resulting from the use of the recipes and/or information found within this book.
A legal disclaimer in your book copyright page doesn't have to be long. Just do a small amount of homework now, and you could save yourself a lot of trouble down the road.
11. Giving Credit
Here is a good place to give credit to anybody else who made some sort of contribution to your book such as the graphic designer who created your book cover, photographers whose photographs you used, the person who formatted your ebook, your editor, or your proofreaders. Here are some examples:
Ebook formatting by Hynek in Prague, Inc.Cover design by High Fiverr Cover Designer
Illustrations © 2015 The Young PadawanEdited by Luke Skywalker of Master Jedi Editing, LLCScripture quotations are from the New King James Version. Copyright © 1982 by Thomas Nelson. Used by permission. All rights reserved.
What if I want to use a photograph that is public domain – should I disclose that and/or use the PD-US logo on my copyright page?
No, it is not necessary.
12. Printing Numbers (and/or years)
Ever wonder what that strange, long string of numbers float along near the bottom of the copyright page means? They are actually there for the publisher's production department. They represent the printing number (or sometimes, the printing year). Typically they are in descending order, from left to right. However, they can be in ascending or even in random order. They were originally put there so that printing plates for the book wouldn't need to be remade with each reprint. The applicable number was simply removed from the plate. However, as digital printing and ebooks take over, these are likely to go extinct.
Side note: These numbers are useful for book collectors. Just look for the lowest number on the list; that's the printing you have. In the example below, we have a copy from the book's 2nd printing.
10     9     8     7     6     5     4     3     2     1
Put It All Together
Your final product could include all or only a few of the above Elements of a Book Copyright Page. If one Element doesn't seem suitable to your book, just leave it out. Here are some examples of what your book copyright page could look like when it's all put together:
Sample Book Copyright Page #1
Writer's Writing Buddy by Tiana SiedschlagPublished by Cornerstone Writers Group200 Lakerose RoadMary Lake, MT 03789
www.CornerstoneWriters.com
© 2015 Tiana Siedschlag
All rights reserved. No portion of this book may be reproduced in any form without permission from the publisher, except as permitted by U.S. copyright law. For permissions contact:
help@CornerstoneWriters.com
Cover by Justin Reber.
Ebook ISBN: 359-2-85933-609-1
Other Copyright FAQs
When is my copyright protection effective?
Your copyright protection goes back to the moment you create the content. We recommend everyone read this brief primer on copyright basics published by the U.S. Copyright Office
Do I need to register my book with the U.S. Copyright Office for my copyright to be effective?
No, you do not. However, there are benefits to doing so. If you register your copyright, you will be able to claim attorney fees and statutory damages, in addition to the actual damages and profits you will get to claim with an unregistered book. You can read more about this at the U.S. Copyright Office's website. International authors will have to check their country's own copyright laws.
Do I register for copyright first, or do I submit my published work to Amazon first?
You submit your completed book to Amazon (or other bookseller) first, before registered for your copyright. At the time of writing, books are taking 8-13 months to be processed by the copyright office. There's a lot of potential profit to be lost in those 8-13 months.
Cheers,