How to Start a Book Publishing Company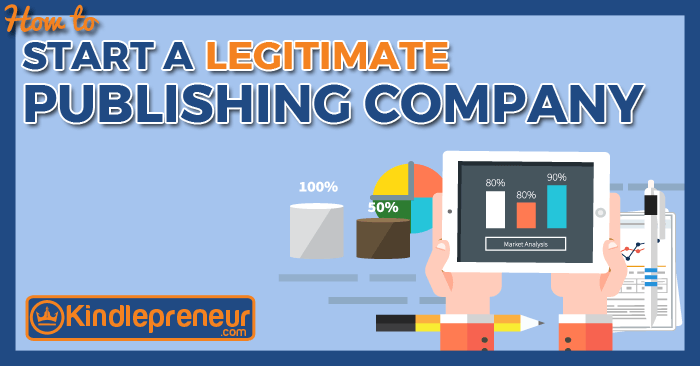 "How do I start a publishing company?"
This is a common question that runs through the minds of most self-publishing authors at some point in their writing career.
Starting your own book publishing company is an important step if you're serious about your author business, want to sell other people's books, or you just want to protect yourself and your assets.
For many people, establishing your company can be confusing, tedious, and downright painful.
Thankfully, this step-by-step guide and some awesome online services will help you determine if you should start a publishing company and the steps for how to do it pain-free.
In this article, you will learn:
The pros and cons of starting a book publishing company
What you NEED to know before starting such a business
How to start your own publishing company online
Which service I used that did most of the hard work for me
Before I dive too deep into this process, I must make 2 disclaimers:
Although I have a lot of experience in setting up LLCs, including my own book publishing company, I am by no means a lawyer or CPA and cannot speak on their behalf. If you have any questions, it is best to seek the legal advice of a professional before moving on. You can also listen to my podcast interview with a lawyer below.
Some of the paperwork/legal steps listed in this article are pertinent to the US only. Each county will have their own laws for setting up such things, but many of the steps and recommendations below will be pertinent in your own startup.
And with that said, let's begin!

Why you should start a publishing company
Before we jump into the process of setting up a publishing company, let's first look at why someone should do it.
With today's publishing platforms, you don't have to start a publishing business in order to publish your own work or even others. But doing so has many advantages, including:
Conveys professionalism and expertise
Allowing for certain tax write-offs
Maintain control over your work
Protects yourself, your work, and your personal assets in case of a lawsuit
Access to more than one Amazon KDP account
Shifts your mindset from a hobby writer to a business owner
Fulfills your dream of being The Boss/CEO/Founder of your own publishing company
Future opportunities to publish books by other authors too
See, there are many benefits of starting a book publishing company. Next, we'll go into a little more detail on each of those advantages. This will help you clarify exactly why this is the right time for you to start your publishing business.
*If you're already clear on the advantages a publishing business would have for you, feel free to skip down to the next section*
Benefits of Starting a Publishing Business
BE SEEN AS A PRO
When you use an imprint name, or the name you create for your self-publishing business, it is less obvious to the world that your book is self-published. Although self-publishing is a gigantic accomplishment, some buyers, bookstores, or libraries look down upon books that are obviously self-published. When the publishing company is the author's' name, this is like a huge neon sign declaring that the book is self-published.
When the publisher is listed as International Press or Flynndustries, LLC. instead of John Smith, it looks more professional, and you as the author are seen as more of an expert.
TAX BREAKS & WRITE OFFS
No matter which business structure you decide to use, having your own book publishing business can allow you to write off certain business expenses, which can save you loads of money at tax time depending on your tax system.
For example, the business just paid for me to attend the Business of Software Conference this October.  And that large ticket price… Paid for by Ebookpreneur, LLC. Tax-deductible…which is nice.
Starting your own business also helps you differentiate between your personal income and the business income. This makes things much easier when it comes time to file your taxes.
MAKE YOUR OWN DECISIONS
Many authors, even big-time authors, continue to choose the self-publishing route versus the traditional publishing route because they want control of their book. Choosing to go through a self-publishing company can often mean relinquishing your control of your book, the editing, cover design, and how your final product is promoted.
If you publish the book yourself, you may hire out certain aspects of the publishing process, but ultimately, you get to keep control of exactly which book is put out into the world.
PROTECT YOURSELF
Although it's rare, lawsuits can happen. Just ask me about my own experience getting sued, jeesh…(PS: it was a false claim from a competitor just looking to knock my book off the market…jerk)
If you don't have a company, and your book, product or service gets sued, then your personal finances and public record will be at major risk.
Starting a company gives you legal protection and helps to distinguish between the business's finances and your own personal finances. The courts, or collection agencies, could not come after you and could only come after your company's assets.
Not that we're going to do anything illegal, but it is nice to know that your personal assets are not at risk.
Related Podcast Episode – Interview with an Experienced Lawyer
For publishing, this is very important because there has been a rise in copyright infringement and other accusations on the Kindle platform and other eBook sales sites.  In many cases, the claims are unfounded, but they are still very real and disturbing.
I decided to establish my company as an LLC to get the adequate protection of my personal and family's assets.
I got sued...so I started an LLC...it used to be a pain...but now it's as easy as 1-2-3 #WritersLife
Click To Tweet
DOUBLE THE NUMBER OF KDP ACCOUNTS
Another added benefit to starting a publishing company is that you'll be able to start another Amazon KDP account.
The terms of service state that you can only have one KDP account.
However, the cool part of owning your own publishing company is that your company would have its own EIN and bank account, which allows it to open its own KDP account. So now you can have two, and the second one is a publishing account, which comes with added benefits.
Why should you care about having another account?  Well, you can have more Author Pages as well as use more pen names.  But also, it's nice to not have all your eggs in one basket in case something unfortunate happens.
AUTHOR VS AUTHORPRENEUR
When writers self-publish a book, we realize we are now "published authors." However, many self-publishing authors don't realize they are now actually operating a business as a book publisher too.
Starting your own business can help you make the mindset shift from thinking like an author to thinking like an authorpreneur.
So if you're serious about writing and selling books as a business, not a hobby, then an important step is creating your own publishing company.
BE THE BOSS
As you shift your mindset from hobby writer to business owner, you need to start seeing yourself as the one in charge of your company.
So once you've decided to start your own publishing company, give yourself the title you've always wanted, whether it's The Boss, CEO, Founder, or The Dude, and embrace it. This is your business and you're in charge.
FUTURE OPPORTUNITIES
While most authors start only publishing their own books, some later find that they enjoy it so much they want to publish other author's books too. Having this publishing business could allow you lots of future opportunities.
Keep this in mind later when we discuss naming your company.
Why You Shouldn't Start a Publishing Company
I'll be real with you…not everyone should do this.
If you're just starting off, or still see this as a side gig or a hobby, then don't add the extra steps to your already busy schedule and instead focus on your book writing and your marketing.
Although it can feel great to be the 'CEO of your own publishing company,' understand that most authors will be fine without it.
So, if you DON'T meet any of the below, then I'd recommend that you NOT create a publishing company until you do:
You make more than $2,000 a month in book sales
You write in technical areas or health areas that could put you at risk of legal actions
You want to publish other people's books
You're selling more than just books, such as courses, physical products, etc.
You're an American, but you live outside of the US and want a base of operations
Start your own publishing company and turn your writing hobby into a legit business #Publishing
Click To Tweet
How to Start a Book Publishing Company
Okay, so if you've decided that this is something you want to do, then here's the step-by-step process of creating your own company.
Step 1. Decide which form of Ebook Publishing Company You Should Start
Before you can start creating your own eBook company, you need to choose which type of business structure you would like to create.
There are many different types of businesses like S-Corporations, Sole Proprietorship, General Partnership, Limited Liability Companies and more.  Each one has its own pros and cons.
Most self-publishers end up creating a Sole Proprietorship or an LLC. Here's a great article that discusses in more depth the difference between a Sole Proprietorship and LLC.
But in the end, I believe that the Limited Liability Company (LLC) is the best one for publishers.
I have heard an LLC be referred to as a Corporation, however, no matter what you call it, it is not a Corporation.
While not a corporation, it still provides adequate protection of assets without being as difficult or expensive as setting up a Corporation.
Furthermore, an LLC is more versatile and allows you to tax it as a Sole Proprietorship, Partnership, C Corporation, or S-Corporation.  Basically, it is the best of all worlds and fits nicely in the self-publishing business structure.
Don't believe me? Check out the bottom of many of your favorite authority authors or bloggers and you will see those magical LLC letters.

But, before you make a decision on which is best for you, make sure to do some extra research on each.
To find out more about each type, you can check out the IRS's page on business structure — okay, that made me feel a little dirty referring people to the IRS…haha.
Step 2. Select A Business Name
Think good and hard about this one. You might consider somehow using your name or your genre, like "Chesson Publications" or "Space Pants Press."
Although the name of your publishing business doesn't need to reflect the name of your actual business, it can cause problems if they aren't the same.
There are 3 things you need to consider before choosing your name:
Make sure it's not trademarked
Do NOT use the words "corporation" or "inc." unless you setup your business as a corporation
Check that the name is not already taken in your state if you're in the U.S.
It is a good idea to have backup names ready just in case yours is taken.
The good news is that the name availability is state specific, meaning that even though a company may have "Intergalactic Press" registered in New York, if it hasn't been registered in the state you are filling with, then it is available.
How do you check if your company name is taken?
Go to your respective state's name search.  To do this, type into Google: Secretary of State business name search "Name of the selected state"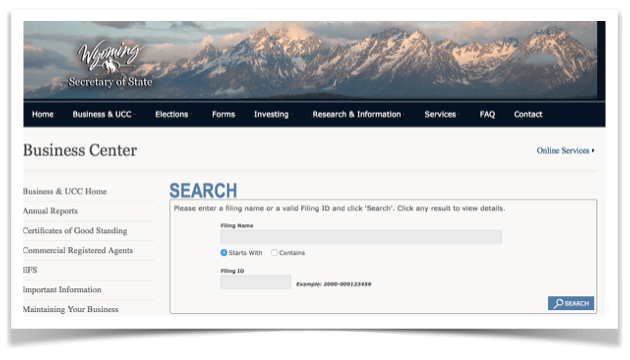 Step 3. Choose A Location
When setting up an LLC, many self-publishers will make their home their place of business since they need a physical place for their company.
This is a bad idea because your information will be public and debt collectors, lawyers, and random people will know where you live.  So what can you do instead?
Rent a Physical Location: I don't think I need to explain that this option is very costly and isn't really a viable option for most of us.
Get a UPS Mailbox: It's important that you get a UPS mailbox because most states do not allow you to put a P.O. Box number on the application. Luckily, UPS gives you a mailbox number that looks like a regular address. By choosing this option, you will need to show up in person to setup your mailbox. That means the state in which you decide to setup your LLC will be completely dependent on your ability to physically get there. But once you set up your mailbox, you can also have them forward your mail to your real address so that you don't have to actually go there to get your stuff. I'll explain later, though, why you might want to setup your LLC in a different state.
Setup a Virtual Office: Virtual Offices are my favorite option. These are professional offices that give you a specific mailing address, collect your mail, forward it to you, and can also be your Registered Agent (extra level of personal protection). Furthermore, most virtual offices will give you a 1-800 number and will record and send your voicemail to you electronically. This option is great for those of you who travel or if you reside in a state that has awful business taxes. Furthermore, you don't have to go there to set it up. You can do it from your home in a different state, or from a different country–like Sri Lanka as I did 😉
Now, for those of you thrifty business people who are looking for tax breaks or lower annual registration costs, here are a few of the states most people setup their business in.
If you live in one of these, great…otherwise, you will need to set up a virtual office there OR setup your UPS mailbox within that state to legitimately create an LLC in that particular state and reap their tax benefits.
| | Nevada | Wyoming | Texas |
| --- | --- | --- | --- |
| Annual Cost | $325* | $52 | $0** |
| Setup Fee | $75 | $100 | $309 |
| Business Income Taxes | None | None | None*** |
| Member Meetings | Not Required | Not Required | Not Required |
| Single Member LLCs | Allowed | Allowed | Allowed |
| | Learn More | Learn More | Learn More |
*Of special note, Nevada recently created a "Licensing Fee" which includes an extra $200.  So, if you are doing extra research and keep seeing Nevada listed as #1 for entrepreneurs for starting a business, check the date the article was written.  They increased their Annual Renewal Fee from $125 to $325.
**While Texas does not have an Annual Renewal Fee for an LLC, if you create an LLP with partners, there is a $200 Annual Renewal Fee PER partner. So be careful with that one.
***While Texas claims to have a "No Business Income Tax," they do tax on something called "Gross Receipt Tax," which taxes a company on the total gross revenues and/or assets over a certain amount instead.
Don't take for granted some of the above metrics or statements.
Although the three states listed above share many of the same attributes, most states do not have many of these.  Out of the 50 states, only 7 states offer no business income tax. But a couple of them have a secondary tax, which is basically an income tax but called something else — like Texas does.
I have personally setup a corporation in both Nevada and Wyoming, with Wyoming currently being my overall favorite.
However, again, make sure you do your research before making such a big decision.
Originally, I set up shop in Nevada. But when I went to setup Ebookpreneur LLC, I did my research again and discovered that things had changed since I last done my research.
So be diligent in your research since these things change.
Step 4. Officially Setup Your Book Publishing Company
Now it's time to officially setup your own publishing company.
At this point you have two major options:
Do all the required registration and paperwork yourself. Each state has different requirements, so I can't walk you through those specific steps, but you can certainly research and do all the required paperwork yourself.
Or keep it simple and use the service I used, My New Company (now called My Company Works) to get your publishing company started fast and make sure it's done right.
I personally selected an LLC, chose my virtual office in Wyoming, and even designated them to sign corporate documents for me (added privacy).
You can see how I did it in under 10 minutes in the video below.
And just like that, you could be a President/Owner/Founder of your very own publishing company.
Pretty cool, huh?  And I bet that was a lot easier than you thought it would be.
Books I Recommend to Run a Publishing Company Smartly
Jumping into setting up an LLC, Corporation, or Sole Proprietorship can seem pretty monumental, and if you're like me, then you probably like to do your research. Before I jumped into setting up my LLCs, I did my fair share of reading.
Here are three books I recommend and areas in which you should know more so as to better manage your company once off the ground.
LLC vs. S-Corp vs. C-Corp is a great book for those who aren't sure whether or not they should start an LLC, S-Corp, or a C-Corp. It goes into GREAT detail on each one, their benefits, and how to effectively run each. Highly recommend this book for those that are stuck on that particular step of the publishing company setup process.
---
The Tax and Legal Playbook is my favorite book for helping me understand taxes and how to operate my small business. It was a great combination of conservative yet risky. It helped me figure out how to TRULY get the best tax benefits from my LLCs and ensure we are operating legally as well. Some of the best money I've spent.
---
The Self-Publisher's Legal Handbook is a must own for any self-publisher. Although it doesn't dive deep into the business setup of things, it does give data on copyright laws and infringement. It will help you understand your rights as a publishing company and help you mitigate any pitfalls.
---
Need More Information about Starting a Company?
I'm a big fan of learning more and ensuring I've got a handle on something before I get going. Here are a few articles I found useful when I was doing my original searches:
So, What Are You Waiting For?
Thanks to services on the Internet, it is easier than ever to set up your own Book Publishing LLC or Corporation.
Although there are added annual costs to making your business an official business, the benefits of starting your very own publishing company will quickly outweigh this. Better taxes, increased personal security, and more publishing capabilities were all reasons why I started 3 different LLCs to support my entrepreneurial habits.
Now that you know how to start your very own publishing company, get started and become a book publisher today.
If you have any questions along the way, don't hesitate to ask me. But please remember that I am not a lawyer….just an experienced entrepreneur.
Cheers,
Hey Guys, I'm Dave and when I am not sipping tea with princesses or chasing the Boogey man out of closets, I'm a Kindlepreneur and digital marketing nut – it's my career, hobby, and passion.
GET MY FREE KINDLE RANKING EBOOK