How to Start a Book Publishing Company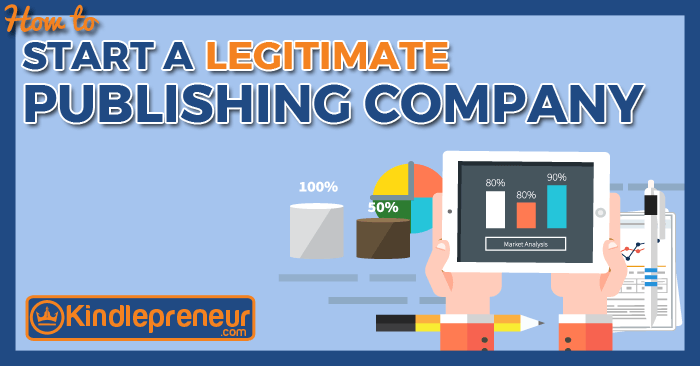 "How do I start a publishing company?"
This is a common question that runs through the minds of most authors at some point in their writing career.
Starting your own book publishing company is an important step if you're serious about your author business, want to sell other people's books, or you just want to protect yourself and your assets.
For many people, establishing your company can be confusing, tedious, and downright painful.
Thankfully, this step-by-step guide and some awesome online services will help you determine if you should start a publishing company and the steps for how to do it stress-free.
I have also enlisted help from Joe Solari of indieauthoralchemy.com to provide some updates to this article. A lot has happened since I first set up my publishing company and Joe brings the experience of helping hundreds of authors set up their publishing company and put in systems to manage operations.
In this article, you will learn:
The pros and cons of starting a book publishing company
When is the right time to start your publishing business
How to start your own publishing company online
Options for getting your company set up safely
Before I dive too deep into this process, I must make 2 disclaimers:
Although I have a lot of experience in setting up LLCs, including my own book publishing company, I am by no means a lawyer or CPA and cannot speak on their behalf. If you have any questions, it is best to seek the legal advice of a professional before moving on. You can also listen to my podcast interview with a lawyer below.
Some of the paperwork/legal steps listed in this article are pertinent to the US only. Each county will have their own laws for setting up such things, but many of the steps and recommendations below will be pertinent in your own startup.
And with that said, let's begin!

Why you should start a publishing company
Before we jump into the process of setting up a publishing company, let's first look at why someone should do it.
With today's publishing platforms, you don't have to start a publishing business in order to publish your own work or even others. But doing so has many advantages, including:
Conveys professionalism and expertise
Protects yourself, your work, and your personal assets in case of a lawsuit
Management of your intellectual property
Continuity of business
Allowing for certain tax write-offs
Maintain control over your work
Access to more than one Amazon KDP account (and still within Amazon's TOS)
Shifts your mindset from a hobby writer to a business owner
Fulfills your dream of being The Boss/CEO/Founder of your own publishing company
Legal entity to properly contract co-writing and licensing
Future opportunities to publish books by other authors
See, there are many benefits of starting a book publishing company. Next, we'll go into a little more detail on some of those advantages that probably needs a bit more explaining. This will help you clarify exactly why this is the right time for you to start your publishing business.
*If you're already clear on the advantages a publishing business would have for you, feel free to skip down to the next section*
Benefits of Starting a Publishing Business
Protect Yourself
Although it's rare, lawsuits can happen. Just ask me about my own experience getting sued, jeesh…(PS: it was a false claim from a competitor just looking to knock my book off the market…what a jerk!)
If you don't have a company, and your book, product or service gets sued, then your personal finances and public record will be at major risk.
Starting a company gives you legal protection and helps to distinguish between the business's finances and your own personal finances. The courts, or collection agencies, could not come after you and could only come after your company's assets.
Not that we're going to do anything illegal, but it is nice to know that your personal assets are not at risk.
Related Podcast Episode – Interview with an Experienced Lawyer about starting a Publishing Company
For publishing, this is very important. The indie portion of the industry is the fastest growing and least mature segment. This situation has given rise to some bad actors or misinformed operators taking legal action on others (look at my situation). The rise in copyright infringement, trademark infringement, and other accusations leave all authors potentially exposed to being named in a suit. In many cases, the claims are unfounded, but they are still very real and disturbing and knowing that your personal assets are separate will provide peace of mind.
I decided to establish my company as an LLC to get adequate protection for my personal assets.
I got sued...so I started an LLC...it used to be a pain...but now it's as easy as 1-2-3 #WritersLife
Click To Tweet
Management of Intellectual Property
The source of your revenues is your creative endeavors. Your stories being sold in digital and print is just the start. The opportunities to repackage your intellectual property are endless (e.g. audiobooks, graphic novels, movies). Having your assets inside a company puts them in the most common commercial structure and gives you more options for how you manage and license the work.
Continuity of Business
A company is a unique entity in that like a person, it can enter into contracts, sue people, be sued, and own assets. The company enjoys the rights a living person enjoys, but it is not a living person; it is immortal. This allows you to assure that no matter what happens to you that there is continuity in how your business operates.
You can also assure continuity of management by having a well written operating agreement. The Operating Agreement dictates how the business conducts its affairs. A properly organized LLC, if in good standing, can continue in perpetuity. This means properly allocated copyrights can be managed when you are incapacitated or deceased, in accordance with the operating agreement by a successor manager. This makes a company the first line of defense in estate planning.
Tax Breaks, Write Offs, and Wealth Building
No matter which business structure you decide to use, having your own book publishing company can allow you to write off certain business expenses, which can save you loads of money at tax time depending on your tax system.
For example, the business just paid for me to attend the Business of Software Conference this October. And that large ticket price… paid for by Ebookpreneur, LLC was tax-deductible…which is nice.
At higher revenue levels a corporate structure with the proper tax allotment can deliver better tax treatment. More importantly Joe Solari shared that the company becomes a tool to use for wealth building and retirement planning.
Starting your own business also helps you differentiate between your personal income and the business income. This makes things much easier when it comes time to file your taxes and with the new tax laws, it can deliver a lower tax bill.
Double the Number of KDP Accounts
Another added benefit to starting a publishing company is that you'll be able to start another Amazon KDP account.
Amazon's Terms Of Service (TOS) state that you can only have one KDP account.
However, the cool part of owning your own publishing company is that your company would have its own EIN and bank account, which allows it to open its own KDP account and is therefore within the TOS of Amazon. So now you can have two, and the second one is a publishing account, which comes with added benefits of increased authors pages through author central, and therefore the use of more pen names.
Co-Writing and Licensing
While many authors are happy to just publish their own books, you may come across an opportunity to either co-write with another author, or potentially publish another author's book for them. Having a publishing company is the preferred method of contracting with others so as to have a legal binding with legitimate operating agreements. Having a publishing business becomes the platform for licensing and contracting future opportunities.
Keep this in mind later when we discuss naming your company.
When should you start your publishing company?
I'll be real with you…not everyone should do this.
If you're just starting off, or still see this as a side gig or a hobby, then don't add the extra steps to your already busy schedule and instead focus on your book writing and your marketing.
Also, don't think you have to do this to be a publisher. There is only one thing you need to do, and that is to publish and make that the priority.
Depending on the state you charter your business in, the costs can be anywhere from $50 to over $1000. If you are bootstrapping as an author, then you'll need your capital to be going into what will improve product quality, meaning book editing, and a great book cover.
Although it can feel great to be the 'CEO of your own publishing company,' understand that most authors will be fine without it.
So, if you meet any of the below requirements, then I'd recommend that you create a publishing company, otherwise don't:
You make more than $2,000 a month in book sales
You write in technical areas or health areas that could put you at risk of legal actions
You want to publish other people's books
You're selling more than just books, such as courses, physical products, etc.
You're an American, but you live outside of the US and want a base of operations
Start your own publishing company and turn your writing hobby into a legit business #Publishing
Click To Tweet
How to Start a Book Publishing Company
Okay, so if you've decided that this is something you want to do, then here's the step-by-step process of creating your own company.
Step 1. Decide which form of Book Publishing Company You Should Start
Before you can start creating your own ebook or book company, you need to choose which type of business structure you would like to create.
There are many different types of businesses like S-Corporations, Sole Proprietorship, General Partnership, Limited Liability Companies and more. Each one has its own pros and cons.
Most self-publishers end up creating a Sole Proprietorship or an LLC. Here's a great article that discusses in more depth the difference between a Sole Proprietorship and LLC.
But in the end, I believe that the Limited Liability Company (LLC) is the best one for publishers.
I have heard an LLC be referred to as a Corporation, however, no matter what you call it, it is not a Corporation.
Solari suggests "The LLC is a far more flexible structure in how ownership and profit distribution is organized. The controlling document is called an operating agreement and you can write up the agreement pretty much however you like, creating rules for how money goes in and out of the business. You can also create rules for successor members, should something happen to you. A corporation is far more rigid in its rules of operation than an LLC. There are stock holders, board of directors, officers, and the company bylaws regulate all of the operations. Now you can own and operate a corporation and do all the jobs it just has more formalities."
An LLC has another benefit in that it allows you to tax it as a Sole Proprietorship, Partnership, or S-Corporation. Basically, it is the best of all worlds and fits nicely in the self-publishing business structure.
Don't believe me? Check out the bottom of many of your favorite authority authors or bloggers and you will see those magical LLC letters.

But, before you make a decision on which is best for you, do some extra research on each.
To find out more about each type, you can check out the IRS's page on business structure — okay, that made me feel a little dirty referring people to the IRS…haha.
What's this S Corp I keep hearing about and should I set one of those up?
Let's be very clear, a corporation and a limited liability company (LLC) are charters issued by state governments and may have state income tax implications. Sub-chapter S or an S Corp election is paperwork you file with the IRS for special tax treatment of a Corporation or an LLC. Joe suggests that authors elect to have the LLC treated like an S Corporation. This becomes part of a broader tax optimization strategy and wealth creation. Don't lose sight that a business charter and tax election are tools to protect and preserve the wealth you create from your writing. The takeaway is that S corp election would be something you do after you charter your company.
Step 2. Select A Business Name
Think good and hard about this one. You might consider somehow using your name or your genre, like "Chesson Publications" or "Space Pants Press."
Although the name of your publishing business doesn't need to reflect the name of your actual business, it can cause problems if they aren't the same.
There are 3 things you need to consider before choosing your name:
Make sure it's not trademarked
Do NOT use the words "corporation" or "inc." unless you set up your business as a corporation
Check that the name is not already taken in your state if you're in the U.S.
It is a good idea to have backup names ready just in case yours is taken.
The good news is that the name availability is state specific, meaning that even though a company may have "Intergalactic Press" registered in New York, if it hasn't been registered in the state you are filling with, then it is available.
How do you check if your company name is taken?
Go to your respective state's name search. To do this, type into Google: "Secretary of State business name search (Name of the selected state)"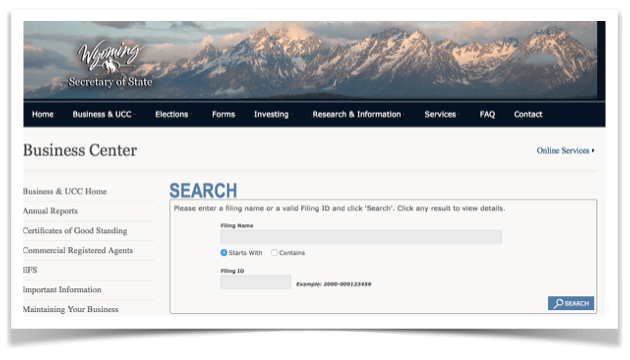 From there, you should be able to find the respective website, and start hunting to see if your potential business name is available.
Step 3. Choose A Location
In setting up the business, you're going to need to choose the State you set up the business in, and the actually place of business. Both are explained below:
The State of the Business
States issue articles of organization for LLCs (articles of incorporation in the case of a corporation), so the first step in location selection is the state of organization.
Now, for those of you thrifty business people who are looking for tax breaks or lower annual registration costs, you may have heard about incorporating in states like Wyoming and Nevada.
A word of caution: The state where you reside and likely do most of your work expects to be paid income tax. If you live and work in California, setting up an LLC in Nevada doesn't get you out of paying income tax in California. In fact, doing an out-of-state charter can cost you more money as most states need you to register "foreign entities" to legally do business in the state. In the case of California, for that Nevada business to operate in California legally it has to be registered, and that costs just as much as filing for a "domestic" charter. However, not all states are as money grubbing as California…so this is really state specific. I personally live in Tennessee, but have my company registered in Wyoming. But this wouldn't have been the case when I lived in California – tax wise, I'm lucky I'm not still there.
Remember the main purpose of setting up the company is to have the legal separation and protections it affords. Don't blow that by not having the appropriate registrations in the state you actually do business (live) in.
Make sure you do your research before making such a big decision.
Place of Business
When setting up an LLC, many self-publishers will make their home their place of business since they need a physical place for their company. However, this can be a mistake or cause problems.
Understand that the address of your business has to be a physical location where legal documents can be served. This means your information will be public. In some states, while the owner's name will be confidential, there has to be a registered agent that is on public record. You can be your own registered agent in most states but your name will be on public record along with your address.
Because of this, if you selected your home of residences as the place of business, this will make your personal information accessible and can infringe on your personal life.
So, what can you do instead?
Rent a Physical Location: I don't think I need to explain that this option is very costly and isn't really a viable option for most of us.
Get a UPS Mailbox: It's important that you get a UPS mailbox because most states do not allow you to put a P.O. Box number on the application. Luckily, UPS gives you a mailbox number that looks like a regular address. By choosing this option, you will need to show up in person to set up your mailbox. That means the state in which you decide to set up your LLC will be completely dependent on your ability to physically get there. But once you set up your mailbox, you can also have them forward your mail to your real address so that you don't have to actually go there to get your stuff.
Use A Registered Agent: Just about every state has registered agents that will act as your office for you. There is a fee associated with this and usually includes setting up your LLC as part of the service. This will eliminate your name as the registered agent being a public record.
Set up a Virtual Office: Virtual Offices are my favorite option. These are professional offices that give you a specific mailing address, collect your mail, forward it to you, and can also be your Registered Agent (extra level of personal protection). Furthermore, most virtual offices will give you a 1-800 number and will record and send your voicemail to you electronically. This option is great for those of you who travel or if you reside in a state that has awful business taxes. Furthermore, you don't have to go there to set it up. You can do it from your home in a different state, or from a different country–like Sri Lanka as I did 😉
Step 4. Officially Set Up Your Book Publishing Company
Now it's time to officially set up your own publishing company.
At this point you have two major options:
Do all the required registration and paperwork yourself. Each state has different requirements, so I can't walk you through those specific steps, but you can certainly research and do all the required paperwork yourself.
Or keep it simple and use the service I used, My Company Works to get your publishing company started fast and make sure it's done right.
What if I Need Confidentiality?
Some authors that write in particular genres want to keep their identity confidential. Not just writing under a pen name but adding an additional layers of protection being an LLC. Certain states like Wyoming keep member information confidential. Only the registered agent is public so you could set up a company there and use a registered agent. However, what if you live and work in Illinois? You could create a company in Wyoming that you own and then have that company be the single member of an Illinois LLC with a registered agent in Illinois. This situation would create two corporate layers and hide the identity of ownership for the general public, keep in mind this would carry the costs of setting up two LLCs and the fees for two registered agents. The point is, no matter what state you're living in, there are ways to keep your name confidential.
I personally selected an LLC, chose my virtual office in Wyoming, and even designated them to sign corporate documents for me (added privacy).
You can see how I did it in under 10 minutes in the video below (PS: At the time of this video, the company was called My New Company).
And just like that, you could be a President/Owner/Founder of your very own publishing company.
Pretty cool, huh? And I bet that was a lot easier than you thought it would be.
What should this all cost?
Costs vary state to state but, generally speaking, the lowest fees are $50 and the highest is $800. There are usually annual fees due each year. If you plan to use a registered agent, then expect additional fees for those services. Most authors see somewhere from $200-$500 a year in fees.
Need Help Setting Up Your Legal Entity?
Jumping into setting up an LLC, Corporation, or Sole Proprietorship can appear monumental, and if you're like me, then you probably like to do your research. Before I jumped into setting up my LLC's I did a bunch of research. Now there are websites like indieauthoralchemy.com that focus specifically on helping authors set up their businesses.
The following two courses/memberships were created and are run by Joe Solari. They offer two solutions to help authors set up and organize their publishing companies.
Designed for authors earning less than $11,000 a year from book sales and addresses the specific issues with managing revenue, expenses and tax liabilities for an author just starting.
Four Modules: Basics – Set up – Operations -Taxes
For authors looking to get help with organizing your business as a sole proprietor
Systems for planning and managing cash flow
How to guide and worksheets to track expenses that align with your schedule C
Tax and expense strategies
Access to a CPA to ask questions and get guidance
Closed Facebook Group
Email and chat support
This is designed to help authors to get comfortable with business practices to get the most out of their business and scale up faster.
Check It Out!
Designed for authors ready to incorporate their publishing business. Provides guidance on setting up your LLC, S-Corp election and business operations.
Nine Modules: The first three focus on getting your LLC set up. The other six on organizing your business to maximize profits and writing time.
Step by step guidance on LLC organization in all 50 states
EIN and S Corp election directions
Account creation
Filing system
Business planning and tracking tools
Tax and Expense strategies to achieve your personal goals
Closed FB Group
1:1 help during first four weeks to get your company set up right for your situation.
This has been designed to help authors make the right choice on their LLC creation and set their company up for success.
Check It Out!
---
Publishing Company Master's Degree
If you're looking to create a legitimate company that is publishing countless amounts of books and want to take yours to the next level, then perhaps the most formal education on the topic is right for you.
Western Colorado University is offering a full-fledged Publishing MA program, one of the only such programs to embrace indie publishing." It is a one year program from July to July and only requires you to spend two weeks in gorgeous Colorado mounts for two weeks, while the rest of the course is taught online. It is equally balanced between traditional publishing and indie. One of the projects is that students will develop the concept for an anthology (which pays pro rates), solicit submissions, read the slush pile and choose the stories, issue contracts, edit the pieces, design and produce the book and cover, publish the book and market it. Basically, the entire shebang! As the final project, they will select a public-domain classic, acquire the text, and work through every stage of producing and releasing the book through a mid-sized publisher (WordFire Press), which will list their name on the copyright page.
The best part is the program is run by the award winning and legendary science fiction author, Kevin J. Anderson, who personally teaches all the courses. Kevin has 56 national or international bestsellers and 23 million copies in print in 30 languages. Some of his most notable books are the Seven Sun Series, his words on Dune (after Frank Herbert passed away), Star Wars, and more. His publishing company, WordFire Press, has released nearly 350 titles from 95 authors in ebook, trade paperback, hardcover, and audio.
You can learn more about the program here. Just a heads up though… If you are interested in taking this program, you're gonna need to act fast. The program fills up super fast, so don't delay!
Managing Co-Authorships? Check Out PublishDrive Abacus!
If your newly minted publishing company is going to managing co-authored projects, you'll have an extra challenge ahead of you. Calculating royalties and dividends owed can be a hassle–especially if those need to be split in anyway. However the good folks over at PublishDrive have created a solution for that exact situation.

It's called PublishDrive Abacus, and it's a pretty revolutionary program in the publishing world.
Kinga Jentetics and her team designed PublishDrive Abacus with three major goals in mind.
Calculate royalties between co-authors
Provide each contributor with detailed reports
And streamline the entire accounting process
Now this program is geared entirely towards publishing groups that publish on Amazon and Kindle Unlimited. And it's super easy to use and get started!
This looks like its going to become a real powerful force when it comes to publishing. Some of their features include:
Ease of Royalty Division
Streamlined Way for Data Sharing between Contributors
Manage Contract Expirations
Import ACX
Provide a Chat Function between Contributors and Publisher
And much more!
So if you're looking to manage co-authored works, you absolutely need to check out PublishDrive Abacus.
Check Out PublishDrive Here!
Need More Information about Starting a Company?
I'm a big fan of learning more and ensuring I've got a handle on something before I get going. Here are a few articles I found useful when I was doing my original searches:
So, What Are You Waiting For?
Thanks to services on the Internet, it is easier than ever to set up your own Book Publishing LLC or Corporation.
Although there are added annual costs to making your business an official business, the benefits of starting your very own publishing company will quickly outweigh this. Better taxes, increased personal security, and more publishing capabilities were all reasons why I started 3 different LLCs to support my entrepreneurial habits.
Now that you know how to start your very own publishing company, get started and become a book publisher today.
If you have any questions along the way, don't hesitate to ask me. But please remember that I am not a lawyer….just an experienced entrepreneur.
Cheers,
Hey Guys, I'm Dave and when I am not sipping tea with princesses or chasing the Boogey man out of closets, I'm a Kindlepreneur and digital marketing nut – it's my career, hobby, and passion.
GET MY FREE KINDLE RANKING EBOOK