Smashwords vs Draft2Digital vs PublishDrive Review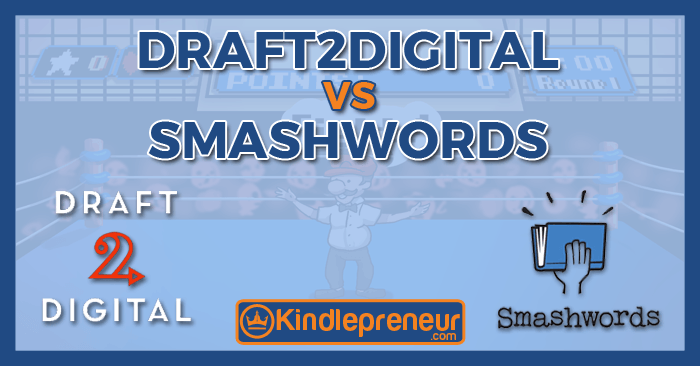 In the self-publishing world, there are many different platforms on which you can sell your books. Most know about the uber-popular Amazon KDP, but what about the others?
As it turns out, there are a LOT of retailers out there that sell self-published books like iTunes, Barnes&Noble, Kobo, etc…
But formatting a book and submitting it to all the different platforms can be tedious work.
Thankfully, this is where services like Smashwords, Draft2Digital, and PublishDrive step in. These platforms will take your book and distribute it out to a list of publishing retailers, control the analytics, collect on the royalties, and pay you in one lump sum.
This is incredibly efficient and helps to quickly get your book out to more readers with little to no extra work.
However, given that the three services are very similar, how do they stack up against each other? Which is the right option for you as an author?
In this article, you will learn:
When to use these services
Essential comparison parameters between Smashwords VS Draft2Digital VS PublishDrive
Draft2Digital VS Smashwords VS PublishDrive : which one gets my vote and future business
When to Use These Services
Let me be frank.
These services are for those of you who do NOT want to format and upload your book to each individual publishing retailer like Barnes & Noble, Kobo, iTunes, etc.
Instead, these services are for those of you who want to quickly and efficiently get your book on LOTS of different markets and just receive one royalty check a month (rather than a handful of checks from each platform every month).
For a small slice of the income you make through their services, the guys at Smashwords, Draft2Digital, or PublishDrive, will handle the distribution and admin side for you. This allows you to focus on the things that matter more to you as an author.
This is A-Okay with me because remember, each publishing retailer has their own guidelines and required formats. Honestly, it can be a little confusing. Case-in-point: iTunes is way more strict on what you can say in the summary, while Kobo has different requirements for formatting.
And heaven forbid you are doing your own accounting…oy!
The Smashwords vs Draft2Digital Showdown: Which one is better?
Click To Tweet
Can you make more money by not using these services? Yes.
But is it really worth all the time it would take to individually list your book on every platform? That depends on you, your budget, and your goals.
For me, I like the ease of these services and how many extra sales they have brought me by listing my books on all the other platforms.
But which one is the best?
In order to write this article, I submitted my books to both and even went so far as to contact the CEOs of both companies. Many thanks to both Mark Coker of Smashwords and Aaron Pogue of Draft 2 Digital for your time. You guys are both super classy; your hard work and effort are thoroughly appreciated.
Draft2Digital vs. Smashwords vs. PublishDrive: The Showdown
Essentially, Draft2Digital, Smashwords, and PublishDrive offer very similar services. Originally, Smashwords was the major player, before Draft2Digital entered the market to provide some competition. Now, PublishDrive are taking on the established names.
Let's check out some of the basic differences between the three companies:
Smashwords
Draft2Digital
Publish Drive
Upfront Cost
$0
$0
$0
Accepted Book Formats
doc, epub
doc, docx, epub
.docx and epub
Their Commission*
15% on Smashwords
10% Other Platforms
15% All Platforms
10%
Who Does Formatting
You
They Do!
You
ISBN
Free
Free
No
Distribution Sites
Amazon**
iBooks
Barnes & Noble
Kobo
Scribd
Tolino
Inktera
OverDrive
Baker & Taylor
Biblioteca CloudLibrary
Odilo
Mobile Phone Apps
Amazon
iBooks
Barnes & Noble
Kobo
Scribd
Tolino
Inktera
Playster
24Symbols
OverDrive
Amazon, Apple Books, Google Play Books, Kobo, Barnes and Noble, Scrib, Overdrive.com, Dangdang, CNPeReading, Playster, Odilo.es, Bookmate.com, Gardners.com, Mackin.com, Perlego, Ciando.com, 24symbols.com, bibliotheca, e-sentral.com, ekonyv.hu, ultimediaplaza.com bookshout! Tolino, e-letoltes tookbook.com elefant.ro
Extras
-Coupon Generator
-Adjustable Royalty
-Splits with Distributors
-Universal Book Links
-Preorder Setup with Most Vendors
Advanced Marketing Features Amazon Advertising Credit
Website
See It Now!
See It Now!
See It Now!
*Remember that their commission is on top of whatever the platform's commission will be. So, if you sold a book on iBook for $10, iBook would take $3 (their 30% commission) and D2D/Smashwords would take $1 (10% of their commission) leaving you with 60% or $6.
**Smashwords will only consider distributing your book to Amazon if you've earned over $2,000 on Smashwords retailers and you make the request through their support system. More info here.
Pros and Cons of Smashwords
Truth be told, Smashwords is the original ebook publishing platform for indie authors and the world's largest distributor of self-published ebooks. Currently, they distribute over 450,000 books from over 130,000 indie authors. That's pretty jaw-dropping when you think about it.
Besides being a Mecca of knowledge, their website also houses an ebook store that allows Smashwords self-publishers to create coupons and even give their books away for free – no kindle select style contracts required either.
One of the strongest arguments for Smashwords is that they have a larger number of publishing platforms that they distribute to. Most interpret this as "more sales." However, as you will see later in this article when I analyze a case study of mine, that might not be the case.
Smashwords has finally responded to the pressure of their competition and pays authors monthly now, instead of quarterly. So that's no longer a drawback.
However, to submit your book to Smashwords, you'll need to format your book as per their instructions, which the requirements for formatting are a little extensive.
How extensive, you ask?
They created a 27,000-word document to tell you all about it. Yup…27K. That's basically a complete ebook on how to prepare your ebook.
Now, that being said, I will say that it really isn't that difficult. But it is something to consider if you haven't done it before…especially if you aren't very tech savvy.
Check Out Smashwords Here
Pros and Cons of Draft2Digital
Draft2Digital is the new kid on the block (when compared to Smashwords) and like a new kid, he has the shiny new sneakers to match. Adopting a New Age platform, the Draft2Digital website is pretty sweet and the dashboard is very easy to use. Honestly, comparing the two, Smashwords looks and operates like an early 2000's website, while D2D is pretty modern, sleek and much more clear.
Oh, and did I mention the website and the author reports are a lot easier to navigate and understand? Plus, D2D pays you monthly, and they always have.
But my favorite part is that they do the formatting for you for both ebook and print copies. Just send them your .doc or .docx and they will make it compliant for all of their platforms. As they say on their front page:
"Your style guide is our style guide. And if you don't have a style guide, that's okay too. Just get us your manuscript and we'll do all the technical stuff for you. It's really that simple."
Another thing I like about Draft2Digital is that they will email you each time a book goes live on a platform and keep you updated on the status of your book at the other retailers. That's what I call instant notification!
Finally, Draft2Digital helps authors sell more books by giving authors access to Universal Book Links (UBL). While Amazon is the most popular site for buying books, there are many people who buy from non-Amazon sites. If you don't have links to each customer's preferred book retailer, you're missing out on sales.
And instead of having to create and manage a link for every retailer, you easily make your book more discoverable by using one universal book link. Read more about how to take advantage of this savvy marketing tool here.
Ever heard of the phrase: "Don't put all your eggs in one basket?" Well, the same goes with publishing
Click To Tweet
However, the major con for Draft2Digital is that they do not distribute to as many publishers as Smashwords.
But is this really a bad thing? Later on, I'll show you why that fact might be overrated.
The good news is that they distribute to the most important retailers: iTunes, Barnes & Noble, and Kobo. And Draft2Digital actually distributes to Playster, a new app I am falling in love with (see why here), that Smashwords does not distribute to.
But what about the others?
Check Out Draft2Digital Here
Pros and Cons of PublishDrive
Out of the three, PublishDrive is the latest to join the party of book distribution.
And I'm pleased to see that PublishDrive took the trend of D2D's sleek interface and experience and really ran with it.
The user interface is sleek and easy to navigate. The dashboard is really clear to use and the most important information, such as your copies sold and money made, is presented quickly and simply.
The user-friendly feel of PublishDrive is established from the get go. When you first sign up for the service, you are lead through a checklist which establishes where you are at as an author, and what your goals are from using the PublishDrive service. This is a great landing point as it truly feels like they've got your back, and you don't have to handle things alone.
Another advantage to using PublishDrive is the marketing services they provide. You can quickly and easily access functions such as Amazon Advertising and review copy generation from within the service.
One of the downsides to PublishDrive in comparison to Draft2Digital is the requirement to do your own book formatting. Many authors will be OK with having to format their books, but it's nice that Draft2Digital offer this as a way of saving you time and effort.
Overall, I feel PublishDrive has everything you'd look for in a book distribution service. I have a good feel about the company and the people running it. I expect them to expand their marketing services over time, and I'll update this comparison guide when they do.
Check Out PublishDrive Here
Case Study: Draft2Digital vs. Smashwords
So, let's take a look at this and see how the other platforms on Smashwords do, and whether or not they make a difference.
Below is the Smashwords sales report for one of my books during its 1st quarter.
Looking at my metrics, I noticed that out of all the platforms that Smashwords publishes to that Draft2Digital does not, only Scribd made any sales.
NEWS UPDATE: Draft2Digital distributes to Scribd now, so Smashwords no longer gets a point for that one.
A whopping 3 sales of difference.
Of note, the above book sells at $9.99, so that's about $18 extra every 3 months (10% goes to Smashwords and 30% goes to the platform) thanks to Smashwords sending it out to more platforms.
Now this isn't to say your book won't sell on txtr or Sony or on other non-D2D platforms. But for me, I've never seen enough sales on sites Draft2Digital is missing to take them seriously.
So what's better? One extra book sale per month OR better design, easier to use, and no need to figure out formatting the book?
The Victor is Clear: Draft2Digital
Let's face it, in the end, the Draft2Digital wins this one.
Draft2Digital Pros:
Better design
Easier to use and navigate
Distributes to the most important retailers (ones that have worked best for me)
Has Universal Book Links
Does the ebook and print formatting for you –> HUGE!
Sure, you won't be able to sell on Baker & Taylor, txtr, and certain mobile phone apps, but how many sales do those actually lead to? Plus, most of those companies are seeing the light and joining Draft2Digital monthly, like Scribd did. I've had to update this article three times already because new platforms keep showing up on D2D.
NEWS UPDATE: Oyster is no longer in business since they have been assimilated by the borg…I mean Google.
And besides, the whole point of using these services is because I wanted to quickly and efficiently get my books on more platforms – especially those that actually have a market.
Therefore, in my humble opinion, Draft2Digital is the winner. However PublishDrive is gaining lots of momentum and may soon overtake. Nothing against Smashwords and they served me well, but D2D takes the cake.
Cheers,
Hey Guys, I'm Dave and when I am not sipping tea with princesses or chasing the Boogey man out of closets, I'm a Kindlepreneur and digital marketing nut – it's my career, hobby, and passion.
GET MY FREE KINDLE RANKING EBOOK