Scrivener 3.0 Review + Discount!
LIMITED OFFER: Get
20% OFF
on Scrivener with the promo code
KINDLEPRENEUR
.
Get
20% OFF
with code
KINDLEPRENEUR
[Updated] This Scrivener Review includes info on the new Scrivener 3.0 for Mac.
About 6 years ago, when I was an Apple employee and working on my Master's degree, I received a Scrivener review copy.  This wasn't unusual since many companies would ask Apple employees to try their software.
However, out of all the software, I was given while I worked there, Scrivener was the only one I kept and still use to this day.  It's for this reason why I am doing a special updated Scrivener review and how it should help the modern author.
In This Article You Will Learn:
What the Scrivener hype is all about with writing a book
The difference between Scrivener and Word Document
See my favorite features in action
The tool I used to help me learn how to use Scrivener
Also, if you're looking to get a Scrivener coupon code, you can access that by clicking my link here and using the discount code of:
Also, please understand that any links to Scrivener in this article are affiliate links but will not cost you any extra using them – actually you'll save thanks to the 20% off coupon code.
What Is Scrivener?
Ah, Scrivener…the program that's been dubbed the tool for writers.
The three words that come to mind when I think of Scrivener are:
Powerful
Customizable
Organized
Scrivener is software that lets you compile all your research, character notes, and anything else you need to write your book within one project, within one program. It's often described as a virtual three-ring binder because it literally lets you have all the folders, tabs, labels, and flags that you could possibly want for your creative endeavors in a sleek and organized way.
It was created as a novel writing software for both Mac and PC users to help writers organize long-form content. Now that word has gotten out on its awesomeness, Scrivener is loved by writers of all kinds: fiction, nonfiction, academic work, even bloggers like Jeff Goins, Joanna Penn, and Michael Hyatt.
Because it's an advanced word processor that manages your projects all in one, there is a learning curve. There are tons of ways you can use and customize Scrivener to fit exactly your needs as a writer. But with a small time investment up front to learn, and a scant $40-$45, this tool quite possibly could change your entire world as a writer and self-published author.
I know it's changed mine. And I'll show you some of my favorite features in a video later on.
Scrivener vs Word – What's The Difference?
This is a common question I get. Most people are familiar with Microsoft Word as a word processor, and they want to know what's the difference? Is Scrivener really that much better?
And my answer is always, Yes!
In my opinion, Word is a tolerable word processor for writing short content. Scrivener is an advanced word processor and project management tool with tons of capabilities, including formatting, which makes it the best software for writers who write longer content, like books or dissertations.
But before we get into some of the key differences between Scrivener and Word, and why I truly believe every author should make the investment, let's look at them side by side:
Scrivener vs Word Chart: What's the Difference…
| | | |
| --- | --- | --- |
| | Word | Scrivener |
| Word processor – can write and format text |   x |   x |
| Grammar and spell check |   x |   x |
| No distraction writing mode |   x |   x |
| Track changes |   x |   x |
| Export as PDF or .doc |   x |   x |
| Format for ebook publishing (.mobi or .ePub or .docx) | |   x |
| Format for selling boxsets | |   x |
| Project management tool – can hold research files | |   x |
| Automatically saves your work | |   x |
| Frequent crashes or needs force quit |   x | |
| Set project target (words and deadlines) | |   x |
| Templates for writers and authors | |   x |
| Designed for writing long content | |   x |
| Excessive scrolling, copying, and pasting needed to revise long texts |   x | |
| Easy drag and drop capabilities | |   x |
| Simple way to break up large project into small chunks | |   x |
| Can mesh multiple texts into one with one click | |   x |
| Split screen view horizontally or vertically to view two texts as one (e.g., research and writing) | |   x |
| Corkboard view with index cards | |   x |
| Can use beautiful backgrounds while writing | |   x |
| Add labels, flags, and status updates to individual texts | |   x |
| Easily sort all scenes with a certain character or location | |   x |
| Sync work on multiple devices |   x $99.99 per year or $9.99 per month to get it on 5 devices |   x with a license for each platform. Sync through Dropbox or iTunes |
| Cost |   $69.99 Per Year for one computer |   $45 for Mac or $40 for PC one-time purchase price |
If you're happy with Word and it's doing everything you want it to do, then, by all means, don't fix it if it ain't broken.
But if you're frustrated with Word, you want to break up a huge project of writing books into smaller, easier tasks, you'd like to completely customize your writing experience, or see if writing can be more enjoyable, then Scrivener seriously might become your favorite program for writing a book.
Scrivener Will Change Your #WritersLife because it changed mine!
Click To Tweet
The table above shows the basic differences between Scrivener and Word, and here's a little more detail about some of my favorite Scrivener features:
Break up your big project into smaller pieces: Let's say you're writing a 20-chapter book. In Word, you'd either have to create 20 different files for each chapter and go back and forth between them all while trying to write your book, or you'd have to scroll for ages to find your place and try to get your text to mesh well. Whether you write fiction, nonfiction, screenplays, or anything of length, the ease at which you can break up a big task into smaller parts using Scrivener is probably my favorite feature.
Formatting: Yes, self-publishers, once you're done writing your killer book, you can format it right through Scrivener! You can "compile" your finished document into a variety of formats for Kindle or ePub, as a Word .doc or PDF, or even as an academic thesis that matches academic standards. This could easily save you the money you invested to buy the software by not having to hire a formatter or buy a software just for formatting.
Templates: Scrivener has templates for fiction, nonfiction, scriptwriting and more. These are a game changer for those who want a software to help write their own book. I even know bloggers and podcasters who use Scrivener for writing and organizing their work. While Word has templates for resumes, flyers, and research papers, it has nothing for writing books–probably because it's not designed for longer texts.
Drag and drop like magic: As you're working, you might realize the flow is off, and it only takes a split second to drag and drop one part of the book to a new spot. No excessive scrolling. No losing your spot amongst the hundreds of pages of text. It just works like software for writing your own book should.
Set writing targets: This little feature lets you set targets for your entire project and your individual writing sessions. When you start a new project, say you're looking to write a 25,000-word nonfiction book, and you want to write 1,500 words every time you sit down to write. It automatically tracks your progress toward your overall goal and resets itself each time you open it up for a new writing session. This is incredibly helpful for sticking to a daily writing goal and seeing your overall progress toward finishing your book.
Character and scene sketches: Another perk for those looking for a novel writing software is a place specifically for your characters and scenes. These are still within your project binder. You can add memorable details, like which side of the neck a tattoo was on, background details, and you can even upload a picture if you have a sketch or image online that was an inspiration to a character.
Store your research files: Scrivener has a special folder in each project specifically for your book research. This might be photographs, audio files, video, notes from Evernote, notes from your editor, or inspirational art; Scrivener can hold all of these files that help you as you're writing your book. You don't have to go between different programs or windows. It's all right there in your project "binder." Word has nothing like this.
iOS and Andriod Scrivener on the Go: If you love the idea or ability to use Scrivener on your mobile device, then I've got good news for you.  Scrivener delivers.  To check out these newer features and options, check out this review on syncing with simplenote and the ios Scrivener review.
Working view options: In addition to the main editor of viewing a single document (like what you see when you use Word), Scrivener has three more view options to fit all the working styles of authors as you're working through the writing process.
1. Corkboard – all subdocuments are seen as index cards on a corkboard. Each index card can have a summary of that document. Great for visualizing, rearranging, finding gaps, and storyboarding. Can easily drag and drop, add or delete.
2. Outliner – see subdocuments as rows of text, like an outline, as well as columns of other information, such as status or label. Great for those who want to see the outline in a linear fashion, can also rearrange easily with drag and drop in this view.
3. "Scrivenings" – combines separate documents so you can view them as one. Great for when you're writing to start combining your separate parts or chapters to see how they flow, without having to open a bunch of different files, copying, and pasting.
Frankly, using Word to write your novel is like the Hobbits not using the Eagles to fly to Mordor. They still got there, but seriously…it would have been so much easier and a lot less death.
An author without Scrivener is like Hobbits not using Eagles #Scrivener #WritingTip
Click To Tweet
Scrivener Discount Coupon Code
I'm super stoked to let you know that I have a special set of Scrivener coupon discounts for you.  If you click my Scrivener for PC, or Scrivener for MAC link and enter the coupon code of KINDLEPRENEUR, you'll get 20% off.
If for some reason that doesn't work, then you can access more Scrivener coupon codes here.
Let's See a Side By Side Comparison of Scrivener vs Word
Courses To Help You Use Scrivener to Write a Novel
A key to being a successful author, like the authors who reveal their secrets in MasterClass courses, is having the right tools. Another key is knowing how to use them.
A writer's tools have transformed from pen and paper to typewriter, to computer word processor, to book writing software (i.e., Scrivener).
You can save yourself quite a bit of time and pain of figuring it out yourself and supercharge your use of Scrivener by learning from those who know Scrivener inside and out.
The software itself has a comprehensive manual and links to YouTube video tutorials, but I also found it super helpful to take the popular course by Joseph Michael, the "Scrivener Coach."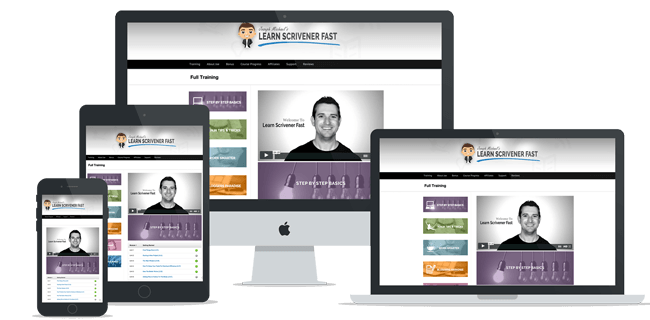 I'm a fan of Joseph Michael's Learn Scrivener Fast course because it has:
A series of short 1-3 minute videos
Easy to consume and well-organized
Can watch step-by-step or jump to the lessons you need most
Has separate videos for Mac and PC when software differs
Lots of extra tips and tricks for authors
Upgraded course levels have ninja tips & tricks and work smarter sections, which include more videos like how to make Evernote and Scrivener mesh
Upgraded course also has modules Scrivener for Blogging, Easy eBooks, and Power Templates
Bonus content: templates, working with an editor, writing backgrounds, How Jeff Goins uses Scrivener, Sean Platt's outlining & planning a novel with Scrivener, and how Joanna Penn uses Scrivener
I also found a course by Gwen Hernandez, author of Scrivener for Dummies, called Learn to Use Scrivener with Confidence (and Joy) for Mac or Windows for $99, but I haven't personally taken this course. I just like to provide my readers options if they're looking for more.
A quick search on Amazon showed at least 10 books about Scrivener, but I find it most helpful to see the tool in action in quick videos, then apply it. That's why my go-to method for learning the powers of Scrivener is Learn Scrivener Fast.
Taking an hour or two to learn, and it will save you hours of frustration later.
Scrivener 3 vs Scrivener 2 Review Info
Literature and Latte released the latest and greatest version of your favorite writing software, Scrivener 3, on November 20th 2017.
For a quick look at the major changes, consult our handy table below. A more in-depth exploration of the new features can be found over at Scrivenerville's Scrivener 3 vs 2 comparison.
| | Scrivener 2 | Scrivener 3 |
| --- | --- | --- |
| Available for Mac | Yes | Yes |
| Available for Windows | Yes | In 2018 |
| Compatible with Scrivener iOS | Yes | Yes |
| 64 Bit Coded | No | Yes |
| Bookmarks Feature | No | Yes |
| True Text Styles | No | Yes |
| Up To Date Export Options | No | Yes |
| Quick Search Mode | No | Yes |
| Linguistic Focus Mode | No | Yes |
| Scrivenings Mode | Old | Improved |
If you have an older version of Scrivener, you probably have some questions about the hows and whys of upgrading. Read on to discover the answers to some of your burning questions.
How much does Scrivener 3 for Mac cost?
Scrivener 3 costs $45 at full price. However, discounts are available for previous Scrivener buyers.
Can I get a discount on Scrivener 3 if I purchased an older version?
Yes, if you've previously purchased Scrivener, you don't have to pay full price.
If you bought Scrivener 2 on or after August 20th, 2017, you can get Scrivener 3 for free.
If you purchased an older version of Scrivener prior to August 20th, you can get a $20 discount on Scrivener 3 by contacting Literature and Latte with proof of your purchase.
Is Scrivener 3 available for Windows?
Scrivener 3 will be released for Windows at an undisclosed time in 2018. Literature and Latte have promised to ensure parity between the Windows and Mac versions.
Is Scrivener 3 compatible with iOS?
Yes. Scrivener 3 will work seamlessly with the iOS version.
Can I use my Scrivener 2 settings with Scrivener 3?
Yes. If you've taken the time to set Scrivener 2 up just the way you like it, Literature and Latte have a guide just for you to make the transition easier.
Final Scrivener Review Thoughts: Why I Use Scrivener To Write My Books
If you're the type of writer who can sit down and write an entire book from beginning to end, or if you're happy with Word, then you may not need Scrivener.
But if…
You are frustrated with Word
You are looking for something better
You jump around in your timeline or chapters while you write
You research and compile notes
You like to work one section or chapter at a time
You rearrange the scenes or flow of your work or
You want to do things like single out a certain character or locate all the scenes in a particular location
You want easy-to-use templates for writers
You want the ability to export your work into ready-to-publish formats
Then…you will love Scrivener.
Scrivener allows you to write books in your own customized, organized, yet beautifully-chaotic way. For me, it's important to write smarter, not harder — and for me, Scrivener is smarter.
I will never use Word again to write my books and hopefully, thanks to this Scrivener Review, you won't either.
Hey Guys, I'm Dave and when I am not sipping tea with princesses or chasing the Boogey man out of closets, I'm a Kindlepreneur and digital marketing nut – it's my career, hobby, and passion.
GET MY FREE KINDLE RANKING EBOOK