Book Advertising – Free AMS Advertisement Course for Authors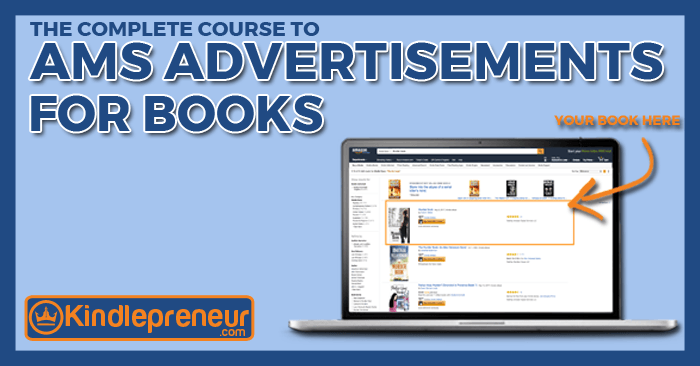 As many of you have heard, advertising your book on Amazon Marketing Services or AMS has become one the best ways for authors to get their book discovered and even thrive in a crowded Amazon market.
Through AMS, you can now choose when and where you want your book to show up on Amazon – anywhere in search results or even next to another book on their own sales page.
And unlike Facebook ads or Google Adwords, in AMS advertisements, you're advertising your book to people who are ready to buy and are looking for their next book.
You don't have to be a marketing genius to figure out that that is the BEST time to get your book in front of them.
But here was the dilemma…
My goal with every Kindlepreneur article is to go as in-depth as possible so that you, the reader, can turn around, take action and get results. But AMS is such an incredible platform that to fully utilize it and see profitable campaigns, you'd need more than just one article.
That's why, instead of writing a 10,000 article, I decided that this subject would be covered in a FULL FREE course.
No…really, no catch, no nothing. Just hours of videos showing you exactly how I do AMS, and even how I did AMS campaigns for multi-NYT bestselling authors like Ted Dekker, and Pat Flynn.
But, in case you're not sure about it, let me try to show you exactly what AMS is, how you can get started and even some advanced tactics right here as well.
Here's what you'll learn in this article:
How to access my full free AMS Advertisements for Books course
What is AMS for authors
How to start your first AMS Campaign
How to find profitable AMS keywords
Learn how to advertise your books on your competitor's #book sales page
Click To Tweet
PS: the Stuff below are a couple of the videos from my course. If you'd like to take your AMS book advertising to the next level, just signup for my free course.
So, get access to my full free video course on AMS Advertisements for books by clicking the button below.
Click To Get Access!
What are AMS Book Advertisements?
Amazon Marketing Services is a pay per click advertisement program. It allows you to show your book in front of hungry customers, and if they click, you pay Amazon for the click. But don't worry, we're talking .05 cents to as great as .45 cents.
But to best show you what it is and what it can do, here's a video from my free course showing exactly what you can do:
Like I covered in the video above, AMS is an book advertisement system that allows you to get front and center with book shoppers on Amazon. So, next I wan to show you how to setup your first AMS campaign and see how easy it is from the backend.
How to Setup Your First AMS Campaign
AMS can seem a little scary, which is why, in this part of my free course, I'll show you how to setup a campaign in as little as 10 minutes. The purpose of this isn't to go into the weeds on AMS, but to show yu the overview of what it requires and how easy it is to setup.
Yeah, I know. That might have felt like a lot of steps. But that's okay because I've got a checklist below to help you with those steps.
Checklist to AMS Campaign Creation:
1. Start your first KDP ads campaign in KDP Dashboard
2. Click "Create an ad campaign"
3. Choose your campaign type
4. Selecting "Product Display Ads"
5. Selecting "Sponsored Products"
6. Add a lot of books to increase your impressions
7. Un-select extend reach
8. Enter in your campaign name, high bid max, and budget
9. Enter your campaign duration and pace
10. Enter headline, preview your ad and submit
11. Wait for ad approval
12. Review your stats
And…there you have it.
Get Kindlepreneur's Free Amazon Ads for Books Course!
Click To Tweet
Can AMS Help Authors Sell More Books
Can get getting your book in front of the right buyers help you sell more books?
Then yes! Most definitely. But it takes a little bit of work and analytics.
But, if you'd like to learn more about other authors and their AMS adventures, then check out the below case studies. Each one consists of examples or tactics that an author employed with AMS and their results (And let me remind you, most of the authors below haven't taken any course, they just gave it a try – but you have access to my free course):
Podcast Episode – AMS Ads with Brian Meeks
Now, if those numbers scared, you. Don't be. My course will give you everything you need to understand and implement 😉
So, What Next?
Well, there's a big difference between those who just set up a campaign and those that know how to really dig in and take advantage on what AMS has to offer. That's why in my course I'll expand on the following:
How to find profitable AMS keywords
Different tools and tactics to discovering niche books to target
How to effectively monitor and adjust your campaigns
The science and art to choosing your initial bids and how Amazon uses this
How to lower your costs, and increase your clicks
Case studies of myself working on top author's AMS campaigns like Pat Flynn and Ted Dekker (fiction and non-fiction)
And more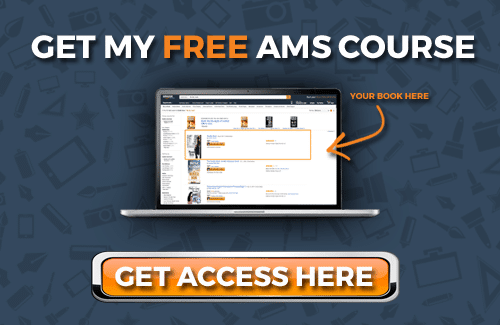 So, be sure to sign up for my absolutely FREE AMS Advertisements for Books course and start getting your book discovered on Amazon.
Cheers,

Hey Guys, I'm Dave and when I am not sipping tea with princesses or chasing the Boogey man out of closets, I'm a Kindlepreneur and digital marketing nut – it's my career, hobby, and passion.
GET MY FREE KINDLE RANKING EBOOK