Which one do I choose?
Aweber or MailChimp or GetResponse?
A couple of years ago, after posting this very question on some excellent Facebook groups, I got some wild answers from multiple people that all swore their Email Service Provider (ESP) was the best.
After getting hundreds of different answers from asking the above question, I decided just to try them all on my own and 'figure it out.'
Now, I don't recommend you do that because switching between email services can be costly and truly time-consuming. It can also require you to get your already earned subscribers to have to re-subscribe.
But, I do want you to learn from my mistakes so that you don't have to waste all the time and effort that I did just to finally find the one that works.
In this article, we are going to do a complete Aweber vs. MailChimp vs. GetResponse review. Although these three email providers are not the only games in town, they are usually referred to as the top three among most authors.
Choosing your email autoresponder service is a critical step, so make sure you understand all the differences between them, otherwise, after a while of using one, you'll suffer from your mistake and feel as though your hard-earned email list is being held for ransom by your service provider.
So, let's make the right decision from the get-go!
In this article, you will learn:
What is an Email Service Provider (ESP) and why you need it
MailChimp vs. Aweber vs. GetResponse: comparisons and differences
Which one is the winner
Once you've chosen the ESP that suits your needs, it's time to level up your email list with the right pop-ups and tools to help you collect them. Luckily I've already written a post just for you that will be posted on Kindlepreneur in a couple of weeks.
What Do Email Service Providers Actually Do?
Email Service Providers go by many names like autoresponder services, email marketing services, email list builders, etc..
But they are not your typical email, like Gmail, Yahoo or – heaven forbid – AOL mail. Your Email Service Provider allows you to go way beyond just sending and receiving mail.
So, what exactly does an email autoresponder service do that makes it such a valuable tool for all types of marketers?
Provides you with programming code so that you can collect the emails easily on the internet
Stores your list of emails
Allows you to create email collection optins
Gives you amazing templates to build breath-taking newsletters for your readers
Gives you key insight into the reading habits of your followers
Provides autoresponse so that emails are sent immediately upon someone doing something (like joining your list)
Selecting an Email Service is like selecting a spouse. Choose wisely or else you're stuck!
Click To Tweet
And many other things. The point is, if you want to collect emails from your readers or fans, you have to have an email marketing provider like Aweber, Mailchimp or Getresponse.
Aweber vs. GetResponse vs. MailChimp Deals
One thing I love most about these three is their 100% risk-free guarantees.
Aweber and Getresponse offer a 30-day, no questions asked, money back guarantee…which is nice. You can do what I did: sign up, give it a whirl, and move on to the next without dropping a dime.
MailChimp, on the other hand, offers a sneaky little incentive…they offer the service for free until you reach 2000 subscribers. Also, with their free plan, you can't use some of the most important features like autoresponders (necessary if you want to give your fans a gift for joining your email list). Basically, they lure you in on the "free" account, and once you get comfortable with them and build a viable list, they start charging, and now you're stuck.
Why haven't the other services caught on to this little trick and offered the same?
Later on, though, you'll find out why going after the free MailChimp account is not the best idea in the long run.
But before we get into this and the comparisons of the three services, I want to be upfront with you. Many of the links below are affiliate links, but don't worry, clicking on them will not cost you anything extra.
And there actually is a clear winner, even if your friend swears by another one. Just wait and see because the quantifiable data doesn't lie.
Features: Aweber vs. Mailchimp vs. GetResponse
Let's start this comparison by looking at what each one offers as compared to the others.
Above, we discussed what a basic function of an Email Marketing Service does, but as you can see from the chart below, some of them do even more and provide you with more options – which are super-critical in effective email marketing.
Aweber vs MailChimp vs GetResponse
Feature
Aweber
MailChimp
GetResponse
Starting Price
$19 / month
$10 / month
$15 / month
Free Trial
30 Days
500 Contacts Max
Free Account Until 2000
But No Autoresponder
30 Days
250 Contacts Max
# of Emails
Unlimited
Unlimited
Unlimited
# of Templates
700
300
500
A / B Testing


Advanced Options to Split
Social Media Integration
Autoresponder
Yes
2 Tickets / Month
Yes
Surveys
Singup Forms
Okay
Better
BEST
Drag and Drop Design
Analytics
Most Data
Easy to Follow
Middle Ground
Less Likely Marked as Spam
Better
Worst
Better
Customer Service
Better
Worst
BEST
More Personal
Check It Out!
Check It Out!
Check It Out!
Now, as you can see, some of the information above is subjective. It is based on things I noticed while I was using their services, and not something quantifiable.
But don't worry, I'll explain my reasoning later and will break down each one.
WINNER: GetResponse – clearly has the most to offer out of the three
Pricing: GetResponse vs. Aweber vs. MailChimp
The price of a monthly service can be one of the most important factors for most authors. But before we jump into comparing the numbers, I will tell you that putting together the below chart was quite challenging.
Both GetResponse and Aweber have nearly the same pay structure. You get a large range of email signups before you have a jump in cost. But GetResponse always beats out Aweber in cheapness.
However, MailChimp's cost structure works in tiny little increments for each step. In a way, MailChimp is more "get-what-you-pay-for." However, every month you might find yourself adding more and more money. This makes it harder to budget and would drive my accountant – aka my wife – nuts!
Aweber vs MailChimp vs GetResponse Price
| # of Email Contacts | Aweber | MailChimp | GetResponse |
| --- | --- | --- | --- |
| Up to 500 | $19 | $10 | $15 |
| 1,000 | $29 | $15 | $15 |
| 1,500 | $29 | $20 | $25 |
| 2,000 | $29 | $30 | $25 |
| 2,500 | $29 | $35 | $25 |
| 5,000 | $49 | $50 | $45 |
| 10,000 | $69 | $75 | $65 |
| 25,000 | $149 | $150 | $145 |
| | Check It Out! | Check It Out! | Check It Out! |
One trap that many new people run into is that they see Mailchimp's free starter set and signup for them. It is true that Mailchimp has a free version, BUT, that free version does not include the autoresponder capability – which is uber important if you want to give an optin gift (something to entice people to signup for your list). Plus, you'll miss out on a whole lot more.
However, I will say, this is a crazy good tactic by MailChimp. People see "free" and immediately jump on it and disregard the others. Then after building enough followers, they get comfortable with their services and start paying for them, even though they more costly and have less to offer…just something to consider.
You can also switch and migrate your list to another provider down the road, but I will tell you, it isn't pretty, and you lose a lot of your hard work and analytics. Also, in many cases, you'll have to get your already-developed list to reconfirm or else you'll lose them…and that is huge!
As you can see, GetResponse is clearly cheaper than the rest in just about every category. Although it's not by much, do remember that these are monthly charges. So, it adds up over time.
WINNER: GetResponse – It's cheaper and has an easier pay scale
Analytics: GetResponse vs. Aweber vs. Mailchimp
I really can't give a grade on this because each one should win a category.
Aweber's analytics platform offers the most data of the three. Now, this is a good thing and a bad thing. The good news is those super techy guys, or number crunchers out there LOVE options. For you people, Aweber takes the cake.
Chock full of different data sets, you could swim in those numbers for hours and create intricately detailed reports.
However, on the other side of the spectrum, Mailchimp's reports are pretty streamlined and don't offer as many options as Aweber. Although you can't get the juicy analytical data that Aweber offers, at least, Mailchimp is easy to understand.
So those of you who fear the numbers and math graphs, Mailchimp is top.
Finally, as if there were a Goldie Locks syndrome, GetResponse sits right in the middle holding more options than Mailchimp but less clutter than Aweber. It is easier to swallow than Aweber, but a step up from Mailchimp.
So, this one takes the cake for those who want better data but don't want to get bogged down in the weeds and have a steeper learning curve.

WINNER: Tie Between All Three – because it depends on what you prefer: easier, more data, or in-between.
Deliverability: Getresponse vs. Aweber vs. Mailchimp
Email platforms like Gmail and Yahoo have worked really hard to try to discriminate mass emails and place the bad ones into the SPAM folder. Good on them, because this has helped to stop scammers and hackers from hurting innocent people.
However, this selectivity can cause many of your legitimate emails to never reach the people who signed up for them. Ouch!
So how do Gmail, Yahoo, and others decide what to send to your inbox and what stick in your spam box? The reputation of your Email Autoresponder Service…that's what. Now there are other factors involved, but having a spammy sender or (ESP) is like a one-way ticket to Spam Folder City.
Here the Aweber vs. MailChimp vs. Getresponse game is pretty even because they're three of the best in the industry. However, one of them has a dark secret…
A couple of years ago, MailChimp had very poor deliverability, and their users found a high rate of their emails had bounce backs or were being placed in the SPAM folder immediately, which kills your engagement.
So to combat this, MailChimp created a link blacklist that generally does not like affiliate links in the emails.
Now, they don't ban all affiliate links in your emails completely, however, you will find many marketplaces are no-no's, and you could get your entire account shut down for simply trying to send an affiliate link to your readers.
WINNER: GetResponse and Aweber – Sorry MailChimp. I like the ability to use the affiliate links of my own choosing, but keep up the good fight!
Email Templates: MailChimp vs GetResponse vs Aweber
In all honestly, I can't really tell the difference between them. They all seem to have hundreds of pretty neat templates and since the number of templates each offers changes weekly, I can't even provide you an adequate number so as to compare them.

The key is that each of them offer "drag and drop" capability, making so that anyone can design a custom template with no significant background in programming or design.
WINNER: Tie Between All Three
Signup Forms: Mailchimp vs. Aweber vs. Get Response
Signup forms are the little doodads that show up in sidebars or posts and allow you to signup for someone's email list. Personally, I use specialized software to create mine, but for most, having an email service that offers incredible Signup Form templates and designs, is vital.
Now, previously, Mailchimp had won this battle by having the better-looking signup form templates.
However, just recently, GetResponse just launched their new beta signup forms that are better-looking and allow more customization. Also, they now include drag-and-drop capability and just as many fields as MailChimp….Discount Double Check!
WINNER: GetResponse – Templates are on par, but you can't beat the drag-and-drop customization of a signup form (which also extends to their landing page builder). I like the ability to make my signup forms unique and fit the look of my website, don't you?
Final Grades: Aweber vs Mailchimp vs GetResponse
The Champion: GetResponse
So, let's review the facts as to why GetResponse gives the major beat down. Get Response excelled in:
Pricing
Features
Signup Forms
Deliverability
Not too complicated, but doesn't skimp on analytics
Aside from the technical aspects of the service in this GetResponse review, they also offer other intangibles that really set them apart. For instance, their customer support is out of this world. I'm literally in touch with their staff all the time.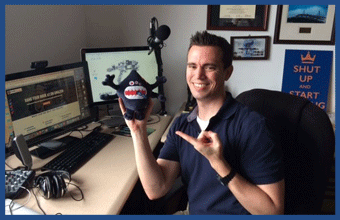 To give you a quick example, I saw them post a picture with their Get Response doll and tweeted "How do I get one of those?" The next thing you know, they sent me one free in the mail! Beyond that, they've reached out to me with tips and suggestions on how to optimize my individual email campaigns.
There's nothing like having a team of experts behind you, who genuinely want to see you succeed and actually take the time to help you along the way. P.S.: Their technical experts are super savvy and speak English as their primary language…which is nice.
Another invaluable thing that I discovered from this GetResponse review is that they have always been the first to adapt and change with the times. They were the first to develop responsive emails (fits your cell phone screen) and the first to create drag-and-drop signup forms.
What does this tell you?
Simple. They are quick to adapt, and you won't have to wait for your service to catch up like the others. Also, they are always striving to improve. I like that a lot.
They also understand the email marketing space through and through. Their blog is an exceptional resource on optimizing your campaigns and truly getting the most of their service. The free eBook by Joanna Wiebe is a great place to start.
On a final note, they integrate with services such as, JVZoo, which means that anytime a person buys one of my products through JVZoo, their email is automatically added to my list. This is a very beneficial service for authors who diversify their income by recommending affiliate products, like myself. It's a tactic I will go into later on Kindlepreneur.
GetResponse goes beyond simple software; they truly take the time to build a relationship with you. And that my friends is why GetResponse is my hands-down favorite email autoresponder.
Cheers,