5 Easy Steps to Avoid the 30% Tax Withholding for Non-US Self Publishers
US Tax Law requires that US-based companies like Amazon KDP, Smashwords, iTunes and Createspace, must withhold 30% of any non-US self-publisher's royalties.
Basically, if you are not an American and you just signed up for a KDP account, Amazon will keep 30% of your revenue for tax reasons.
But losing 30% of your hard earned money is a hard pill to swallow!
Thankfully, you can take 5 easy steps to change it around and reduce that percentage and in some cases, completely remove it.
Which equals more money in the bank.
In this article, you will learn about:
Amazon's tax withhold requirements
What is a ITIN and a EIN
5 simple steps to get your own EIN and reduce your losses
Percent withholdings based on your location
Since I am a non-US author and have experience with this, Dave has asked me to contribute to his blog and guide you through a really simple, step-by-step Amazon tax information procedure so that you keep more of your hard earned royalties for yourself.
My mini disclaimer- I am neither a lawyer nor a financial planner. For any specific tax questions and how to go about paying taxes on your royalties in your country and similar issues, you will need to consult it with someone like an international tax adviser, an accountant or a lawyer.
EIN versus ITIN
There are really two ways in which you can reduce your Tax withholding. You either get an Individual Tax Identification Number (ITIN) or you get an Employer Identification Number (EIN).
The quick and dirty between the two is that an ITIN takes a LONG time to get and requires lots of steps like filling out forms, paying fees, and visiting U.S. Embassies or consulates.
Luckily for us though, the American IRS views non-US authors as small business owners and therefore allows an EIN to be granted…which you can get from the comforts of your own home and even in your pajamas.
Let's Get Rid of the Holding: How to Get an EIN
First things first- get your EIN number. You have nothing to lose but a lot to gain. For that, all you need to do is to call IRS and simply ask them for your EIN number.
Step 1: Call IRS: (1) 267 941 1000
You used to be able to fill out an online form, however, in 2014 the form changed and now requires a Social Security number or a ITIN. You can get around this by calling.
My tip: their office hours are 7AM- 10PM US Eastern Time. Check how it translates to your local time and if you want to get it sorted out fast, I suggest you call them early in the morning (their local time) or at the end of their shift. I remember I called them around 1PM my local GMT+ time and I was lucky to get on the phone with one of their agents almost immediately. However, be prepared, it may be a bit of a journey as more and more people are calling. I have talked to some publishers who said they had it more complicated.
Step 2: Provide Basic Information
They will ask you for your name and surname and your address. You will be asked to spell it a few times. You may want to write it down on a piece of paper to have in front of you.
Step 3: Provide a Reason for the Call
They will ask you for a reason for your call. Again, these are the lines you want to use (you may want to jot them down on a piece of paper):
"I need an EIN number to comply with the IRS withholding regulations"
"I am not a US person, I am (your nationality) and I live in (your country of residence)"
"I am not starting an entity in the US"
"I am an individual and I need to fill my tax forms to obey with the US tax regulations. My intention is to publish eBooks on Amazon/work with American companies/ sell info products on Clickbank/ become an Amazon affiliate- add whatever reasons you have".
The best line is this one:
" I have recently started my self-publishing account with Amazon.com and I have to comply with the IRS withholding regulations and fill the W8- Ben form"
After you provide this reasons, they will ask you some crazy questions like "Are you going to be operating heavy machinery in the US" and stuff like that. You know what to say, right?
Step 4: Get Your EIN Number
Finally, they will give you your EIN number. Just write it down – you are ready to go.
Man, I love the US. They make things easy and simple. Compared to some bureaucracy we are facing in Europe, this is a paradise. A heaven! They make it so easy for entrepreneurs. Sooner or later, I will end up in the US. OK, back to the main topic…
Step 5: Update your KDP Tax Information
Go to your account and click on the "Tax Information. Then Click on "Complete Tax Information."
When they ask "Do you have a U.S. TIN?" click yes and fill in your newly acquired EIN.
Then click submit and in about 10 days, you should be good to go.
One thing I need to mention. It will save you frustration. About 1-2 weeks after updating your tax info, KDP will send you a rather depressing e-mail that your tax information did not match the IRS records. You will check hundred times and you will know that they info is correct and you will still get this message (in most cases).
Why?
Well, the IRS needs about a month, or even more than that to actually "properly" register your tax information.
This is why when you get this e-mail from KDP.
So, relax and be patient.
Simply update your tax information and re-submit. After 2 more weeks it should be fine, and your withholding rate will be reduced. Nothing to worry about. Easy peasy!
If you also publish paperbacks with Createspace, use the same EIN number to update your tax information. Createspace will not update it automatically.
I remember I skipped this step, as I believed that since Createspace is an Amazon company, it all updates itself automatically.
But since it does not work that way, you need to make sure you update your tax information accordingly.
What About With ACX
If you want to create an account with ACX.com (to publish audio books), all you need to get is a US address that you can obtain from www.reship.com
You will also need a US bank account that you can get from www.Payoner.com
Once you have gotten that address, just go ahead and start your account.
Use a different e-mail address (not the one you used for KDP or Createspace)
Fill in your tax information using your EIN number + putting all your residency details and your local address.
List of Country Tax Withholding Rate
But once you provide them with that number, what will you royalty withholding tax rate be?
The answer is….it depends.
It depends on where you physically live (not where you are from) and what Tax Treaty that country and the US have in place.
To make it easier for you, I have listed them here: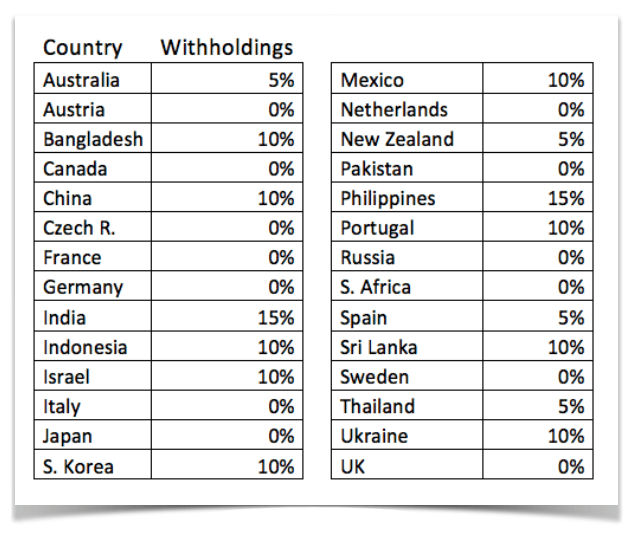 This list was created using the IRS Publication 515 starting with page 53 and using the "Copyrights" column. You can check that document if your country wasn't listed here or you want to ensure the tax code hasn't changed since the publication of this article.
Final tips:
Find someone like a tax strategist or an international lawyer locally, where you live. They will help you with your tax situation.
Important- don't tell them that you "sell books" on Amazon. It's Amazon that sells the books! Amazon sells and Amazon pays VAT and all other taxes like that. Tell them that you "receive royalties from Amazon". Ask them to check your local regulations on royalties.
At some point, you may want to consider starting a company and publishing your books as a company. Especially if you want to scale and wish to deduct some expenses like covers, editors, marketing services from your tax. In many cases, it will be cheaper for you to do it as a company. To learn more about how you can start an LLC in the US, check out Dave's article here. UK and US has much less bureaucracy than most EU countries and they value entrepreneurship. And…internet just makes it all so easy!
Finally: remember that I am not a professional qualified in international taxes and stuff like that. I simply share some information based on my own research and experience. If you feel lost, consult with a good international lawyer or a tax strategist. But your EIN number is the step number one.
Good luck and may your bank account be happy with more royalties and less taxation! Happy and profitable publishing!