If you're an indie author (or an aspiring one), you've probably heard all about how audiobooks are the next big thing. And it's true; the audiobook market has been doing extremely well, and will likely continue to do so. Unfortunately, turning your eBook into an audiobook isn't quite as straightforward as publishing your manuscript to Amazon.
So, to make things a little easier, I decided to take an in-depth look at the two big names in audiobook production and distribution: Findaway Voices and ACX.
I'll compare these two companies side-by-side, assigning points to each company in a variety of categories (two points for each category). At the end, I'll give an overall recommendation for which is best for authors in various stages of their careers.
But the bottom line, for those who don't want to skim through everything below, is this: if you're fine with going exclusive, ACX is the way to go. But if exclusivity for seven years is a hang-up for you (and it is for a lot of authors), then you should go with Findaway Voices.
Read on to find out why.
In this article, you will learn:
Audiobook Basics
Whether to go Exclusive or Wide
Side-by-Side Comparison of Findaway Voices and ACX:
Overall Cost
Pricing Control
Royalty Comparison
Promo Codes and Marketing Tools
Audience Reach
Reporting
Narrators
Customer Service
The Audible Audiobook Return Debacle
Findaway Voices vs ACX Comparison Table
The Winner Is . . .
Can You Use Both Findaway Voices and ACX?
Audiobook Basics
Before we dive into comparisons, it's important for you to have some context here. If you're not familiar with the world of audiobook creation, then this section is for you. First, let's talk about market growth, then I'll introduce you to Findaway Voices and ACX.
Audiobook Market Growth
When people say that audiobooks are growing in popularity, they're absolutely right. The market numbers reflect this.
According to reports, the global audiobook market in 2019 was valued at $2.67 billion. Predictions expect this market to grow to over $13 billion by 2027, a compound annual growth rate of just over 22%.
Of course, the COVID-19 pandemic has surely influenced audiobook sales, just as it has influenced eBook and print book sales. However, even before the pandemic, the global audiobook market was seeing steady growth percentages in the double digits.
So if you're considering launching an audiobook, it's a good way to add a revenue stream from a book you've already written (or one you will write).
But, there are many things to consider before jumping into this world. Namely, which company to go with.
Introducing ACX
Audiobook giant Audible founded ACX (Audiobook Creation Exchange) in 2011. Audible has been in business since 1995. The company was bought by Amazon in 2008, three years before ACX was founded to give authors a way to publish their books in audio form.
Since ACX has been making audiobooks with indie authors for a decade, they've had a steady handle on the market. But with Findaway Voices' recent changes, their foothold on the market is not so clear.
ACX boasts distribution on Audible, iTunes, and Amazon, which is an attractive prospect for many authors.
Introducing Findaway Voices
Findaway Voices was founded in 2016 by audio technology company Findaway. The parent company has been in the audiobook business since 2006. One of the big draws of Findaway Voices is their distribution capabilities. They can get your audiobook into a ton of stores and even libraries.
Since this is a fairly new company, they've been making continual changes to keep up with market trends and make things easier on both their authors and their narrators.
Findaway has many distinct divisions and brands under their belt, including:
AudioEngine
Audioworks
OrangeSky Audio
Playaway Products
Publisher Services
Exclusivity vs Wide
So, should you go exclusive to ACX or distribute your book wide?
Like keeping your eBook exclusive with Amazon through KDP Select or "going wide" to other retailers around the world, this is a decision you must make for yourself.
Findaway Voices doesn't have any exclusivity option for audiobooks. You can think of them as an aggregator and producer. This means they take a flat fee of 20% of your royalties and you have 40+ options for distribution. (More on that later).
ACX offers both exclusive and non-exclusive options. ACX incentivizes exclusivity by sweetening the deal on royalty rates, but this means your book is only sold on Audible, iTunes, and Amazon. And while these are three major retailers, some authors feel they are missing out on sales by going exclusive.
Keep this in mind as we go through the rest of the article.
Now that you know a bit about each company's offerings and history, let's dive into the comparisons.
Overall Cost
Professional audiobooks aren't cheap to make. Unless you're a skilled voice actor or an audio engineer — or you're willing to learn those skills before you record your audiobook — you'll need some help.
For some authors, the upfront cost of having an audiobook made is just not in the budget. And I'm sure you're wondering how much it costs to get a book made. Unfortunately, it depends on many factors.
Luckily, you have a couple of options for turning your book into an audio experience: royalty share and paying per finished hour. Let's look at each.
Royalty Share
If you don't have the cash on hand to pay upfront for the entire audiobook production, you can try for the royalty share option. Both Findaway Voices and ACX offer similar royalty share choices.
Findaway Voices Royalty Share
Launched in 2019, Voices Share gives authors the ability to pay half of the upfront cost of the audiobook in exchange for giving the narrator 20% of their royalties for 10 years. So instead of 80% of royalties that you would otherwise get by paying for the entire production, you'd get 60% of royalties.
They also offer a buyout option if you want to end the royalty share early. To do this, you would have to pay the narrator double the initial payment you made. So, if your production would have cost $1200 initially, but you paid $600 with the Voices Share option, you would need to pay the narrator an additional $1200 to close out the contract and start collecting the full 80% of your royalties.
In the end, this means you'd end up paying more for the audiobook than you otherwise would have ($1800 vs $1200). However, if the book is selling well and you're making money, this option could end up earning you more in the long run.
Side note: This option requires that you keep your book in Findaway Voices for all markets, including ACX, for 10 years unless you use the buyout option.
ACX Royalty Share
Unlike Findaway Voices, ACX offers an option that can entirely cover the costs of your audio production. If you agree to exclusivity and find a willing producer, you can forego any upfront payments in exchange for a 50/50 split of your royalties for seven years. ACX exclusivity in this case means 40% of your audiobook sales are split in half between you and the narrator/producer.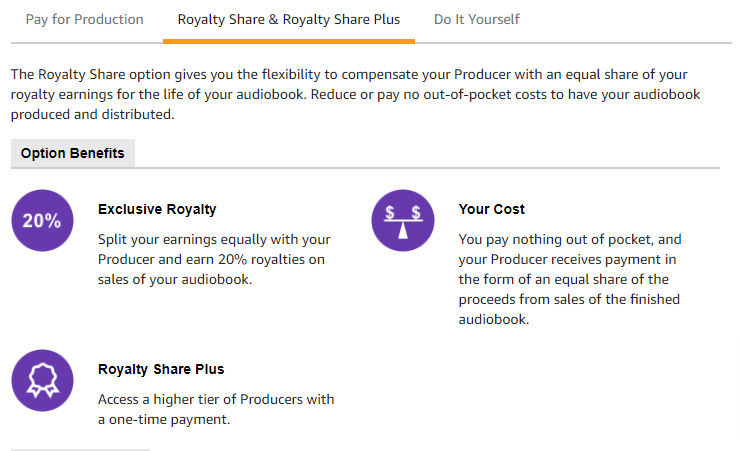 ACX also offers a hybrid option, much like the one described above that Findaway Voices offers. Known as Royalty Share Plus, this option allows you to pay a "small fee" upfront to access a wider pool of producers who aren't willing to take the risk of covering the entire cost of production in exchange for 20% of royalties.
The Royalty Share Plus option shares the risk between you and the producer (narrator) since you're providing some money upfront. But it also requires the seven-year 50/50 royalty split.
How much money you provide upfront is up to you to negotiate with the producer.
Per Finished Hour (PFH)
The standard for paying for a finished audiobook without royalty sharing is based on a cost per finished hour PFH. There is no set number for this. It all depends on the audiobook narrator you get. However, to give you an idea, Findaway Voices has this example on their website:
The longer your book, the more hours it will take, which means the higher the cost. You will likely find similar rates on ACX.
Findaway Voices typically charges a $49 setup fee for each book, which is something that ACX doesn't do. However, if you sign up for Findaway Voices through Draft2Digital, that fee is waved.
Determining which company gets the points is difficult in the Overall Cost category. ACX offers a way to get your audiobook made with no upfront cost in exchange for half of your total royalties for seven years. Findaway Voices offers an option that has you paying half the upfront cost in exchange for 10% of your royalties for ten years.
At a glance, it may seem like an easy decision: Findaway Voices offers the better royalty share. But that's not the only thing to consider. ACX has a large portion of the audio sales market cornered.
So I'm calling the Overall Cost category a tie: ACX – 1 Point. Findaway Voices – 1 Point.
Important Note: Keep in mind that there is no guarantee you'll be eligible for the royalty share option from either company. In order for producers and narrators to put in the work on a project, you need to show them that they'll recoup their investment, meaning you'll need to show book sales and perhaps even proof of an audience for the audiobook.
Pricing Control
Next up in our comparison is pricing control. This category is pretty straightforward as to which company offers the better option.
When you publish your audiobook through ACX, you have zero control over the pricing of the book. Although ACX provides some guidelines (see below), they can price your audiobook however they want.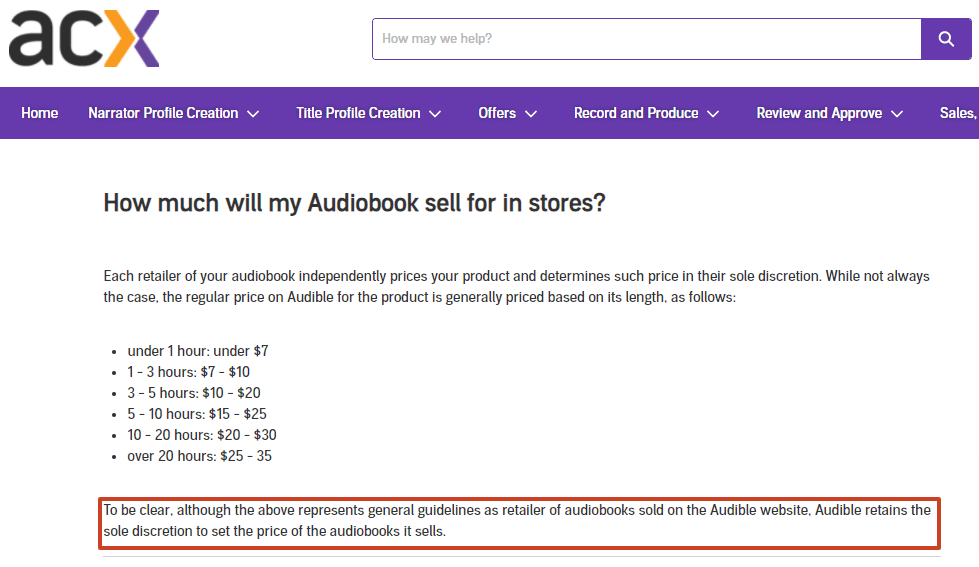 When you publish with Findaway Voices, you control the retail and library pricing for your book on most audiobook sellers. If you choose to sell through Audible via Findaway Voices, Audible will still control the pricing. Findaway provides a tool that helps you determine the best recommended pricing for your book, but ultimately, the decision is up to you. You can always change the price later on.
Clear winner in the Pricing Control Category: Findaway Voices – 1 Points. ACX – 0 Points.
Royalty Comparison
When it comes to royalty comparisons between ACX and Findaway Voices, there's much to consider. At first glance, Findaway Voices is the better option, allowing you to keep 80% of your royalties from most of their audiobook sellers. But, this isn't 80% of the list price. Since Findaway Voices is an aggregator, their partners get a cut of the sales too. For most non-Amazon retailers, Findaway gets between 40% and 50% of the list price after the retailer's cut. They then keep 20% and give you 80%.
So say you sell an audiobook for $20 through one of Findaway's partners that keeps 50%. $10 will go to Findaway, which will take 20% ($2.00) and give you 80% ($8.00).
ACX offers a 40% royalty rate for those who sign an exclusive contract. That means if your book sells for $10, you get $4 for every book that sells through their distribution channels: Amazon, iTunes, and Audible.
Important Note: You can now opt out of your exclusive contract with ACX if you paid in full for your audiobook production and your book has been available in the stores for 90 days or more.
If you opt for non-exclusive distribution through ACX, you get a 25% royalty rate. But you can sell your books through any other audiobook distributors, including through all of Findaway Voices' partners.
However, Findaway Voices can get you a 45% royalty rate from sales at Apple Books, compared to the 25% through ACX non-exclusive and the 40% through ACX exclusive.
If you distribute through Findaway to Audible, Amazon, and iTunes, you'll still get the non-exclusive 25% royalty for sales on those platforms (of which you'll receive 80%).
The fact is that Audible, Amazon, and iTunes make up much of the audiobook market, so you'll need to decide whether it's worth it to you to opt for exclusivity through ACX.
The Royalty Comparison category is another tie: ACX – 1 Point. Findaway Voices – 1 Point.
Important note: ACX isn't totally clear about the price on which they base their royalty payments, whether you're exclusive or not. Their reporting system is still severely lacking, leading some authors to wonder what price their royalty actually comes from, because it rarely seems to be the list price. Here's how ACX explains it:

The problem is that the exact details of the Allocation Factor, or Audible Listener Allocation Factor (ALAF) are a mystery to everyone but ACX and Audible. For more on the Allocation Factor, check out this article from the Alliance of Independent Authors.
Promo Codes and Marketing Tools
As any self-published author knows, books don't sell themselves. Marketing is an essential factor if you want to become successful, and the audiobook publishing market is no different.
As of this writing, Findaway Voices squeaks by as the winner of this category for two reasons: promo codes and marketing options.
Promo Codes
Giving your audiobook to listeners for free is one way you can spread the word, get reviews, and find new listeners. And with FV, you'll be able to get 30 giveaway codes for each title, or 100 if you're in Voices Plus (their hybrid royalty splitting option).
At ACX, you can get 25 promo codes for each title per marketplace automatically, with the option to get 25 more if at least 10 of those codes have been redeemed and you've made 100 sales from your total catalog. But here's the kicker: You ONLY get promo codes if you're exclusive with ACX.
One downside to Findaway Voices' giveaway codes is that they are only available through the Authors Direct app, whereas ACX codes are redeemable on Audible. Anyone who redeems an ACX code can write a verified review on Audible, which is something that's also lacking with FV.
However, listeners can still write an unverified review on Apple, Audiobooks.com, Downpour, eStories, Kobo, Walmart, and Scribd after redeeming a FV giveaway code.
Still, this is all a moot point if you want to go wide. Only Findaway Voices offers free giveaway codes to nonexclusive authors.
Marketing Options
Findaway Voices is partnered with Chirp, BookBub's audiobook platform. Although it doesn't guarantee you'll get a featured deal on Chirp, it makes signing up for one much easier.
Findaway also allows authors to set promotional pricing for their audiobooks. And while you're not guaranteed to get this price on every one of their booksellers, it's still much more control than you get with ACX.
Findaway Voices wins this Promo Codes and Marketing category. Findaway Voices – 1 Points. ACX – 0 Points.
Audience Reach
This is one major factor ACX has going for it. As you can probably guess, Audible and Amazon have a huge chunk of the audiobook market. One 2019 survey found that, together, Amazon and Amazon-owned Audible made up around 43% of the total audiobook market, with the rest of respondents saying that they listen to audiobooks on a variety of other platforms. Granted, this poll was small, but it's likely indicative of the overall market.
This means concentrating your efforts on ACX purely in terms of audience reach could net you some excellent results, the likes of which you could (theoretically) replicate by targeting the users of all the other major audiobook distributors out there.
However, Findaway Voices allows you to get your audiobook in libraries, which is something that ACX doesn't. Library distribution can bring you some extra money you wouldn't get in going through ACX, on top of any sales you get from other distributors like Kobo and Chirp.
But, you can still distribute to Audible and Amazon through Findaway Voices, you simply get a lower royalty rate. So this one's another tie.
Audience Reach category: ACX – 1 Point. Findaway Voices – 1 Point.
Reporting
Reporting is a very sore spot for many authors, at least regarding ACX. Until March of 2021, ACX showed no information on the number of returns a rights holder (author) had on his or her books. This, coupled with Audible's extremely liberal return policy (and other opaque reporting practices), caused what is now called Audiblegate. We'll discuss that issue in its own section later.
Having heard the cry of thousands of authors, ACX has taken a step in the right direction and updated their dashboard to show qualified returns, which are returns that happen within seven days of purchase.
That said, how Audible's subscription services work to change the royalty the author gets makes accurate and transparent reporting even more important. This has to do with the Audible Listener Allocation Factor (ALAF), which is a complicated equation that has never really been made clear to anyone in a way that makes sense.
Unfortunately, as of this writing, ACX's reporting dashboard still has a lot to be desired, making it very difficult (if not impossible) for authors to determine how much each sale is worth and whether they are actually getting the royalty rate promised for each sale.
It's a bit of a mess.
Findaway Voices reporting ability is somewhat limited by each distribution partner's reporting protocol. Unlike ACX, they don't actually dictate the way these audiobook sellers report their earnings. That said, they make it as easy as possible for authors to see their sales from the dashboard.
The Reporting category is another tie: Findaway Voices – 1 Points. ACX – 1 Points.
Narrators
The way ACX and Findaway Voices connect narrators (known as "producers" on ACX) to indie authors differs. ACX allows you to browse through their catalog of producers, selecting the professional narrator or narrators you want to approach for your audiobook recording.
On Findaway Voices, you tell them what you're looking for in a voice actor plus some information about your book, and they'll send you a curated list of narrators they think will be the best fit. If you don't find what you're looking for on that list, you can request another list of narrators.
Finding voice talent is probably the most important factor in creating a successful audiobook. The narration makes the story, after all. In this way, an audiobook version is an entirely different beast than an eBook or print version.
Luckily, there's no lack of talent out there, whether you're looking on ACX or Findaway.
Both companies allow you to see what each producer or voice actor has done before, giving you a feel for their audiobook narration skills. They'll also have a sample of their previous work you can listen to.
You'll also see their rates and, if they agree to an audition, you'll be able to have them read a short sample of your book. They'll then send you this audio file so you can make sure the project is right for both parties.
As far as narrator rates go, they're generally pretty competitive on the two platforms. Just keep in mind that the overall quality of the finished audio depends on the experience and quality of the narrator/producer. So this isn't generally an area in which you want to cut costs.
The Narrator category is a tie: Findaway Voices – 1 Point. ACX – 1 Point.
Customer Service
If you ask a group of authors with audiobooks on any platform whether they're pleased with that platform's customer service, you'll find some who aren't and plenty who are. This seems to be the case with both Findaway and ACX. Some people have had good experiences and others have had bad ones.
Since Findaway Voices is an aggregator, they're limited in what they can do with any of their distribution partners. So if you have an issue with Audible holding up your audiobook for months for unclear reasons, it's not likely that Findaway Voices is going to be able to do much about it. That said, you could easily have the same problem going through ACX, which is directly affiliated with Audible.
There's no clear winner here. In the world of audiobook distribution customer service, it seems that you get what you get.
Customer Service category: ACX – 1 Point. Findaway Voices – 1 Point.
The Audible Audiobook Return Debacle
Before we declare a winner for this little showdown, I would be remiss not to mention Audiblegate in more detail. I shared a bit of information about this in the Reporting section, but it deserves a little more attention.
Audible's liberal return policies allowed Audible subscribers to return any audiobook they bought within a year of purchase. Here's how it worked:
Audiblegate
You, as an Audible monthly subscriber, purchase an audiobook in exchange for a credit. When you do this, the author gets the royalty promised in his or her contract. Everything is as it should be.
But, Audible makes it clear to you that you can return any audiobook up to a year after you bought it. That's great, right? So you listen to the book, enjoy it, review it, and then return it. When you return the book, Audible gives you a credit back, which you can then trade for another book. Fantastic!
But you don't see what's happening behind the scenes. The (already paid) royalty is taken back out of the author's earnings, negating that sale — even though you listened to the entire book.
And even worse, ACX never gave authors any information on how many returns each of their books had.
Audible and ACX have recently changed this, only allowing royalty returns on books returned within 7-days of purchase. They've also updated their dashboard to reflect these returns.
However, this whole debacle has made some authors take a harder look at Audible's opaque reporting systems, which we covered briefly above.
The point is that this is a quickly changing landscape. There's continued pressure on Audible and ACX to provide transparency on their royalty calculations and overall operations in regards to audiobook sales. We'll see if they further improve their practices to allow authors and narrators/producers to see what exactly is going on behind the scenes.
In the meantime, they still have the lion's share of audiobook listeners, which means you'll probably want to deal with them whether you go through Findaway Voices or ACX.
Findaway Voices vs ACX Comparison Table
| Category | ACX | Findaway Voices |
| --- | --- | --- |
| Overall Cost | 1 | 1 |
| Pricing Control | 0 | 1 |
| Royalty Comparison | 1 | 1 |
| Promo Codes and Marketing | 0 | 1 |
| Audience Reach | 1 | 1 |
| Reporting  | 1 | 1 |
| Narrators | 1 | 1 |
| Customer Service | 1 | 1 |
| Total = | 6 Points | 8 Points |
The Winner Is . . .
As you can tell from the table above, Findaway is the overall winner of the two audiobook production companies. However, it's important to keep in mind that these factors aren't set in stone. They're more for purposes of illustration than anything else.
The world of audiobook production is fast changing. Findaway Voices is still a fairly new company, and I expect they'll continue to bring out new features and benefits. At the same time, ACX has been meeting authors in the middle in terms of returns and reporting, so we'll (hopefully) see some more changes from them soon.
The fact is that if you're fine going exclusive, there's no question that ACX is the way to go. Whether you use them to produce your audiobook or you take the finished file to them and then sign an exclusive contract is another story.
Can You Use Both Findaway Voices and ACX?
You can absolutely use Findaway Voices and ACX. In fact, many authors do this. Say you find an audiobook producer (narrator) you like on ACX. You can sign a non-exclusive contract, have your audio narration done through ACX, and then take your audiobook files over to Findaway Voices as your audiobook distributor.
On the flip side, you can have your audiobook produced through Findaway Voices, then take it over to ACX and sign up for an exclusive contract to enjoy the 40% rate from Audible, Amazon, and iTunes.
Conclusion
Navigating the world of audiobook production can be difficult at first. I hope this comparison of Findaway Voices vs ACX helps you determine the right path for you.
Findaway Voices has some great incentives and options, but they're hampered by the limited control they have over their distributors.
ACX has the audience reach, mainly through Audible, making their exclusive contracts a tempting option. However, recent events and numbers that don't seem to add up have brought important questions to light, many of which have yet to be resolved.
Either way, it's important to remember that audiobooks weren't an option for self-published authors until recently. So even though things may not be perfect, there's still plenty of fun to be had and plenty of money to be made through audiobook sales.