If you're an author, you should have a website. After all, being an indie author is running a small business. And every small business needs a website—even if just a simple one.
In fact, your author website doesn't need to be fancy. If you're just starting off, then you really only need some pretty basic functionality. And that's what this article is all about. Read on to find out how to build your author website quickly and easily as we explore the best drag-and-drop website builder for authors.
The Bottom Line: Having an author website is important, but you don't need to go crazy. A basic website will work just fine as a starting point. And although any of the six options outlined below are viable, I recommend Squarespace for its ease of use, elegant themes, sleek interface, and done-for-you mobile optimization.
In this article, you will learn:
The benefits of a drag-and-drop web builder. 
What you should put on your website.
6 of the best drag-and-drop website builders for authors (and which one we recommend).
How to hire a freelancer to build your site. 
What is a Drag-and-Drop Website Builder and Why Use One
Website building can be a headache if you don't have any experience. There are a lot of things to figure out, even aside from the web development aspect of getting the actual website up and running. You have to deal with things like web hosting and securing a domain, not to mention ensuring that your website isn't low-hanging fruit for bad actors.
Of course, you can pay someone else to build your website for you. Unfortunately, this can get a little pricey—and it means that if something goes wrong with the site in the future, you'll either have to pay someone to fix it or spend the time to learn how to do it yourself.
This is where drag-and-drop a website builder comes in. Instead of spending dozens of hours (or more), trying to get your self-hosted WordPress website up and running, you can spend just a couple of hours using an intuitive and all-in-one website builder to make a simple website.
This allows you to focus on the more important aspects of your indie author small business—writing and marketing.
So if you want a basic-but-professional website quickly, but you don't want to pay a ton of money or spend a ton of time, then this is the way to go.
What to Use Your Website For
Honestly, you can probably get by without an author website before releasing your first book. But if you want to be taken seriously, there's no better way than having a professional online presence that you own. Just like having a social media presence is a good idea, having a website where readers can go to find you is also good. And certainly, as your career progresses and you release more books, you'll rely more and more on your author website.
But there are more important reasons than just having an online presence. You can put a landing page on your website where you can collect subscribers for your email marketing efforts. This is how you disaster-proof your author career—by maintaining an email list that you own.
And while website design may seem like a foreign language, the popular website builders we'll dive into below all offer basic landing page builder options for email collection, links to your books on Amazon and other stores, and a place to share updates and links to your social media accounts.
These are the basics, and they're all most authors will need. But if you want to do more, there are options aplenty with the website builders below.
The Best Drag-and-Drop Website Builders
For the best drag-and-drop website builders, we're looking at six different offerings. They are:
Builder
Price
Pros
Cons
Link
Squarespace

$16/month

Quick website creation
Easy page builder
No design experience needed
14-day free trial
Stunning templates
Mobile optimization included
Free custom domain

Template constraints
Potential for similar-looking websites

Check it Out

Wix

Free Plan or $16/month

User-friendly
Extensive integration options
Highly customizable
Free plan available
Abundance of third-party app integration

Complex drag-and-drop editor
Less sleek compared to Squarespace
Somewhat clunky
Manual mobile optimization required

Check it Out

Wordpress.com

Free Plan or $4/month

User-friendly platform
Basic drag-and-drop builder
Access to WordPress themes
All-in-one solution
Built-in SEO tool

Higher cost for advanced features
Limited functionality in free version
Additional cost for email

Check it Out

Weebly

Free Plan or $10/month

Easy drag-and-drop editor
Free SSL certificate
Professional themes
Responsive and customizable
Fast-loading sites
Third-party app integration

Branding and ads in lowest-priced option
Limited bandwidth and storage in free/cheap plans
Past security incident
Limited theme selection

Check it Out

GoDaddy

Free Plan or $11.99/month

Easy drag-and-drop creation
Customizable themes
Free SSL certificate
Free version available

Limited customization options
Fewer advanced features

Check it Out

Hostinger

Free Plan or $11.99/month

User-friendly
Affordable pricing
Wide selection of templates
Third-party app integration
Free SSL certificate
AI-assisted editing and tools

Limited customization options
No free option or trial
Template migration challenges

Check it Out
Many of these you've probably heard of, and for good reason. But as we evaluate them, we'll be looking at them through the lens of what an average author needs—and may need as their career progresses. Let's get started with the best overall website creation service.
1. Best Website Builder for Authors Overall: Squarespace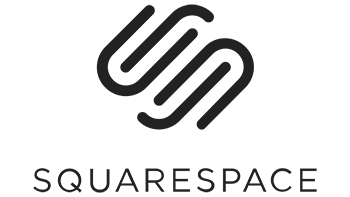 While Squarespace has been a popular website builder for a while now, there were some complaints about their drag-and-drop capabilities. Until recently (at the time of this writing), Wix had a leg up on Squarespace in terms of customization capabilities and ease of use.
But with recent changes, including the addition of Fluid Engine—the new Squarespace drag-and-drop site builder—Squarespace has stepped their game up. Now their site creator/editor is comparable to Wix's. You can move elements around freely instead of keeping them in only predetermined areas.
They've really made things much easier and smoother now, which is why Squarespace is my top overall pick for the best drag-and-drop website builder for authors. Squarespace provides customization options without making things complicated for the user, which is really great.
However, they don't have a bunch of options for third-party apps or plugin integrations. But if you're just getting started and want a simple and quick website that still looks great, you won't really need to mess around with third-party apps. Still, this is one drawback of Squarespace.
But there's much more to like. They have a ton of excellent options for blog hosting, which is a great option for nonfiction authors. Plus, you can even host a podcast on your Squarespace site, which prevents you from having to host it through a third party, like you would with Wix or some other options on this list. There are over 150 modern and sleek customizable templates to choose from, all free (meaning you don't have to pay extra for them—Squarespace still costs). Squarespace also provides good SEO tools—another nice feature for nonfiction authors looking to rank on Google.
You're also able to create members-only content areas and build newsletters for email marketing. Best of all, Squarespace optimizes the mobile version for you, which is fantastic. You can even easily set up your domain and mailbox through them. All this makes this platform among the top options for your author website.
Squarespace Pricing
14-Day Free Trial
Personal Plan – $16 a month billed annually or $23 month-to-month.
Business Plan – $23 a month billed annually or $33 month-to-month.
Commerce Basic Plan – $27 a month billed annually or $36 month-to-month.
Commerce Advanced Plan – $49 a month billed annually or $65 month-to-month.
Squarespace Pros
Quick website creation
Easy-to-use page builder
Don't need prior web design experience
14-day free trial
Great-looking templates
Automatically optimizes mobile version
Free custom domain with any yearly payment option
All-in-one solution
Website analytics on Business plan and up
Excellent for blogging
Able to host a podcast
Squarespace Cons
So popular, you may end up with a website that looks like someone else's.
Don't have total freedom to do what you want. You have to work within the template's parameters.
2. Best Website Builder for Tinkerers: Wix
Wix is an excellent option if you're looking for a website builder that takes you through the process to help you get a unique but professional-looking site.
While many of the other website builders on this list simply let you choose a pre-designed template you can then edit as you want, Wix does things a little differently. With a tool called Wix ADI (Artificial Design Intelligence), they take you through several simple steps, giving you options for things like theme, font, homepage design, about page design, etc.
Once you've chosen all these factors, it will use your preferences to create a custom website template. And then you can edit that template to make it truly yours. You can add and remove elements, and choose from a massive list of various buttons, boxes, strips, text elements, menus, contact forms, and everything else you would need on your website. Or you can simply take it as-is.
This ability to customize freely can cause problems in terms of people viewing the site on different phones, tablets, and other devices. Certain factors could cause the site to look odd, jumbled, or simply unprofessional when displayed with different aspect ratios. This is why testing is so important! It takes time to optimize for mobile with Wix to make sure you don't end up with these kinds of mistakes, which is a definite con.
But, you do get SEO (search engine optimization) guidelines and marketing tool plug-ins with Wix. Actually, they have more apps and plug-ins than Squarespace, making Wix better for integration. To give you an idea, there are over 300 third-party apps in the marketplace, most of which are free to use.
Wix also provides blog hosting and (with certain plans) e-commerce capabilities. Wix offers a completely free plan, but you won't be able to use your own domain (the website will end in wixsite.com), and it will have an ad at the top of your site.
Some people equate the Wix editor to Canva because they have a similar interface. So if you know your way around Canva and you've built some marketing images with that tool, you'll probably be comfortable working with Wix's website builder.
Wix Pricing
Free Plan (No Custom Domain, Ads)
Combo Plan – $16 a month billed annually.
Unlimited Plan – $22 a month billed annually.
Pro Plan – $27 a month billed annually.
VIP Plan – $45 a month billed annually.
Wix Pros
Fairly easy to use
Great for integration and third-party apps
Highly customizable
Offers free plan
Plenty of third-party app integration options
Similar to Canva
Good if you want the freedom to design your own site but you're not a designer
Wix Cons
Not the simplest drag-and-drop website editor
Not as sleek as Squarespace
A little clunky
You have to optimize for mobile yourself
3. Best Cheap Option: WordPress.com

WordPress.com is not to be confused with WordPress.org, which is a website where you can go to download open-source website-building software for building and maintaining a self-hosted WordPress site.
Essentially, WordPress.org is where you go to get the exact opposite of a drag-and-drop website builder. You definitely need some experience to go that route. But with WordPress.com, you will find an all-in-one website-building option that does include a drag-and-drop editor. Plus, you can use it to build a site for free.
You have access to basic functionality and simple editing with the WordPress website builder, making this free option good if you're looking to dip your toe into the world of author websites. You can blog and set up a page with links to your books and social media with the WP page builder. But you won't have access to third-party plug-ins and your free site will be hosted on the WordPress.com domain. This means you can't use your own domain name and your site will have ads.
Plus, it's important to note that WordPress.com can use whatever content you post on your website however they see fit in the free plan.
Now, if you want to use your own domain, you do have the option to pay for a hosting plan. If you pay yearly, you'll get a free domain for one year. However, even with the two cheapest options, you still won't have access to third-party plug-ins and other customization options (like third-party themes) that other builders on this list provide with their paid plans.
While their basic yearly paid plans are cheap, they don't provide much more bang for your buck. Really, the biggest thing you get for paying is being able to use your own domain name. But if you just want a really basic site, then this could be perfect for you!
WordPress.com Pricing
Free Plan (No Custom Domain, Ads, No SSL, 1GB storage)
Personal Plan – $4 a month annually or $9 month-to-month.
Premium Plan – $8 a month annually or $18 month-to-month.
Business Plan – $26 a month annually or $40 month-to-month.
Commerce Plan – $45 a month annually or $70 month-to-month.
WordPress.com Pros
Simple and easy to use
Basic drag-and-drop page builder
Access to WordPress theme
All-in-one option
Built-in SEO tool
Offer free option
Enjoy WordPress hosting
WordPress.com Cons
More expensive than other options (if you want access to third-party themes and plug-ins)
Free version is severely limited
Email costs extra
4. Ideal for Authors Looking to Learn Web Design Basics: Weebly

Weebly is now part of the Square family, which makes this website builder a little different because you have two options. You can build a personal website with Weebly or you can build a business website with Square Online if you're hoping to sell your books directly from an online store.
The business website builder is for those with web design experience or those willing to learn. The personal website option is where the drag-and-drop editor is. There aren't a lot of themes to choose from, but the ones they have are all modern and professional looking, and the responsive website builder allows for significant customization.
Weebly provides access to third-party apps, although some of them cost money. But you can get a free website through Weebly without a custom domain. Just know that there's limited storage with the free version. And if you do want to upgrade, the personal option is cheaper than most others out there—but it still has Square branding and ads. And the cheapest option doesn't give you more bandwidth and storage.
Lastly, Weebly has had one major security incident in the past. Back in 2016, Weebly was hacked, apparently compromising 43 million customers. They've said that they've since taken more security precautions, but this is worth mentioning.
Weebly Pricing
Free Plan (No Custom Domain, Ads, Storage and Bandwidth Limits)
Personal Plan – $10 a month annually or $13 month-to-month.
Professional Plan – $12 a month annually or $16 month-to-month.
Performance Plan – $26 a month annually or $29 month-to-month.

Weebly Pros
Simple drag-and-drop editor for personal website
Very affordable
Free SSL certificate with every plan
Professional themes
Responsive
Customizable
Quick-loading sites
Access to third-party apps
Free version available
Weebly Cons
Lowest price option still has branding and ads
Limited bandwidth and storage with free and low-cost versions
Had one known security incident
Not a lot of website themes to choose from
5. Best Free Version: GoDaddy
Like many of the options on this list, GoDaddy provides an all-in-one package, even with the free version. This means you get hosting, their visual editor, and customizable themes.
They also include some basic email marketing features, along with some simple blogging features. These definitely aren't advanced, but they're a start and can help you get used to interfacing with tools like these.
Now, the GoDaddy website builder isn't purely drag-and-drop. You can change certain things, but only into predetermined positions. While this makes a GoDaddy website less customizable than, say, your Wix or Squarespace website, it also means you won't be tempted to mess around with it for hours on end, tweaking every last thing until it's perfect. If this sounds like something you would do, GoDaddy may be a good bet for you.
They do offer a free version, but you can't use your own domain name and it will have an ad at the top. While you get a free SSL certificate with the free version, you don't get SEO tools. However, you can do some basic selling through your website with the free version if that's something you want to do.
GoDaddy Pricing
Free Plan (No Custom Domain, Ads, No SEO Tools)
Basic Plan – $11.99 a month annually or $16.99 month-to-month.
Premium Plan – $21.99 a month annually or $26.99 month-to-month.
Commerce Plan – $24.99 a month annually or $29.99 month-to-month.
Commerce Plus Plan – $44.99 a month annually or $49.99 month-to-month.

GoDaddy Pros
Simple drag-and-drop creation and editing
Customizable themes
Free SSL certificate
All-in-one solution
Basic features will be fine for most authors
Quick site creation
Offer free version
GoDaddy Cons
Fewer customization options than other builders on this list
Limited advanced features
6. Honorable Mention: Hostinger
As you might be able to tell from the name, Hostinger used to be all about hosting websites. But (at the time of this writing) it recently released a new powerful drag-and-drop website builder, replacing the already well-liked Zyro builder. With this update, Hostinger offers a simple all-in-one solution that utilizes AI tools to help you build a website in short order.
The Hostinger website builder is both simple and powerful. While you do have the option of building a site from scratch, you're probably better off choosing a pre-designed template and editing it to your liking. The interface is smooth, making this a simple matter.
The minimalist design of the web builder makes this a very beginner-friendly option. You can add and remove elements easily to make the site that you want. Hostinger also provides useful AI tools like a logo builder, a content generator, and more. You'll also have access to a library of royalty-free images to use on your site.
Unfortunately, there's no free trial and no free option with Hostinger, although there is a 30-day money-back guarantee. And if for some reason you want to change your website theme halfway through (or even after the site is live), you'll find that this is no easy matter. So it's a good idea to make sure what you have is what you want before putting too much work into it.
Hostinger Pricing
Hostinger's pricing is a little strange, as it depends on the length of time you choose. It needs some explanation. The longer the plan (48, 24, or 12 months), the cheaper the overall cost. I break it down below:
Option 1 – $2.99 a month for 48 months, $6.99 a month after 48 months.
Option 2 – $2.99 a month for 24 months, $7.99 a month after 24 months.
Option 3 – $2.99 a month for 12 months, $8.99 a month after 12 months.
Monthly – $11.99 plus a $4.99 setup fee.
While these are broken down into monthly increments for the purposes of display, you have to pay one full sum when you purchase a plan. So if you choose the 48-month plan, you'll pay $143.52 at checkout. Not a bad price for 4 years, but still something to keep in mind.
Hostinger Pros
Very easy to use
Very Affordable
Over 100 website templates to choose from
Access to third-party apps
Free SSL certificate
Free domain (for 1 year)
AI-assisted editing and tools
Website Analytics
Add custom code
Automatically optimizes for mobile
Hostinger Cons
Limited customization options
No free option or free trial
Difficult to change templates/migrate sites
DIY vs Hiring a Professional
If the drag-and-drop DIY option doesn't suit you, that's okay. You can always hire someone to build your site using one of these web builders. This is generally cheaper than hiring someone to design your site from scratch. It's also quicker.
If you have a day job and find it hard to find the time to meet your weekly word count goal, then hiring a web developer can be a good option. But I suggest crunching the numbers and finding out whether it would be cheaper to do it yourself (factoring in the cost of your time) or hiring a freelancer to do it.
Obviously, you can save time by hiring someone, but this isn't a given. It can be hard to find the right freelancer. Luckily, I've done some of the research for you. The freelancers listed below specialize in our top pick: Squarespace. But although I've done some research, make sure to do your own due diligence on these people before hiring them. You'll want to make sure the communication between the two of you is to your liking, and that you can work well together to bring your website to life.
Fiverr Squarespace Web Designers
Upwork Squarespace Web Designers
Hiring Someone to Help You Set Up Your Website
If you're intimidated by the amount of work involved here, know that you can hire someone to help. Here is a list of service providers that you can look to potentially hire to help you set up your drag-and-drop website:
Examples of Authors with Drag-and-Drop Websites
And here is a list of some authors who have websites that you can look at, along with their #1 piece of advice as well.
Verdict: Which Drag-and-Drop Website Builder is Best?
Although it was a close race between Wix and Squarespace, my top recommendation is Squarespace. With the updates to their website editor, they've become one of the best options for a drag-and-drop website builder out there. But it's not just the ease of use, elegant themes, and the automatically formatted mobile version. It's also the fact that it's a better option than Wix for bloggers, and it allows you to host a podcast on your website.
While you may not be blogging or podcasting often at first, it's nice to have these options in place so you don't have to think about them much when the time comes. I mean, who doesn't want to write (or talk) about storytelling, writing, or solving problems for their readers!?All that said, any option on this list is a good one. If one of them offers more functionality or better perks for you, then I suggest choosing that one. Building your author website may not seem like a fun or exciting thing, but you only have to do it once. After it's up and running, it's mostly frictionless maintenance done automatically by your website provider. And it gives you a strong foundation to build on as your author career progresses!