Thinkific vs Teachable: Which Course Builder is Right for You?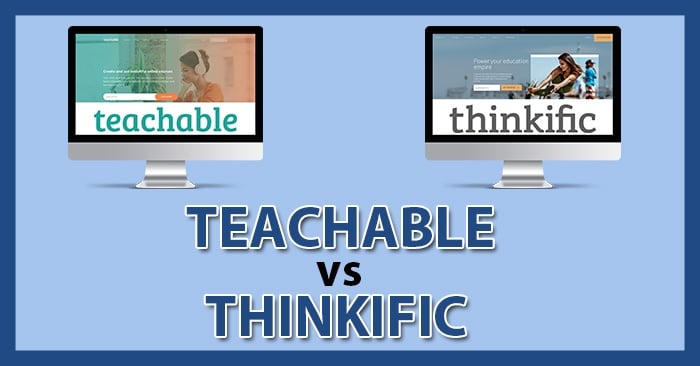 There's no better way to showcase (and monetize) your authority on a subject than to teach a course.
Not saying we all need to go out and become tenured professors though. You can actually create courses online that you can send your readers, clients, and other interested individuals to. And when it comes to online course creation platforms, two companies stand out above the rest.
Thinkific vs Teachable.
What really makes this a unique Thinkific vs Teachable comparison is that unlike many other reviews on the best course program, I actually used both for the same course and will be able to show you exactly what it looks like for each.
Historically, I have used Thinkific for my FREE AMS ADS COURSE. But I never really took the time until recently to get down to brass tacks on Teachable. Keep reading to find out whether or not I plan on making the swap over to Teachable!
In this article, you will learn:
What are Thinkific and Teachable?
How much does it cost to use both Thinkific and Teachable and what they include
How do they compare when it comes to feature sets
What can each platform do when it comes to design elements
Which platform is the best course creation software for your needs
Just as a quick disclosure. There will be affiliate links in this article. These will not cost you any extra at all to use them. It just helps to keep my coffee pot full of that sweet, sweet bean juice. And with that…Let's dive right in!
What Can Thinkific and Teachable Do?
Alright, back to Thinkific and Teachable. Before we get into the meat and potatoes of what's different, here's a quick rundown on the two platforms.
Both are fully-customizable "all-in-one" web course creation platforms. This means the course can be created, hosted, and SSL certified for one monthly fee. Each course you create will have its very own domain name, and there is no limit to how many courses you can create (with each's paid option). There is also no pay per student for either platform. So you can have as many students as you can gather without the price increasing at all.
Battle of Builders: Which Course Creation Software will reign supreme! Thinkific vs Teachable #WIP #teachable #thinkific
Click To Tweet
Thinkific vs Teachable Table: Side-by-side Comparison
| | Thinkific | Teachable |
| --- | --- | --- |
| Best Pricing | | |
| Best in Course Creation | | |
| Best for Course Importing | | |
| Best for Course Playback | | |
| Best Quizzes | | |
| Best for Drip Content | | |
| Best Course Reporting | | |
| Best for Groups | | |
| Best Design Features | | |
Thinkific versus Teachable Core Features
At a cursory glance, it's spooky how similar these two platforms are. Each have essentially the same major features. But there are some key differences you need to know about within them. Let's take a look at Thinkific vs Teachable major features.
1. Course Creation (Advantage: Thinkific)
This is the main purpose of each of these builders. (One they both do very well, I might add.)
As you create your course, one thing becomes extremely apparent. Both Thinkific and Teachable have a very user friendly interface. Buttons and layouts are very easy to navigate even for those new to course building. Drag and drop capabilities also help to improve a user's quality of life. Uploading text, pictures, and video are a breeze with each platform.
Check out each builder in action!
However, one clearly has an advantage over the other.
Thinkific.
Thinkific natively supports more content than Teachable. For instance, wouldn't it be nice to receive some feedback after a student has completed your course? That's made super simple by Thinkific's survey capability. Teachable does not have an internal survey feature, requiring you to use an external source such as Google Forms.
And if you use Storyline or Captivate files…Thinkific has got you covered. They offer a built-in integration. Finally, one big advantage for Thinkific is the use of its video library. If you have uploaded a video to Thinkific, it gets placed inside your video library. That way you no longer need to upload the video if ever you need to use it again.
But that doesn't mean Teachable shouldn't get the respect it deserves. Teachable actually tends to have an easier UI to operate for many users. It also gives you the capability to alter your lesson settings without having to actually enter your curriculum.
Winner of Course Creation: Thinkific
2. Course Importing (Advantage: Tie)
Let's say you've already created a course and have it stored on your Google Drive or One Drive? Are you able to directly import these into Teachable or Thinkific?
You can do this both with Thinkific and Teachable!
With Thinkific, you have the same capabilities. But with a few differences. Thinkific allows you to upload videos from your Facebook, Instagram, and Amazon Cloud–along with OneDrive and Google like Teachable.
Both platforms make the grade when it comes to course importing.
3. Course Playback (Advantage: Teachable)
In our Thinkific vs Teachable battle, a major area of contest is how the course is delivered. And as stated above, Teachable really delivers with its whole User Experience giving more flow to the course. Not only that, but they allow for multiple types of content to be uploaded into a single lesson and in any order.
Let's say you want to have a pop quiz on the lesson prior followed the new lecture. And then all of this wrapped up with some embedded comments. Teachable can make that happen–on Mobile OR Desktop. Teachable has a native app for iOS that allows even your on the go students to benefit.
(Gotta admit… This is a clean looking display from Teachable.)
Thinkific has improved layout over the past few years, but they still fall just a little short in this category.
(There's definitely some room for improvement here with Thinkific.)
And when it comes to multiple formats in a single lesson…You can just forget about it with Thinkific.
4. Content Quizzes (Advantage: Thinkific)
But don't count Thinkific out! For when it comes to quizzes… Thinkific is easily the winner here.
With Teachable, you can create simple multiple choice questions. Your students are offered pre-provided answers, choose which they believe to be correct, and are informed whether they are right or wrong. That's it.
Thinkific, on the other hand, takes their quizzes to the next level. Begin by creating your questions and answers via text, images, or video! (Teachable is strictly limited to text.) You can also utilize some of their advanced quiz features such as randomized quiz banks, the ability to import questions, or adding explanations post-answer. Not only that, but if you use the exam solution program Brillium, Thinkific has full-integration capacity.
In Thinkific vs Teachable Battle: Quizzes, Thinkific reigns supreme.
Drip Content and Prerequisites (Advantage: Tie)
Here's an area where both platforms perform just about even–drip content. For those out of the loop, drip content is when your student is required to finish one lesson before moving on to the next. This prevents your students from rushing straight to the end and forces them to actually absorb the lesson.
Teachable adds just one extra step to this. You can make the videos in your lessons unable to be skipped as well. But other than that, both builders make it easy to apply this setting.
Course Reporting (Advantage: Teachable)
Progress tracking is just as helpful for you as it is your students. And each program supplies its own bevy of tracking reports. But those of Teachable are much more in-depth and detailed. They can provide you with exact specifics for each of your quizzes, student completion rates, and even the effectiveness of your videos. The results are even broken down into separate student demographics such as Free or Paid students and video engagements and play rates.
Thinkific also provides a progress report, but it isn't nearly as detailed. So if tracking reports are a must have for you, you should definitely consider Teachable.
Groups Feature (Advantage: Thinkfic)
If Teachable has the Course Reports, then Thinkific has the Groups.
(As a disclaimer, this is only available with Thinkific's Enterprise Edition. This may be an irrelevant feature for those creating courses strictly for themselves.)
Thinkific's Groups feature allows you to enroll large groups of students at once (hence the name "groups") and monitor and track their progress in an organized manner. Also, it enables you to promote the bulk sale of your courses–making this ideal for selling your courses to large corporations.
Teachable, on the other hand, doesn't have anything comparable to Thinkific's Groups. So, when it comes to Thinkific vs Teachable Enterprise Level application… Thinkific takes the lead.
Which Platform has the Better Design Elements? (Advantage: Thinkific)
As the core feature analysis shows, both platforms can get your content across in a clear, concise manner. But who makes it look good?
Giving your course an excellent design can be just as important as the info in it. If it looks easier on the eyes, your course may draw more engagement than otherwise. Not only will you draw or engagement, but selling more courses is a distinct possibility as well. So, between the two…Who does it better?
Thinkific hands down. And here's why.
When starting out with Teachable, you get a Template theme that you can customize. You can change button colors, upload some images, and add a logo. Heck, you even have the ability to add your own HTML and CSS code. But that's about it. However, Thinkific takes this to the next level.
Thinkific can provide everything that Teachable can but it in many more templates. Got a fitness blog and course? Thinkific's got a template for that. How about a course on blogging for revenue? There's a template for that too. Even Professional DJs have their own templates. And Thinkific keeps adding newer template designs.
(Full Customization through a Theme Library vs A Singular Simple Option)
Teachable may have a nice generic theme, but that's all it's got.
So, if you're looking to see who wins the Thinkific vs Teachable design battle, Teachable doesn't stand a chance.
Price and Cost Evaluation of Teachable and Thinkific
Before we get into the paid options, each builder comes with its own free version.
Thinkific's free option gives you the ability to create 3 online courses but with unlimited students. You also gain access to the core functions and the right for instant payments.
With Teachable's free option, you not only receive unlimited student access, but the ability to create unlimited courses as well. That being said, there is a transaction fee of $1 + 10% for all of your paid courses. However, if you set up a FREE AMS COURSE like I have, there is no extra cost. You also receive access to the basic core features such as lesson building, quizzes, and more.
When it comes to premium choices, both platforms offer three options.
Basic
Professional
Enterprise Edition
$49 per month (Monthly Plan)
$39 per month (Annual Plan)
$99 per month (Monthly Plan)
$79 per month (Annual Plan)
$499 per month (Monthly Plan)
$399 per month (Annual Plan)
$39 per month (Monthly Plan)
$29 per month (Annual Plan)
$99 per month (Monthly Plan)
$79 per month (Annual Plan)
$499 per month (Monthly Plan)
$399 per month (Annual Plan)
Which has the advantage in pricing? (Advantage: Teachable)
As you can see, each of these builders offer very similar availabilities. But if I had to choose between Thinkific vs Teachable based on this criteria alone, it would have to be Teachable. This is for two reasons.
Teachable's free option allows you to create an unlimited number of courses compared to Thinkific's 3.
With the Basic option, Teachable's plan is offered for $10 less.
Wait a minute… What about Udemy?
For those of you in the know, Udemy is a third course building platform. But here's why I'm not going to include Udemy in this comparison.
Udemy gives course creators less freedom when it comes to product creation, presentation, pricing, etc. The entire platform is based on the strict commercialization of your course.
Not to say that Udemy is a bad platform. I've personally taken self-publishing courses on Udemy. But when comparing Udemy to other course creation platforms–such as Thinkific and Teachable–it's apples and oranges.
So, Did I Make the Switch Over to Teachable?
So at the end of day, which platform did I go with?
I made the switch.
You see, I took a look at what was most important for me. I determined that course playback was exceptionally important for my needs. As far as my AMS ads course is concerned, I find that the only thing that really mattered for me was to make sure my students get the cleanest, most user-friendly experience around. And that meant Teachable.
But that doesn't mean Thinkific isn't worth its salt. I actually used Thinkific for years! If you are really looking for hardcore design elements or in-depth quizzes, Thinkific might be your best bet.
Either way, each of these builders should be taken seriously when deciding to create a course. I just can't wait to see what's coming up in store for each of these platforms.
Cheers!

Hey Guys, I'm Dave and when I am not sipping tea with princesses or chasing the Boogey man out of closets, I'm a Kindlepreneur and digital marketing nut – it's my career, hobby, and passion.
GET MY FREE KINDLE RANKING EBOOK