Grammarly Review: Is Grammarly Good for Self Publishers?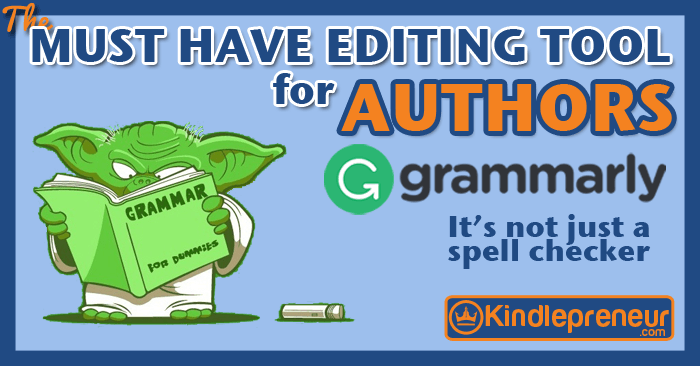 Let me start by just saying that I'm a fan of Grammarly.
There…I said it. No epic wait to the very end of this article like a typical Grammarly review. I'll just give it to you straight.
But [its] it's not for the reason you think it is, and I won't be recommending what you think I will in this [Grammaly] Grammarly review.
Sure it corrects my horrible writing mistakes and poor grammar better than Microsoft's spell checker. However, it's the other aspects that make me a fan.
In this Grammarly review, I'll show you:
What is Grammarly
What it can do and why [its] it's in my arsenal
Setting the right expectations
What else it can do for your self-publishing
Now, as a fun little exercise to show whether or not Grammarly works and if it is worth it, I will keep the mistakes I made in writing this Grammarly review – to an extent.  I'm not sure if this will prove my point or just show that I am a poor writer.
But one thing for sure is that you'll quickly notice that someone like me probably needs a little tool like this.
PS: This article does use affiliate links…I just want to be upfront and honest about that.
Grammarly Review: What is Grammarly
If you're like me and sometimes feel like Yoda with a grammar book…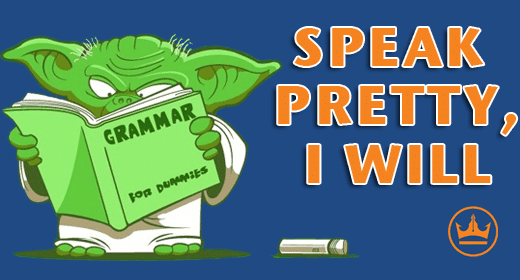 …then you're going to love this little tool.
In its basic form, Grammarly is like your little robotic editor angel on your shoulder as you write on whatever platform you want like email, word documents or on your own website. But that's not all.
It also provides:
Grammarly Cards – besides just telling you where you are wrong, it also gives you comprehensive explanations of grammar rules and tips for how to avoid similar mistakes in the future.
Reporting – like in the 8th grade, you'll receive a report detailing your accuracy in grammar, spelling, plagiarism, and vocabulary. Instrumental in helping you improve over time, which is something all authors need. can understand [relate to – preposition at the end of a sentence].
Plagiarism Checker (premium) – Grammarly will scour the corners of the internet to cross-check and ensure no [plagariasm] plagiarism was conducted. Super powerful feature if you employ ghost writers.
Vocabulary Enhancement (premium) – helps you to expand your lexicon and write more clearly by suggesting context-optimized alternatives and synonyms for your overused and repetitive words – something I do a lot!  Did you notice there were some [pretty cool– overused word/phrase] juicy words in that sentence?  Thanks, Grammarly.
See the above in the example below…pretty sleek, huh?
Grammarly Review: Where Can I Use it
Now, this program would have been a pain if I had had to open it, and then place my writing inside of it just to get it to work. However, thank the makers, they made it so that I have lots of option and can enjoy it in just about any platform I prefer to work in:
Grammarly Editor (Free): An online editor that allows you to store all your documents on it, access from any computer that has the internet, and gives you all of the features listed above. You can write within it or just upload your documents into it.  Personally, (forgot the comma) I don't use this, [I forgot the comma] though.
Browser Extension (Free: Chrome, Safari, Firefox): Reading many of the Facebook posts out there, I wish more people had this! Install the Grammarly extension into your web browser and start getting  [instantaneous – recommended direct as a better word] direct Grammar assistance and recommendations. I'm currently going through all of my past articles and using this little token.  It's taking me forever, but I am correcting all of the awkward mistakes I put you all through. It checks your comments, blog posts, tweets, Facebook posts, etc. I definitely use this one!
Grammarly for Microsoft Office (Premium): For those of you who are in love with Office, then this is your best bet. The Grammarly extension basically says "move over Spell Checker and Grammar Checker…there's a new Sheriff in town."
Grammarly for Your Desktop (Free): If you're lazy like me and have a LOT of documents you want to check quickly, then this is for you. No more copying and pasting your documents into their web editor like the old days. Instead, you can [simply – overused word] quickly drag and drop files into the Grammarly icon on your desktop and get your [forgot the "r"] works checked [in]at ludicrous speed.
How Grammarly Can Help Writers
One thing I struggled with in trying to improve my grammar was taking what I learned from reading an article or book on Grammar and actually applying it when I wrote.
However, to me, Grammarly is like a writing coach sitting in the corner that points out what you are doing wrong, gives an explanation and even provides examples [on] of how to improve it.
So far, Grammarly has helped me to identify:
Weak adjectives and supplied better options (premium)
Overuse of particular words
Sentences that are too long
But that's not the best part.  Grammarly tracks my overall weaknesses and points out areas I need to work on so as to improve over time.  From my weekly report card, I learned that I need to stop ending sentences in prepositions, and stop using squinting modifier – thanks to Grammarly, I now know what those are.
I love it when free robotic grammar angels look over my shoulder
Click To Tweet
In truth, I have never understood these phrases.  But now, as if my high school  English teacher is back, I get real time corrections and explanations plus definitions of these terms.
Am I better because I know what a dangling [particaple] participle (I can't even spell it right) is?  No.  But do I now have a method to get real time corrections and advice?  yes.
Grammarly Review: Free VS Premium
Like most services, a free version and a Premium version.  Below is a quick chart of the differences between free and premium:
And how much do you have to pay for that premium?
Montly: $29.96 or
Quarterly: $59.95 or
Annual: 139.95
Is it worth it?
I [personally] pay for the premium package because [for me – misplaced modifier] some of these added benefits are worth it to me- I'm [really bad – weaksauce choice of words] awful at grammar. Specifically, I wanted the vocabulary improvement and the better correction capability because of the high visibility of my works.
However, the Grammarly free version does some [spectacular – better word pairing] remarkable things and in most cases will be all one needs for the self-publishing.
My final point is: The free version does enough to make it worth your while to download it, learn it and put it into use.  If you want to boost its capability, though, then you'll need to pay up.
Other Grammar
Beware: Setting the Right Expectations
While Grammarly does a lot, it should not replace an editor for your books.  There truly isn't a substitute for such a valuable resource.
I read so many positive reviews of Grammarly that I felt confident about replacing my editor for a book with Grammarly… that was a huge mistake. Grammarly should be the first line of defense at best, while an editor should be the last. ~ Pat King
For someone like me who writes all the time for things like guest posts, blog posts, emails, and other forms of media, it can be an extra set of eyes. But don't think that it will help you to cut the editing costs for your books.
Have I made that clear?  Don't skip on the book editor.
The Final [Judgement] Judgment
Okay, so I gave away the final [judgement] judgment in the beginning.  But let me sum it up my lessons learned.
For most authors, the free version of Grammarly is enough and should [definitely] be [apart] a part of your arsenal
Grammarly should be your first line of defense, but not solely relied on
Grammarly should not replace an editor for your book
Using Grammaly and their reporting system can greatly improve your writing over time
Cheers,
Hey Guys, I'm Dave and when I am not sipping tea with princesses or chasing the Boogey man out of closets, I'm a Kindlepreneur and digital marketing nut – it's my career, hobby, and passion.
GET MY FREE KINDLE RANKING EBOOK