MasterClass Review – Is MasterClass Worth It?
A while ago, I saw a commercial with my writing hero, Malcolm Gladwell, telling me he'd teach me the art of nonfiction writing through MasterClass.
Wait, what? Really?
One of the greatest nonfiction writers and journalists of our time was offering a course?
Something like this must cost thousands of dollars, right? After all, it seems like the price of an online course is growing by the minute.
To my surprise, I not only found that MasterClass offered Gladwell's course for cheaper than an NFL football ticket in the nosebleed seats (Browns tickets not included), but that I could access ALL of their classes for an annual subscription less than I spent on books this month.
Looking at their course catalog, I saw more MasterClass courses by authors like Margaret Atwood, R.L. Stine, Judy Blume, and James Patterson. Those are some heavy hitters!
Naturally, I broke out my wallet and spent a week watching their courses, instead of my usual Netflix binging.
So, was it worth it? Were they legit? Or did these authors and other top-notch teachers sell their soul for a quick buck?
Well, that's exactly what I cover in this MasterClass review. There are some major pros to this, but there are also a couple letdowns that I want you to know about.
So, in this article, you'll learn:
What MasterClass is and who it is intended for
The best MasterClass courses for writers
The cost of MasterClass and other practical details
Also, before we begin, I just wanted to be upfront and let you know that the links below are affiliate links. If you purchase MasterClass, it would add to my coffee fund and keep the writing going but will not affect your overall price. Nor did this affect my decision on the course.
What Is Master Class and Is it For Me?
MasterClass is an online learning platform, similar to other sites like Udemy. The difference with MasterClass is the quality of the instructors and the video content on offer.
MasterClass instructors are genuine A-List legends within their respective fields. The quality of their wisdom and experience is matched by beautiful video and well-presented workbooks.
What MasterClass Classes Are Offered?
Check out the star-studded list of teachers and the full list of MasterClasses available:
Creative Writing taught by Booker Prize winner and bestselling author Margaret Atwood
Writing taught by Multiple NYT Bestselling author Malcolm Gladwell
Basketball Shooting, Ball Handling, and Scoring taught by NBA Championship Winner and MVP Stephen Curry
Photography taught by iconic portrait photographer Annie Leibovitz
Comedy taught by multi-award-winning actor and comedian Judd Apatow
Space Exploration taught by former Commander of the International Space Station Chris Hadfield
Directing taught by multiple Oscar-winning director Ron Howard
Cooking Techniques taught by Best Chef in America winner Thomas Keller
Dance Music taught by legendary DJ and Producer Armin Van Buuren
Filmmaking taught by Oscar-winning director Martin Scorsese
Acting taught by Oscar-winning actress Helen Mirren
Cooking taught by 16 Michelin Star recipient chef Gordon Ramsay
Screenwriting taught by Oscar-winning director and screenwriter Aaron Sorkin
Writing For Young Audiences taught by bestselling children's author R.L Stine
Writing taught by the world's All-Time Bestselling author James Patterson
Writing taught by bestselling and award-winning author Judy Blume
Electronic Music Production taught by legendary award-winning DJ and producer deadmau5
Film Scoring taught by Oscar-winning film score composer Hans Zimmer
Writing for Television taught by Golden Globe-winning screenwriter and producer Shonda Rhimes
Dramatic Writing taught by Pulitzer prize winning playwright David Mamet
The Art of Home Cooking taught by Best Restaurant in America-winning chef Alice Waters
Comedy taught by Oscar-winning comedian Steve Martin
Chess taught by Grandmaster Garry Kasparov
Film Making taught by Internationally renowned screenwriter and director Werner Herzog
Investigative Journalism taught by Pulitzer Prize-winning journalist and author Bob Woodward
Acting taught by BAFTA award-winning director and producer Samuel L Jackson
Jazz taught by Grammy and Oscar award-winning musician Herbie Hancock
Singing taught by Grammy award-winning singer and songwriter Christina Aguilera
Design and Architecture taught by Presidential Medal of Freedom recipient architect Frank Gehry
Tennis taught by former World #1 and 23-time Grand Slam winner Serena Williams
Conservation taught by Kyoto prize winning conservationist Dr. Jane Goodall
Building A Fashion Brand taught by iconic fashion designer Diane Von Furstenberg
Country Music taught by American Music Award-winning singer and songwriter Reba McEntire
The Art of Performance taught by Grammy Award-winning singer and The Voice judge Usher
Cooking taught by Culinary Hall of Fame member Wolfgang Puck
Fashion Design taught by legendary American fashion designer Marc Jacobs
Poker taught by the biggest live tournament poker winner of all time Daniel Negreanu
Filmmaking taught by Academy Award-winning filmmaker Spike Lee
Now that you know if there is a MasterClass course in your area of interest, let's delve deeper into exactly what it is like to take a MasterClass.
Get 1:1 Coffee Chat with your Heroes for less than an NFL ticket (Browns not included)
Click To Tweet
MasterClass Format
Here's what you can expect from taking Master Class courses:
High-quality video lessons from each course's "Master" (an average of 24 lessons per MasterClass)
Course notes containing the main points from the video, extra reading resources, and space to write down your own notes
MasterClass community (Discussions where you can talk about the content of the MasterClass with fellow students, and share work and exercises with one another)
MasterClass Price List
Previously, there was an option to take a free trial with MasterClass, but that is no longer available.
Instead, you can access MasterClass in one of two ways:
You can purchase access to a single MasterClass for $90
You can purchase an all-access pass for only $180, which grants unlimited access to all MasterClass classes
I can write more like Malcolm Gladwell, cook more like Wolfgang Puck, and dance like Usher. Watch out, world. Thanks @masterclass
Click To Tweet
You can also gift someone a MasterClass course using a special option on their website.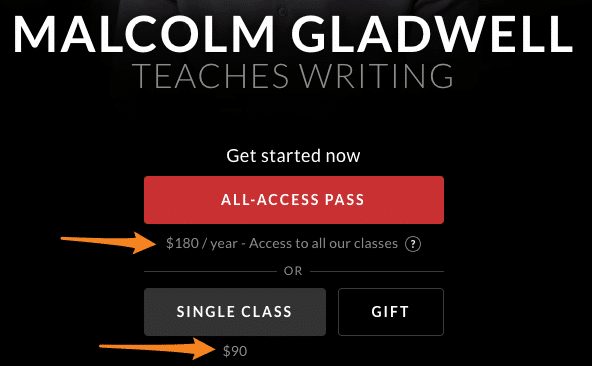 MasterClass Discount Code
There are many websites that talk about a MasterClass discount code or coupon and the truth is that MasterClass doesn't offer any. When it first came out, they had discounts that were common, but no longer.
Instead, MasterClass will sometimes offer specials or discounts, but it is open to everyone when you arrive at their site, and it isn't something you find a code for.
The Best MasterClass Courses For Writers
After grabbing a case of Red Bull and some snacks, I plopped down and selected a few of the MasterClass courses I feel will be of most interest to self-publishers and explored them in more detail below.
For each course, I've given a little bit of info about the course instructor, selected a few of the lessons from the course syllabus, and highlighted why I think they are particularly valuable for you as a Kindlepreneur reader.
---
James Patterson MasterClass Review – James Patterson Teaches Writing
James Patterson is one of the best-known names in American writing. He has written countless bestsellers, including the Alex Cross and Maximum Ride series, and publishes at a prolific rate.
In his MasterClass, James Patterson shares his insight into the process of writing, accompanied by countless priceless anecdotes from his life and career.
James Patterson MasterClass Lessons
This MasterClass consists of 22 lessons covering over 3 hours of video, as well as a workbook with extra material and assignments. You can submit drafts for critique by the class community.
Some of the most relevant and interesting lessons from James Patterson's MasterClass include:
Outlining. James Patterson is known for being a master outliner, which is part of the secret behind his prolific rate of publication. Here, James breaks down his personal outlining process and illustrates it with an outline from a bestselling novel he has never before shown anyone.
Writing Suspense. James Patterson novels are known for being pageturners that keep the readers hooked. Here, James reveals his secret recipe for suspenseful writing.
Book Titles and Covers. James reveals the top tips you need to keep in mind when choosing your book title and book cover.
Working with a Co-Author. Two of Patterson's collaborators help teach this lesson, which explains the secrets for successful co-authoring.
Marketing The Patterson Way. Before James Patterson became a bestselling novelist, he was a top advertising executive. This perspective gives him unique book marketing insight you won't find anywhere else.
Overall, I feel the James Patterson MasterClass is one of the most enjoyable and useful learning experiences I've ever had. I feel like I have a good sense of Patterson's personality, and I learned some writing tips I've never heard mentioned anywhere else. It's an absolute gem of a course.
Check Out This MasterClass!
---
Margaret Atwood MasterClass Review – Margaret Atwood Teaches Creative Writing
Margaret Atwood is truly a living legend in the world of fiction. She has never been more famous due to the runaway success of the TV adaptation of one of her best-known works, The Handmaid's Tale.
Margaret Atwood is known for writing gripping dystopian fiction that packs a powerful message.
Margaret Atwood MasterClass Selected Lessons
Margaret Atwood's MasterClass is taught in over 20 video lessons. Students also receive a workbook with extra material. Students can upload videos to the class community to receive critiques. Margaret Atwood herself will also critique some lucky students!
Some of the most enticing lessons from Margaret Atwood's MasterClass syllabus include:
Structuring Your Novel. Layered Narratives and Other Variations. In this lesson, Atwood uses real stories, both her own and others, to explain the various ways a novel can be structured. Choosing the right structure is a real struggle for many writers, so this lesson alone makes her course worth taking.
Creating Compelling Characters. A valuable lesson for every fiction writer out there. Explores how to make characters memorable and vivid, and explains how gender impacts character creation.
Speculative Fiction Case Study. The Handmaid's Tale. Margaret Atwood uses her most famous novel as an illustration for her own process of researching and getting inspiration for a speculative fiction project.
Research and Historical Accuracy. Research can make or break any book project. This is a unique chance to learn the exact research process used by one of the most successful writers out there.
The Business of Being a Writer. Sure to be of interest to you as a Kindlepreneur reader, Atwood explains the business aspects of writing, such as finding an agent, how she deals with criticism, and negative reviews.
Margaret Atwood is truly one of the most respected names in literature. The fact that she is teaching a new MasterClass is a testament to the quality and power of the MasterClass brand. I'm confident fiction writers in particular, as well as all writers in general, will find a lot to love in Margaret Atwood's MasterClass.
Check Out This MasterClass!
---
Malcolm Gladwell MasterClass Review – Malcolm Gladwell Teaches Writing
Malcolm Gladwell is one of the bestselling and most respected nonfiction writers of recent years.
Gladwell is known for distilling very complex concepts down into a more understandable form. Many of the concepts he has popularized, such as "10,000 hours of practice to achieve mastery", have sunk into the popular imagination.
Malcolm Gladwell MasterClass Selected Lessons
Malcolm Gladwell teaches his MasterClass over 24 lessons, a workbook with recaps and assignments, and office hours where Malcolm will answer select questions that are posed by Master Class students.
Some of the lessons which really stood out to me from Malcolm's MasterClass syllabus, and I'm sure you'll love too, include:
Developing the Story. This lesson teaches how Malcolm takes the initial seed of a story idea and develops it into something more, drawing upon the feedback of his family and friends in the process.
Structuring Language. A technical look at punctuation and sentence length. Gladwell explains how these seemingly technical aspects of writing can be used to help readers understand difficult ideas.
Tone and Voice. Malcolm explains how he matches his tone and voice to audience expectations, drawing upon examples from his own career to illustrate the techniques he shares.
Titles. Here Malcolm explains how the primary purpose of a title is to grab a reader's attention, and the best way to do this is by playing on their emotions.
How to Read. Seeing as one of the major keys to being a great writer is to be a great reader, Malcolm Gladwell makes a point of sharing his personal strategies for reading intelligently in this MasterClass lesson.
Malcolm Gladwell's status as a bestselling writer of nonfiction and respected journalist means this MasterClass will hold a special appeal for nonfiction writers, but I think any writer could learn a lot from his lessons.
Check Out This MasterClass!
---
R.L Stine MasterClass Review – R.L Stine Teaches Writing For Young Audiences
R.L Stine is the massively successful author of the young audience horror series, Goosebumps – which I read probably 30+ books during my childhood. So, watching him talk about his craft…well, it was a bit of amazing nostalgia.
As well as the hundreds of Goosebumps stories out there, Stine's work has been adapted into both a TV series and a Hollywood movie.
R.L Stine MasterClass Selected Lessons
The R.L Stine MasterClass is taught over 28 video lessons, and also includes a workbook, a lot of bonus material including authentic outlines from Goosebumps novels, and the ability to have questions answered by fellow students — and sometimes Stine himself.
Some of the coolest and most useful lessons from the R.L Stine MasterClass syllabus include:
The Idea Store. Stine shares his own personal sources of inspiration for story ideas, drawing upon real examples. If you want to write but aren't sure how to begin finding your initial idea, this is the lesson for you.
Kids Are the Best Audience. Stine's experience and tips on writing for a younger audience includes how to understand what your young audience wants and how to tailor your ideas for them.
How to Scare Your Readers. If you've ever read a Goosebumps book, even as an adult, you know they are creepy. Learn exactly how Stine creates the emotion of fear in a reader in this lesson.
Creating YA Characters. Young adult writing relies upon its characters, and in this lesson you can learn Stine's personal process for creating characters that are engaging and original.
Developing a Book Series. Releasing a series of books is one of the smartest moves an author can make, and Stine is a true master. He's published several different successful series of books. Here's how to ensure your readers are excited for the next installment.
Stine's success as a young audience author makes this MasterClass a must-have for children's authors, but there are valuable ideas and insights for writers of all types within this MasterClass.
Check Out This MasterClass!
---
Judy Blume MasterClass Review – Judy Blume Teaches Writing
Judy Blume is one of the most-loved children's authors out there. I can still remember traveling cross country with my mother reading her books in the back seat.
Her work has been considered controversial and groundbreaking for the way that it pulls no punches in being honest with a younger audience, while also doing so in an age-appropriate fashion.
Judy Blume MasterClass Selected Lessons
Judy Blume's writing MasterClass is taught over 24 video lessons as well as a workbook containing exercises and recaps, and a Q & A upload facility.
Some of the standout lessons from Judy Blume's MasterClass I've chosen with Kindlepreneur readers in mind include:
Idea Case Studies. Judy Blume reveals the exact process by which she developed the ideas for her most-loved stories and characters, using her real work as an illustrative example.
Judy's Writing Process. Blume explains how she writes her messy first draft and the process by which she tidies this up into her later drafts.
Working with Editors. At Kindlepreneur, I've always emphasized the importance of finding a quality book editor. Here, Judy Blume shares her insider info on how to make the most of working with an editor.
Rejection. Aside from the technical aspect of writing, the mental aspect is hugely important. In this inspirational lesson, Judy Blume gets personal about rejection, and how she has learned to use it to fuel her writing.
Controversy and Censorship. Blume's writing has drawn a lot of debate over the years, and hearing her insight into the freedom of speech and remaining true to yourself as a writer is absolutely priceless.
Overall, I feel that Judy Blume's MasterClass is a superb mix of insight into the technical side of writing, as well as a look at the intangible, emotional aspects, such as rejection. All writers will find something to treasure in this course.
Check Out This MasterClass!
---
DeadMau5 MasterClass Review: Just Because I'm a Nerd
You might be wondering, why would the MasterClass review of DeadMau5' Electronic Dance Music (EDM) be here? Well, if you got this far in the article, you're about to learn a bit of a secret. I've always wanted to take off a month or two and just devote myself to learning how to create EDM of my own. Not for fame or for money…just for art. It's something that's been deep in my soul and I've always wanted. I listen to Spotify's EDM while I write and constantly dream of how amazing it would be create my own. If you're not familiar with EDM (which many won't be) DeadMau5 is one of the longest standing greats in that realm of music. So, although I got MasterClass for the purpose of improving my writing, I treated myself to an off-topic course — which is a benefit of the all-access subscription pass.
So, how was it? It was glorious in so many ways. It showed the frustration and pain of having something inside you and not getting it to come out.
deadmau5 MasterClass Selected Lessons
The deadmau5 MasterClass is taught through over 6 hours of video broken down into 23 lessons. Students also receive access to the deadmau5 workbook, containing extra material and assignments, as well as video office hours, allowing access to fellow students and deadmau5 himself.
Some of the coolest lessons from the deadmau5 MasterClass include:
The deadmau5 Process: Theory. A unique insight into the experimentation process used by deadmau5. Truly inspiring for any creative soul.
Mastering Case Study: Snowcone. The technical process of music mastering made fascinating by using the legendary track "Snowcone" as a case study.
Starting Your Producing Career. Advice on the business aspects of EDM. Branding and marketing lessons that I think authors would find super useful too.
Understanding The Music Business. Deadmau5 shares his personal lessons on the business of music and the pitfalls he's encountered on the way.
On Stage: The Show. The secrets behind the truly epic event that is a deadmau5 performance. Valuable for anyone with an audience.
The deadmau5 MasterClass has definitely brought the world a lot closer to the DJ Dave Chesson debut mixtape (perhaps my DJ name will be Papa Fett..hehe), and I highly suggest anyone who loves music and the magic of creative expression check it out.
Check Out This MasterClass!
---
Secret deadmau5 fan... #beyourself
Click To Tweet
MasterClass Review : My Personal Thoughts
Having taken so many of the MasterClasses in writing and other subjects, I found that each course was extremely different in its organization and feel. Some were very tactical in their approach giving step-by-step actions (Wolfgang Puck's comes to mind), while others were more theoretical and strategic in nature (Malcolm Gladwell).
At times, this varying style and level of detail was enjoyable. It was as if you entered into each class, not knowing exactly what to expect – but expecting that it will be mind-blowing to some degree.  I also respect that through their different styles, it was reflective of the artist and how they wanted to approach their art and deliver their message. deadMau5 didn't give you steps to creating music but more of the processes, thoughts, and struggle that he faces in delivering his music. Although I found some amazing information in the comments on required software and technical aspects, deadMau5 wasn't there to talk technical. He was there to teach about his style of art.
But, there were times when I wished some creators would go deeper to show some "how-to" aspects to their art. At one point, R.L Stine talked about how he researches and plans for a new book.  I would have LOVED to see him actually put one of my old faves together. But no. Instead, we breezed over his process.
So, in the end of this MasterClass review, I can say that each class was absolutely worth watching. It was incredible to have such a candid approach from true masters of their art. But MOST of these courses will not give you the tools to jump right up and implement the lessons if you're a true beginner. Instead, most are more of a high-level discussion on the art.
I've still got my annual subscription, and my wife and I are planning to watch a couple more instead of a Netflix film. Next up, Gordon Ramsay's Cooking and Space Exploration by Chris Hadfield and …because apparently, that's how my wife and I do dates these days. That and a bottle of wine.
Cheers,

Hey Guys, I'm Dave and when I am not sipping tea with princesses or chasing the Boogey man out of closets, I'm a Kindlepreneur and digital marketing nut – it's my career, hobby, and passion.
GET MY FREE KINDLE RANKING EBOOK